Broken link building is a tactic that always sparks off some dispute. Some SEO experts swear by it, while others claim it is a waste of effort. The thing is that link building, by itself, is very difficult to implement. Theoretically speaking, if your content is good enough, it should get backlinks. But this implies getting traffic, and you need to have a good strategy to guarantee that this will happen. 
Going after broken links might at a glance seem easy, but there is actually a methodology to it. In this short guide, we'll show you how to do broken link building in just a few easy steps.
What Is A Broken Link?
As its name indicates, a broken link is a link that doesn't work. When you click on a broken link, instead of being taken to the intended destination, you might encounter a "404 Not Found" error or a similar message stating that the page you want could not be found. This can happen for many reasons, for example, the page was moved or deleted, or the website is no longer available.
Broken links can negatively impact user experience and website credibility so you want to avoid these errors as much as possible. And that leads us to broken link building, which benefits from these missing pages by offering alternative links to replace the broken ones.
What Is Broken Link Building?
Broken link building is a search engine optimization (SEO) strategy that consists of finding broken links on relevant websites for your niche, and leveraging them to build backlinks to your own website instead. The main idea in broken link building is that website owners don't want to link to resources that are no longer there. So, a suggestion of a new relevant link would be welcomed right?
The problem is: you're not the only person contacting them to get a link. The fact that broken link building seems so easy makes it appealing for many SEO practitioners. Webmasters are getting tired of emails asking to replace their broken links with content that might not always be suitable or of the best quality. One of the things we'll mention in this article is how to create a proper outreach email to get your content in front of the webmasters.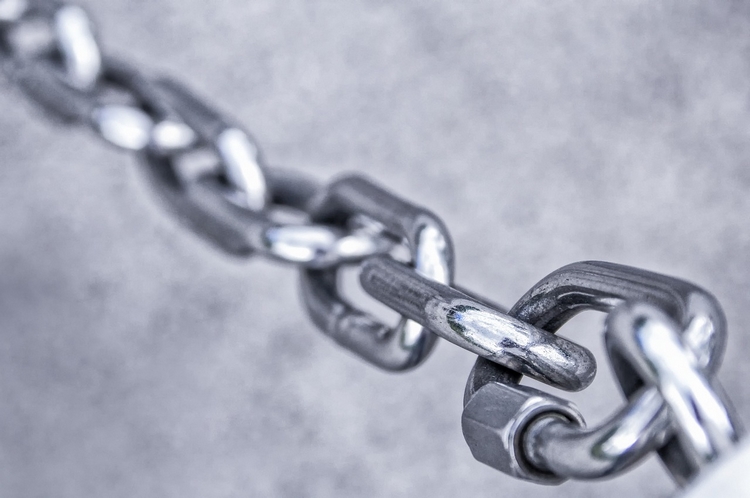 Want to know more? Read on and find out how you can improve your backlink profile through broken link building.
How To Create A Broken Link Building Strategy 
In this section, we'll show you how you can use broken link building to your advantage.
1. Identify relevant websites
Firstly, start by finding websites in your niche or industry that have a good authority and are likely to have broken links. An easy way to find broken links in your niche is by using advanced search operators. For example, if your goal is to promote a pet hotel, you can try search terms like the following:
pet hotel intitle:links –

This search operator will show you results that have the keyword "pet hotel" in the title, and the links associated with it.

pet hotel intitle:resources

– This term will get you results from informative content. Since this content is meant to teach readers about pet hotels, you will find great opportunities for backlinks here as the website owners for these guides will want to keep their content updated and relevant, which means using links that are not broken.

find pet hotel inurl:links

– This search operator will show you the links that have the specific keywords in the URL.

p

et care blogs inurl:resources

– This is similar to the other search for "resources" – the difference is the keywords will be found in the URL and not necessarily in the title. 
These are just a few ideas to help you get started.
2. Analyze for broken links
Once you have identified some possible websites, analyze their backlinks and find the ones that link to websites that are no longer online, or return a 404 error for certain sections. How do you do this? The great thing is that you don't have to manually check each backlink one by one to find broken links. You can use a broken link checker tool to scan the websites you've found and create a list of broken links. This will provide you with a list of opportunities that you can work with.
Of course, the broken links you're after should be related to your line of business or website. You need to make sure that you get links that will be of benefit to you or show you off as an expert in your field. This will improve your rankings on search engine result pages (SERPs). That's the main purpose of doing any link building: to improve your ranking.
3. Content creation
In most instances, you are not going to readily have content that would be a suitable replacement for the broken links, so you will likely need to create them. When creating your content remember to make sure that the content you are creating:
Is in line with the topic or context of the broken link. 

Give value and offer a similar or better experience to the reader.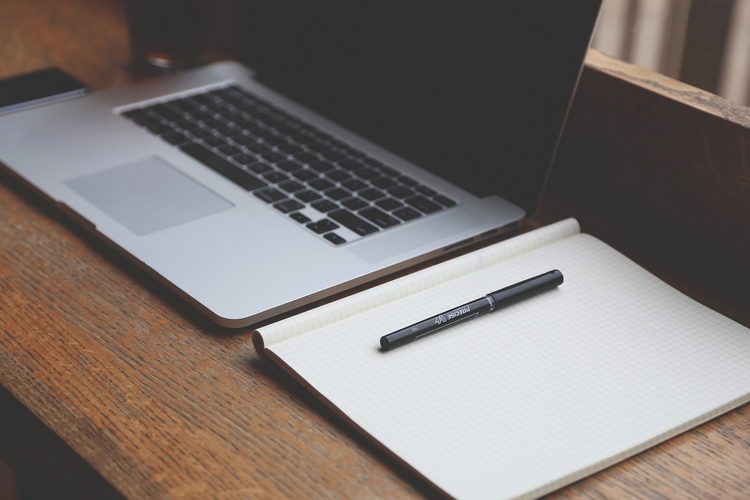 4. Craft Your Outreach
Now, finding broken links does not seem difficult so far, right? Problems usually start to occur when you try to get in touch with the webmasters. As we mentioned previously, webmasters on popular sites get a large number of emails every day. They might be asking for link exchanges, or to suggest links… you get the idea. This means you have to find a way for your email to stand out. How can you achieve this? 
There is no simple or perfect solution, no exact formula you can use for every outreach campaign you do. However, there are some tips that can help you create better emails when reaching out to webmasters. In this case, you should absolutely go against the grain. Here is what we suggest you do when creating your outreach emails:
Research your recipient:

Before reaching out to the website owner or webmaster, do your research and make sure you understand what their website is about, who their target audience is, and what their main goals are. Check out things like their recent updates, articles, social media posts …basically anything to help you learn more about them so that you can tailor your outreach. This will help you create a connection with them and help you stand out. It might seem like a lot of work, but trust us: this can be the difference between success and failure. 

Find the exact email address: It's very unlikely that you are going to reach the webmaster by emailing the website's general email address like "[email protected]". We recommend searching for the exact email address of the webmaster. You can use LinkedIn to find it, or Twitter, Instagram… Check out the webmaster's social media to find their contact information. 
Personalize your outreach: Don't use automated generic outreach emails. Personalization is key in making your email stand out. Address the recipient by their name, mention their website and refer to recent contents like a recent article or twitter post. You want to show them that you have taken the time to study their business and understand their needs, interests and goals.
Introduce and explain your purpose:

Introduce your business and give a short explanation about what you do. Clearly state that you notice a broken link on their website and that you have a suitable replacement that you are sure would be of value to their audience.

Highlight the value of your content:

Briefly explain the value and benefits of your content as a replacement for the broken link. For example, explain how it fits in with their website content , provides additional information, or offers a great user experience for their audience. 

Follow-up plan:

Before ending of, mention  when you plan to follow up with them if you don't receive a reply. This shows your commitment and persistence, while also giving the webmaster time to consider your proposal.

Keep it short and sweet:

The longer the email, the higher the chance of it ending up in Spam. Just like you, your recipient doesn't have time to waste. They want to know what's in it for them, quickly and clearly. Be sure to spend a bit of time working on your copy and make it as simple as possible for your readers.

Be Polite and professional:

Be sure to keep a polite and professional tone throughout your outreach email. Avoid any aggressive or pushy language. Your aim is to build a positive relationship and foster cooperation.
Remember, a personalized and thoughtful outreach is likely to yield a more positive response. Focus on building relationships, giving value, and demonstrating your expertise in your outreach and you won't go wrong.
Now that you know what is broken link building, and how it can be used to help improve your search engine rankings. If you use SERPed.net, we have another tip for you: how to use the Expired Scraper tool to find available domains with backlinks from high authority websites. This is another broken link building technique that you can use. Here is how it works…
Broken Link Building with SERPed.net
In short, the Expired Scraper tool helps you find aged domains with backlinks from the most popular and trusted websites.
First, open the "TOOLS" menu and click on "Expired Scrapper", which is located in the "Domain Finding" section.

Then, click on the "+" button at the top right of the screen, or on the search button if it is the very first time you are using Expired Scraper.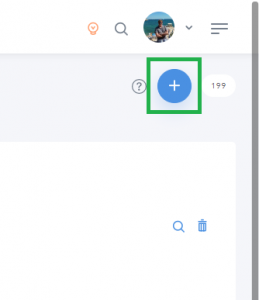 A modal window will appear… Enter the domain name of a high authority website like msn.com, mashable.com, apple.com or nytimes.com and select the appropriate category. Once this is done, click on the "SEARCH FOR DOMAINS" button.
Then in the next window, you'll see that your search is being processed. Usually, this takes a few hours, up to a day, depending on the size of the website, so please be patient. 
Once the search is done, the status will change to "Completed". Click on the domain name to view the results.

At the top of the results page, you will see a sentence like this:
"We found 10,000 broken links, of which 1,216 were unique URLs with extensions that can be checked. From those 1,216 unique URLs we found 1195 that were offline, and 21 domains that were available to register. Here are the metrics of those 21 domains."

In other words, the Expired Scraper tool found 21 available domains that have at least 1 backlink on msn.com. This means that you could register some of these domains and rebuild the website using a tool like our Content Restorer for example, or build a brand new website, making sure you re-create the webpage msn.com links to.
As you can see in the screenshot above, the Expired Scraper tool lists the metrics of each domain, including the SERPed Rank, MozRank, Moz Domain Authority, Moz Page Authority, Majestic Citation Flow, Majestic Trust Flow, Majestic Backlinks, SimilarWeb Rank and Social Signals. These metrics should help you decide whether registering the domain is worth it or not.
You can view more information by clicking on the "Info" button, next to the "Register" button, as well as check the history of the domain, perform a Google search, check the domain in the Site Explorer tool and Backlinks Explorer tool.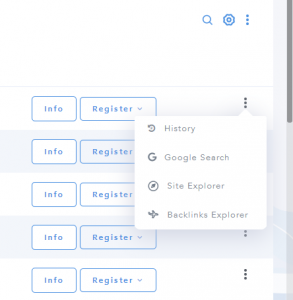 And that's how you can have a website or blog with a backlink on a high authority website which could then be used to build backlinks to your own webpages or client's webpages.
Wrapping Up
Now you know how to use broken link building to improve your backlink profile. Plus, you found a way to take advantage of broken links on high authority websites using SERPed.net
This tactic can improve your search engine rankings a lot, as you're getting links from relevant sources with a good reputation.
You also need to create a good outreach email, which you can do using the tips from this article. Personalizing is the key for great results in outreach for link building.
What do you think? Did we miss something? Let us know in the comments, or find us on Facebook, Twitter and LinkedIn.