With 88% of B2B marketers using content marketing, there's a good chance that you might have taken a leap of faith and started a content marketing campaign of your own.
And whilst that can be a good idea– how do you know if your content marketing efforts are actually working?
After all, content marketing can be time-consuming and often expensive – so you'd be forgiven for wanting to figure out if you're going about things the right way.  
In this post, we're going to review some of the metrics that you can use to work out how well your content marketing is going.
We'll explore how you can adopt a data driven approach and use certain metrics to improve the effectiveness of your content marketing campaigns.
By the end of this post, you'll know which metrics matter when it comes to content marketing and how you can use such metrics to optimize your campaigns.
Let's begin!
Understanding the different types of metrics
We're going to review four 'types' of metrics you'll want to pay attention to when it comes to content marketing – 
Consumption

Engagement

Social

Conversion

Different pieces of content, are suited to different types of metrics.
Appreciating this point, will reduce the odds of you creating content that doesn't help you move closer to your content marketing goals.
For instance, you might be looking to achieve great 'social' metrics.
With that in mind, you'll need to create content that lends itself to thriving on social media.
Creating a post that highlights the benefits of your product compared to the competition isn't likely to do as well on social media.
A 'list' post, is, however, would be well received on social media.
On the other hand, a comparison post would succeed in driving conversions – something that would be hard to achieve with a standard list post.
And so when you understand this concept, it becomes easier to figure out how you should shape your content marketing plan, based on what your goals are.  
If you want to create content designed to produce specific metrics, it's worth taking some time to understand the Buyer's Journey, and how you can map your content marketing plan to the Buyer's Journey of your ideal customer.
Consumption metrics
Consumption metrics are just that – metrics that tell you how people are consuming your content.
If most of your content is on your blog, Google Analytics can help you monitor your consumption metrics.
Within Google Analytics there are two key 'consumption' metrics you want to monitor – 
Pageviews

Unique visitors (also known as Users)
The Pageviews metric will let you know the number of times a particular page has been viewed.  
You can find it in Google Analytics by selecting 'Behavior' and then the 'All Pages' option.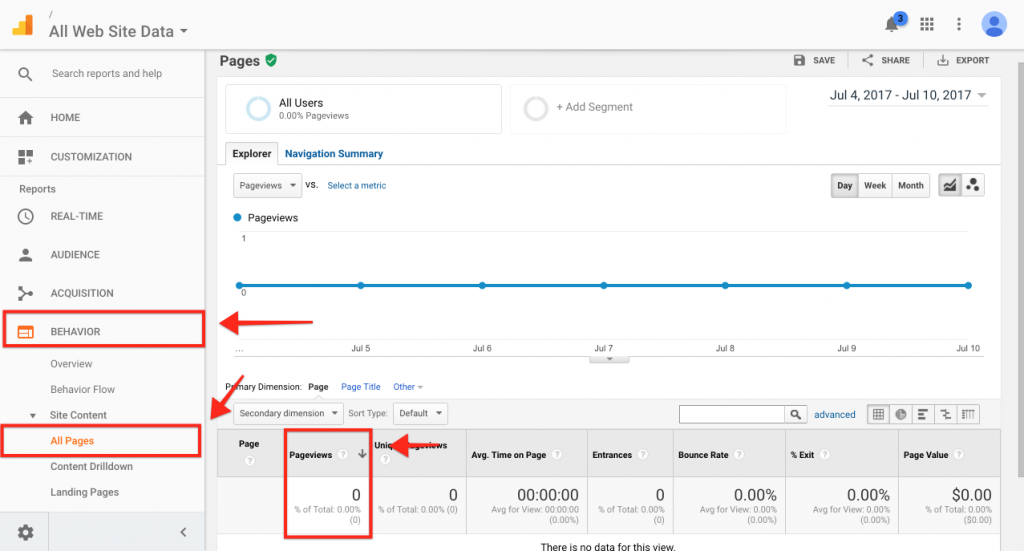 This metric lets you work out which content is being consumed the most.
If you find that a particular page is drawing a lot of attention, it suggests that there is a demand for the 'kind' of content on that page.
When developing your content marketing plan, you can then use that piece of content as inspiration, when deciding on what kind of content you should be creating in the future.
The unique visitors (or Users) metric, lets you figure out how many unique individuals are visiting your site.
You can find it by clicking on 'Audience' and then 'Active users.'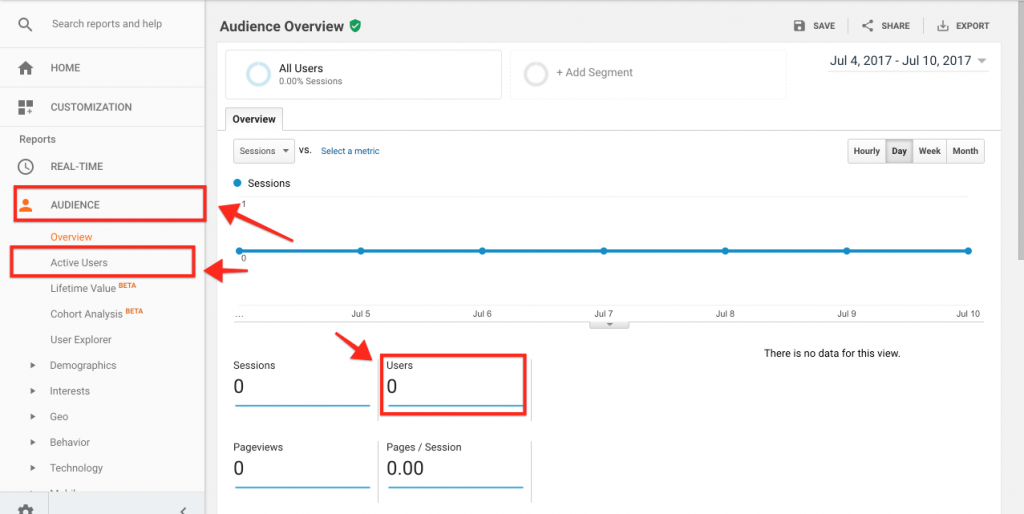 This metric is important because it lets you observe the overall popularity of your site.
If you're not generating an increasing number of unique visitors/users, it means that your content isn't getting the exposure it needs.
In most cases, if your consumption metrics are poor it's because of one of two (or even both) reasons – 
You're not promoting your content enough

You're not creating content that people care about/will be interested in consuming
If you're looking to promote your content, there are two approaches you can use.
One option is to run a paid traffic campaign.  
You can do this with the help of Facebook Ads or Google AdWords.
With such platforms, you can achieve a lot of exposure with a little ad spend.
There's also the option of finding people who've shared similar content in the past and then letting them know you've created something related.
Because these individuals have shared content in the past, you know that they'll share your stuff if they find it to be good.
If you can get your content in front of them there's a good chance that they'll help it get more exposure.
7 Content Promotion tactics that helped us grow our traffic by 63% in 60 days. Check it now!
If your target audience doesn't find your content interesting, you need to study what's already working.
You'll be able to tell if people aren't interested in your content by checking your engagement metrics, of which we'll cover later.
One way you can create content that people will find interesting, is by researching existing examples of content within your niche, that have been widely shared.
All you need to do then, is create something better, based on the proven topic, and promote it using the strategies mentioned above.
You can find examples of popular content using Buzzsumo.
Note: There's also a third reason why consumption might be low, of which relates to SEO.
Low consumption levels can sometimes be attributed to the lag time, between publishing content and the time it takes for SEO to talk hold.
If consumption metrics are poor, but you're relying on people to find your content via a search engine, don't immediately jump to the conclusion that your content marketing is failing.
Even if you create awesome content – it can still take 6-8 months before you begin to generate a steady stream of traffic from the likes of Google or Bing.
If your content is mostly video and it is hosted on YouTube, you'll just want to keep track of the views that your videos are generating.
If it isn't hosted on YouTube, you can still make use of the other metrics we've covered.
Engagement metrics
Engagement metrics are helpful because they let you know if your content is connecting with the people consuming it.
Engagement is important because it means that you're establishing a strong relationship with your audience.
Focus on engagement, not on vanity metrics. Strong engagement metrics = a strong r'ship with audience.
Click To Tweet
Developing a strong relationship is key, because it helps improve the odds that those consuming your content will become fans of your brand and then eventually customers.
In some cases, even if consumption rates are high it all counts for nothing if engagement metrics are low.
On the other hand, if consumption metrics are low but engagement metrics are high, it's often a sure sign that you're onto something powerful.
Examples of engagement metrics are – 
Comments

Likes (YouTube or Social Content)

Average Session Duration
Comments are a great way to measure engagement.  
More often than not, if someone has consumed a great piece of content, they'll want to let you (and the rest of the world) know that they appreciate what you've created.
Think about how much content an individual consumes over the course of the day.
If someone has taken the time and effort to write out a thoughtful comment, it's a sure bet that they found that piece of content engaging.
Likes can also be a good way to measure engagement.
Whilst this could also be counted as a social metric, it often provides more value when classed as an 'engagement' metric.
Keep in mind that because it's easier for people to 'like' a piece of content, than to leave a comment, likes can give a 'big picture view' of how engaging your content is.
Comments let you know in greater detail what people found engaging about your content but likes will let you know whether or not you're on the right track.
Average Session Duration lets you know how long someone has spent on your site, after coming into contact with an initial piece of content.
This metric takes into account all interactions that someone has with your website, before 30 minutes of inactivity or until the day ends.
The graphic below does a good job at showing what a 'Session' might look like.

You can find Average Session Duration data, by going into the 'Audiences' section in Google Analytics.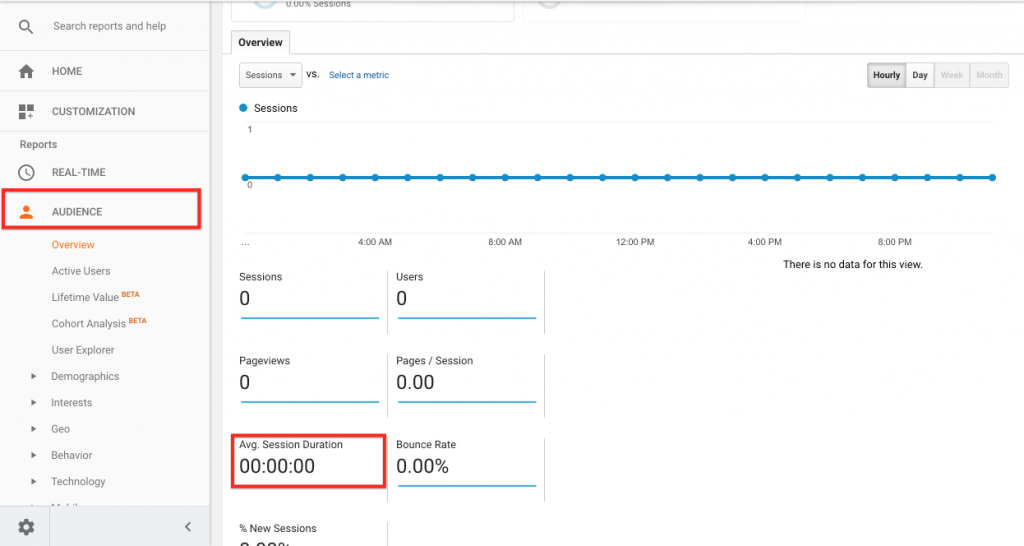 If someone finds a piece of content to be engaging they'll be more invested in your brand.
As result, they'll likely click around your site and consume other pieces of content – therefore producing a 'long' session duration.
TRY SERPED.NET NOW
30-day free trial, 30-day money back guarantee
The caveat here, is that you need to make it easy for people to move around your site and find other pieces of interesting content.
Consider using a sidebar that lists the top content on your blog and remember to link to other pieces of content on your blog, when writing your content.
If your content isn't achieving high engagement metrics, you need rethink the needs of your target audience.
As mentioned before, that might mean reviewing existing pieces of popular content, of which is produced by companies that share the same audience as you.
Content engagement can also be impacted by the way you're presenting your content.
If your content doesn't have enough images or paragraphs, it will be seen as unappealing.
Following this, people won't want to engage with your content, because it can seem like too much work.
Social Metrics
With social media playing such a big role in the distribution of content marketing, it would be a mistake to not monitor the social metrics of your campaigns.
You'll want to keep an eye on the following, basic social metrics – 
The number of times your content has been shared to social networks

The kind of engagement it receives on individual social networks
You'll also want to monitor which social networks are driving the most traffic and 'click throughs.'  
Using Google Analytics, you can identify which social networks are driving the most traffic.
Log into Google Analytics and go into the Acquisition section, under the 'Social' option.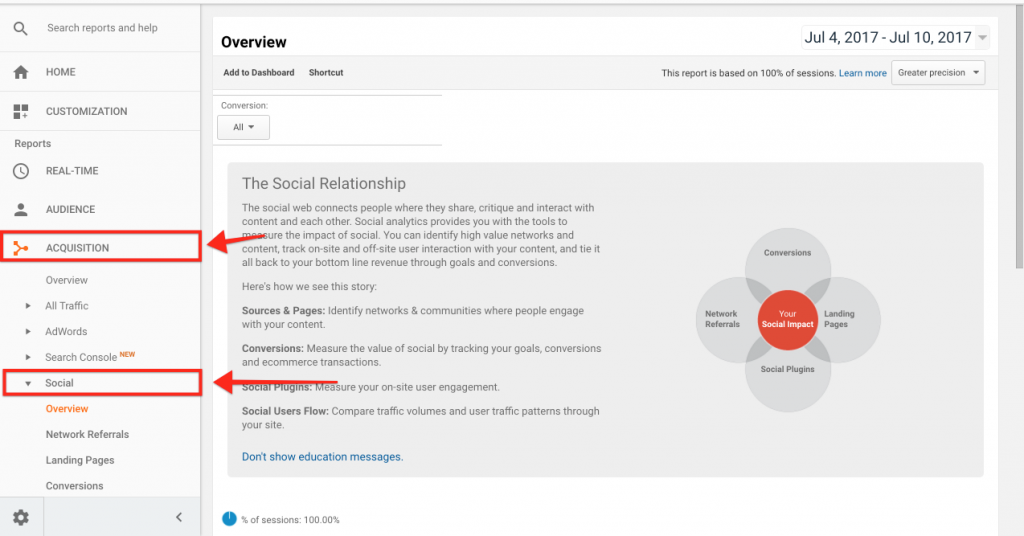 You can use this information to help dictate which social network you should focus.
Identify which network is providing you with the most 'organic' success and then consider running a paid campaign on that network.
This campaign could be designed to either promote your content, or grow your audience on that network (say by promoting your Fan Page, for instance).
This can be a good way to double down on any success you're currently achieving.
Another way you can improve your social metrics is by engaging with the audiences you have on your social media profiles.
This will help establish a better relationship with those audiences.
If you can improve the quality of the relationship your audiences will take greater interest in your future social media posts.
This can help improve the most basic social metric – how many times your content has been shared.
Conversion Metrics
Whilst the other metrics we've covered are nice, it's the conversion metrics that will help you figure out if your content marketing is producing a return.
In fact, if you take a look at the chart below, you'll see that generating leads is one the main goals for B2B Content Marketers.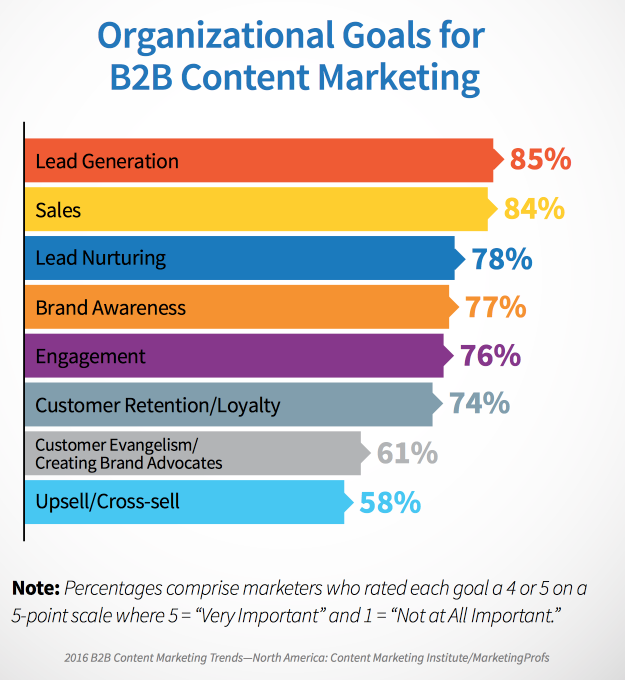 Conversion metrics let you know how many people are entering your 'funnel' because of your content marketing.
Conversion metrics might include – 
Opt-ins

Calls Booked

Sales
You may want to segment how you collect leads, so that it becomes easier to figure out which pieces of content, are driving which conversions.
One way you can do this, is by having separate lists for each piece of content, even if your 'opt-in bribe' remains the same
In doing so, it is easier to identify which pieces of content are driving the most conversions and also the most sales.
You may even want to consider the idea of having specific phone numbers for certain pieces of content.
If your conversion metrics aren't up to scratch it can be down to a number of reasons.
On the most basic level, it may be that you're not giving people a good enough incentive to opt in.
Referring back to the Buyer's Journey – it could also be that your content isn't doing a good job at convincing people they should buy from you, when they're in the 'Consideration' stage.  
If all your other metrics are good, but your conversion metrics are poor, it could be that your funnel simply isn't doing a good enough job at converting people.
Conclusion
In this post, we've taken a look at the metrics you can track to assess the effectiveness of your content marketing.
When you have access to certain metrics, it becomes easier to create a data driven content marketing plan, of which has a higher chance of succeeding.
So even if your current plan isn't bringing results, all you need to do is review the numbers and let them tell you where you're failing.
Though it sounds simple, it could mean the difference between success and failure, when it comes to your content marketing.
Best of luck!