In the past few weeks, information has surfaced about the importance of domain authority for Google. Even though a lot of SEO experts already use domain authority as a relevant concept, Google has always denied that it was part of its criteria to rank websites on its search engine.
However, recently the US Congress made public some internal documents from Google that Rand Fishkin from Spark Toro (previously Moz founder) commented on. On the Twitter thread, a few things become clear about domain authority as a ranking signal: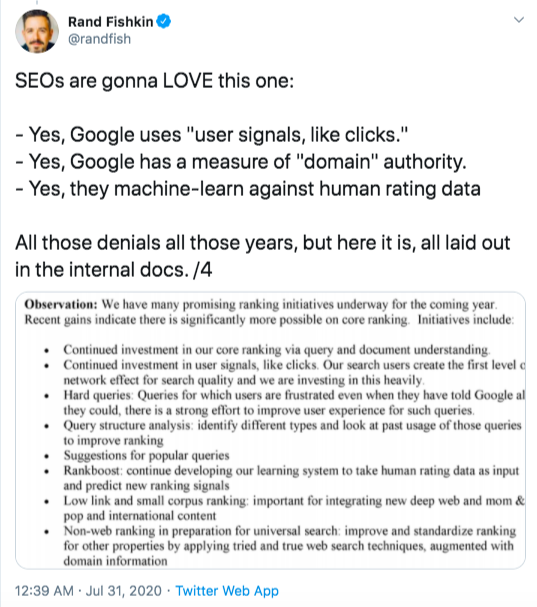 So, reading this tweet and the attachment, one cannot help but conclude that domain authority and similar concepts do matter for Google. This begs the question: what is domain authority? And why does it matter so much for SEO? We'll answer both questions in this article.
What Is Domain Authority?
Domain authority concepts are used by every single SEO tool. Each tool attributes a different name for this concept (in SERPed, our domain authority metric is called "SERPed Rank" ). Regardless of what it is called, it is usually calculated in a similar way.
This type of metric calculates how authoritative your domain is in comparison to others. The higher the number, the more trustworthy the website is.
SERPed Rank, for example, ranges from 0 to 10, and is based on the amount of effort put into the website's optimization; if it has a score ranging from 0 to 4, the website is not cared for; if the score is higher, it means that the webmaster paid more attention to the website and, consequently, it has more potential to be "lovable" to its users.
How is Domain Authority Calculated
There are a few top ranking factors that are usually considered when calculating the authority score for a website. We'll list them below.
Backlinks
This is the most important ranking criterion that contributes to domain authority. However, it's not only about how many backlinks your website has but more importantly, it's whether those are quality backlinks or not.
A backlink's quality is determined by evaluating how many different websites are linking to your website in the analysis. It's incommensurably better to have one hundred websites with one link each pointing back to your website than to have one website pointing one hundred links to your website. Therefore, variety is important.
Backlink Domain Authority
Having backlinks pointing to your website isn't enough though as there is more to domain authority than just having lots of links. For each backlink on your website, the domain authority of the website linking to you is also important for your search engine ranking score.
If the linking website has a high domain authority, it will help your website by offering a bit of that "link juice" to your domain. The expression "link juice" refers to the domain authority and page authority that flows from page to page within your website or from one website from another. However, the reverse is also true as a ranking factor: if the websites linking towards yours have a low domain authority score, your domain authority will suffer, or not benefit from them at least.
This is why Google has a Disavow Tool : if when checking your backlink profile, you find some low authority score links or links that seem spammy, you can remove the backlink to preserve your domain authority score.
Outbound links on linking domains
It is also relevant to check your backlink domains for the number of outbound links they have in place. Let's say you have two backlinks: one from website A and another from website B. However, website A links to 100 other websites, whereas website B links to 1000. Which of these inbound links to your website is more valuable?
The answer is website A. If a website links to many other domains, each link is devalued even if the linking website has a high domain authority. If, however, the website that's linking towards your domain has only a few outbound links, each link is going to have a higher value, passing on more "link juice".
Website Content Quality
Having high quality content is also an important factor when it comes to developing a high authority site. However, this is something that should be taken into consideration even if ignoring domain authority: great content is great for SEO, since what is good for users is usually good for crawlers. ?️ Make sure your content marketing is research-based and thoughtful and you should be alright. Don't forget your target keywords!
Domain Age
You should also be aware that even if your website has high indicators in all the previously mentioned metrics, the root domains' age is still quite relevant. This means that you need to be patient, since you can't manually change your domain age.
However, domain age does not qualify as a make-or-break metric. If the rest of your indicators are great, you should be fine.
Increasing Domain Authority
After carrying out a domain authority analysis, you should now be able to evaluate your backlinks and understand how to increase your domain authority. It's not easy, but there are a few techniques you can use for so-called "link building": growing your backlink profile to increase domain authority for your website.
Read on to learn more about link building and how it works.
1. Create content that is desirable to link to
First of all, your content has to be of good quality in order to make it easier to get backlinks and increase organic traffic. But how do you improve your content?
More than using keywords, in order to rank high, your content has to add value to your audience. When you do your research for sources, remember that you should create something that is substantially better than your sources. Just by gathering information from several places, you can increase your content quality.
Other domains and authors will only link to your content if it has something unique. Either you have it, or you don't. Sometimes, that "uniqueness" can derive from something as simple as creating an infographic to show information in a more intuitive and interesting way. Whatever you bring to the table, make it count! If your content has that something no other piece of content has, it is very likely other domains will link to it in the long term.
2. Reach out to authoritative websites and ask for links
If your content is good, you should have no issues asking for links to it from authority sites. If you think your content is not yet there, I recommend going back to step one.
Other than having great content, it's important to reach out to other website owners and ask them for a link in their articles that are related to yours.
Don't get us wrong, maybe half of the time you won't get an answer, but it only takes a few backlinks from the right websites to increase the authority of your website exponentially. That's why this is such an important strategy: you just need to work on your email messages to send your point across effectively. Of course, it helps if you have quality content, but even if you're very confident that your article rocks, the right email message can make or break your link building's effort.
Remember, you only get one chance at a first impression: if you miss it, you'll never get it back.
3. Use internal linking
This should be on every SEO expert handbook. It's easy, quick, and completely free of charge. All you have to do is pick related articles from your blog and link to them in your new blog posts. You can also add links to old articles, connecting popular articles in your blog to other articles that might not be so popular.
Internal linking makes sure your "link juice" is distributed across your entire site. It also makes it easier for users to navigate through your website. So, I encourage you to use internal linking for your benefit whenever it is relevant. Of course, using anchor text in your links for keyword stuffing (adding keyword occurrences when they make no sense in order to "stuff" the content with keywords) is a big no-no. Your anchor text and the article you link to should make sense according to the content you're linking from. ⬇️
How SERPed Can Help You Increase Your Domain Authority
SERPed has all the tools you need to increase your domain authority and to help make sure you don't get harmful backlinks that could affect your ranking.
Backlink Gaps
The first tool you can use on SERPed to check your backlink file is Backlinks Explorer, which can be found in the main menu: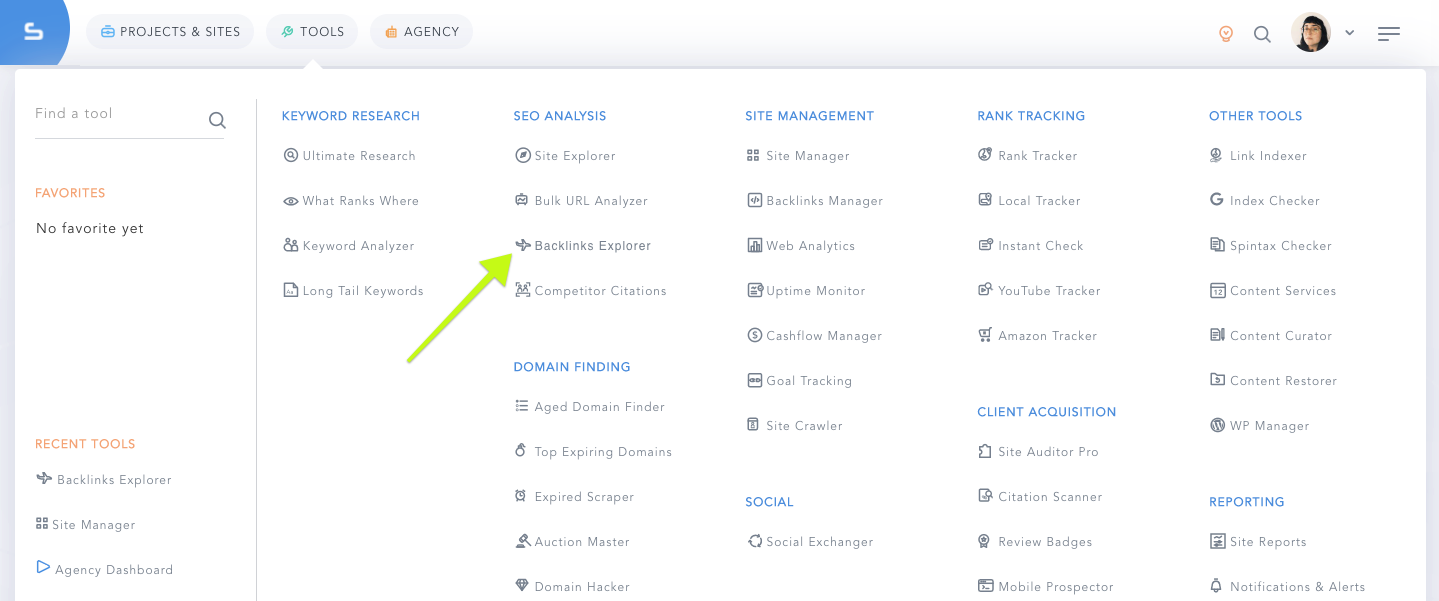 Then, you just need to click the "+" button: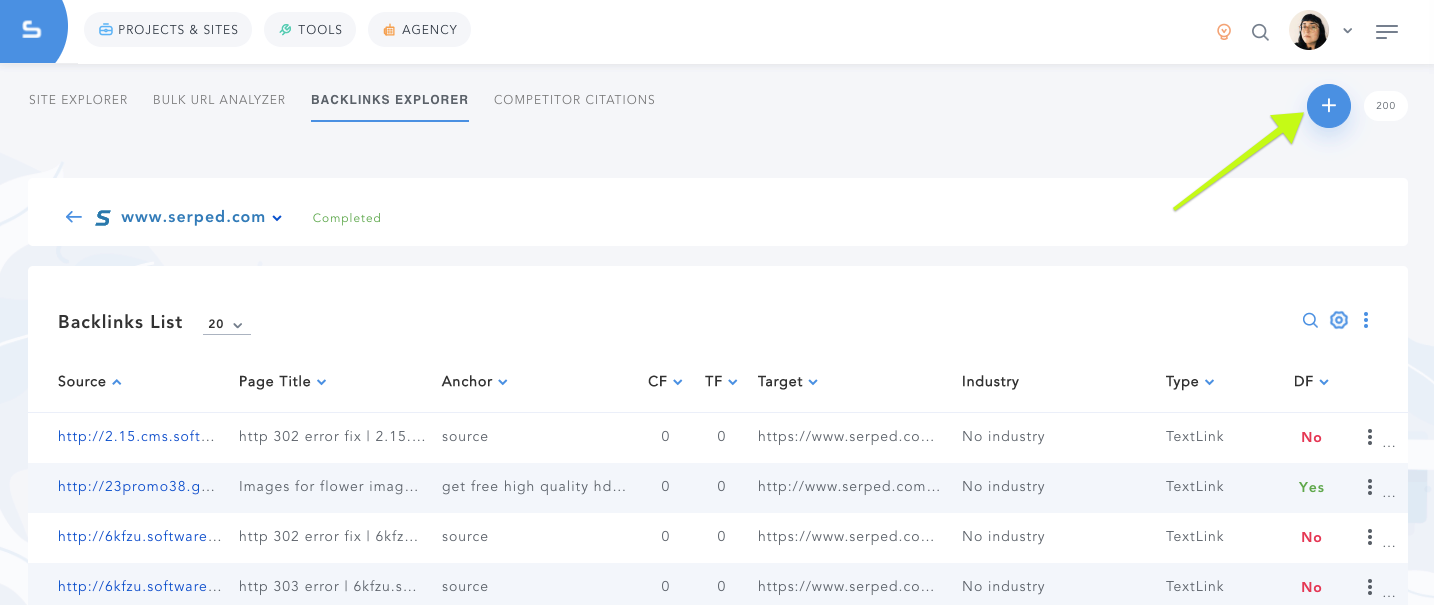 Once you click that, you have two options: Single Site and Backlink Gaps. Select "Backlink Gaps".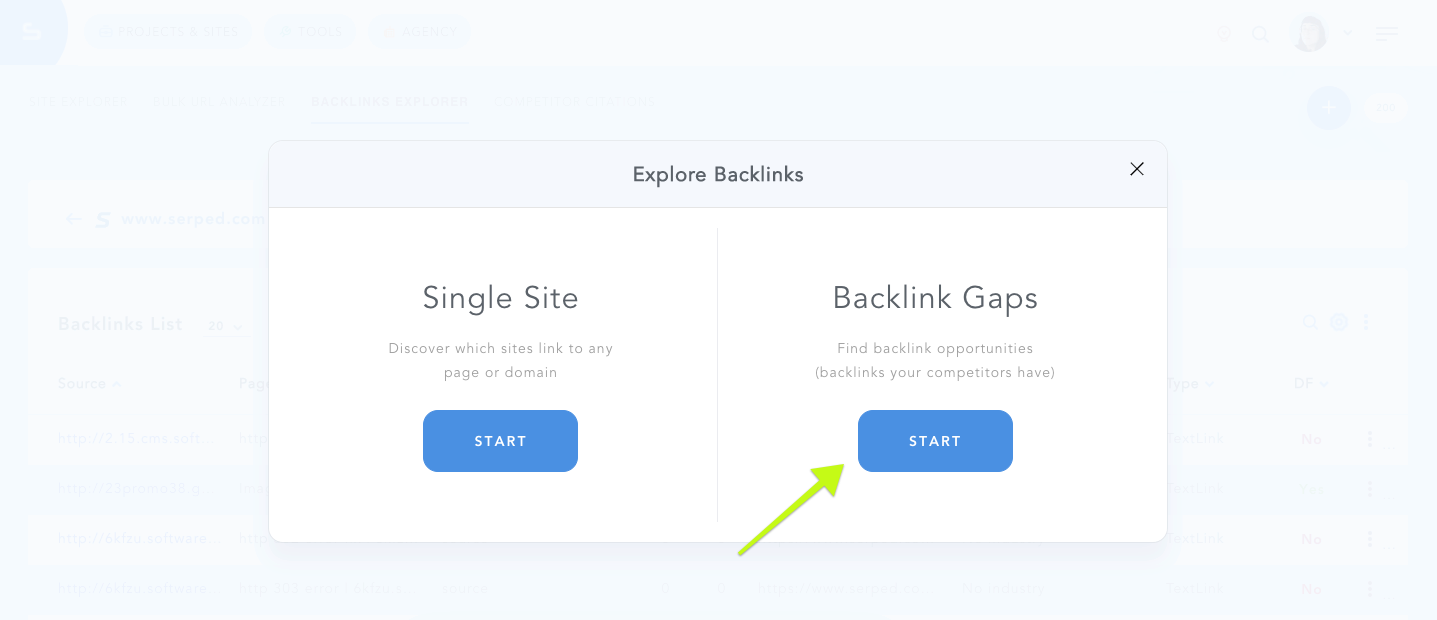 In the next screen, type in your own website URL at the top, and three top competitor URLs. Click the button for "Find Backlink Opportunities".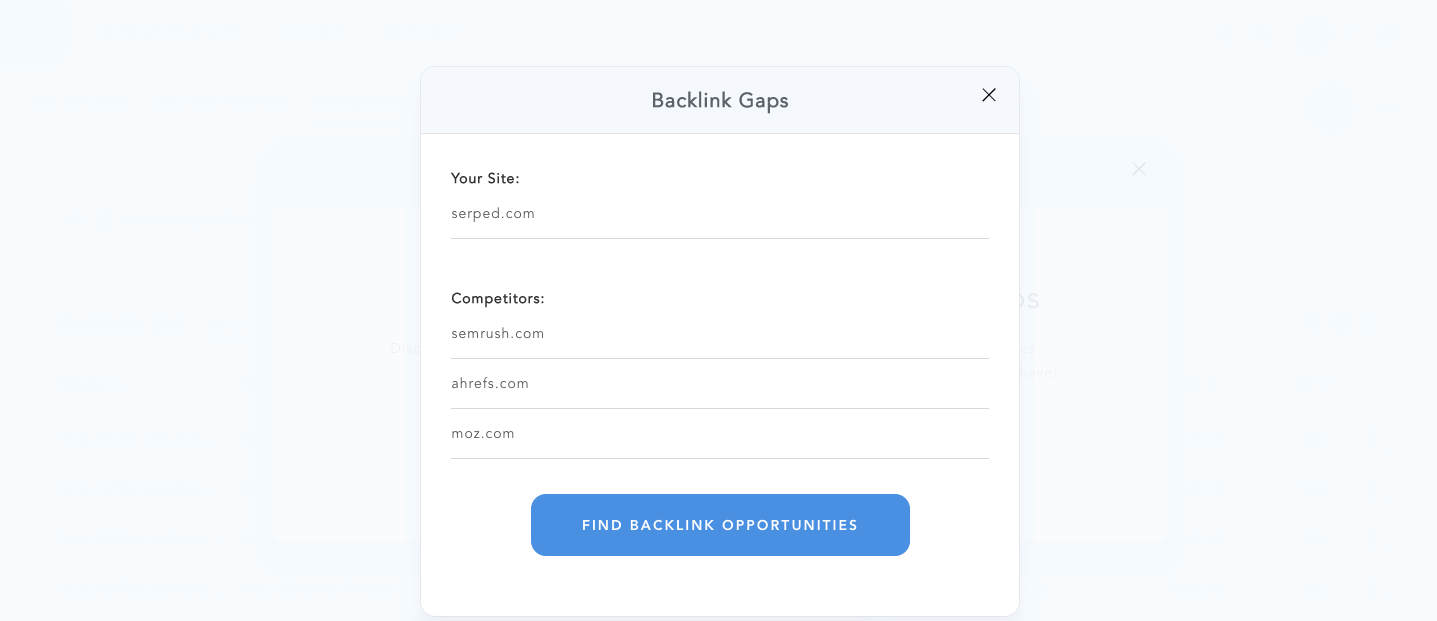 You will then get the result page for your backlink competitive analysis: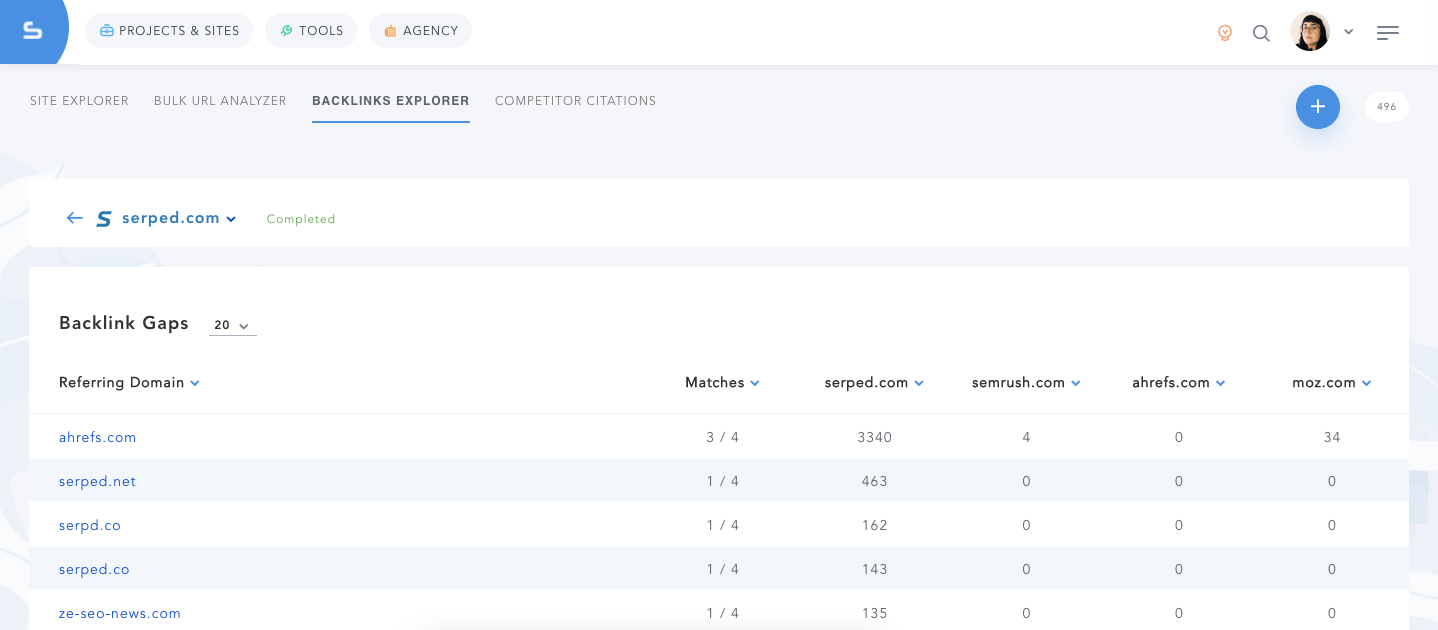 You can drill down any of the results by hovering over the number in the column until a "+" sign appears. Then, you can check the detailed backlink list: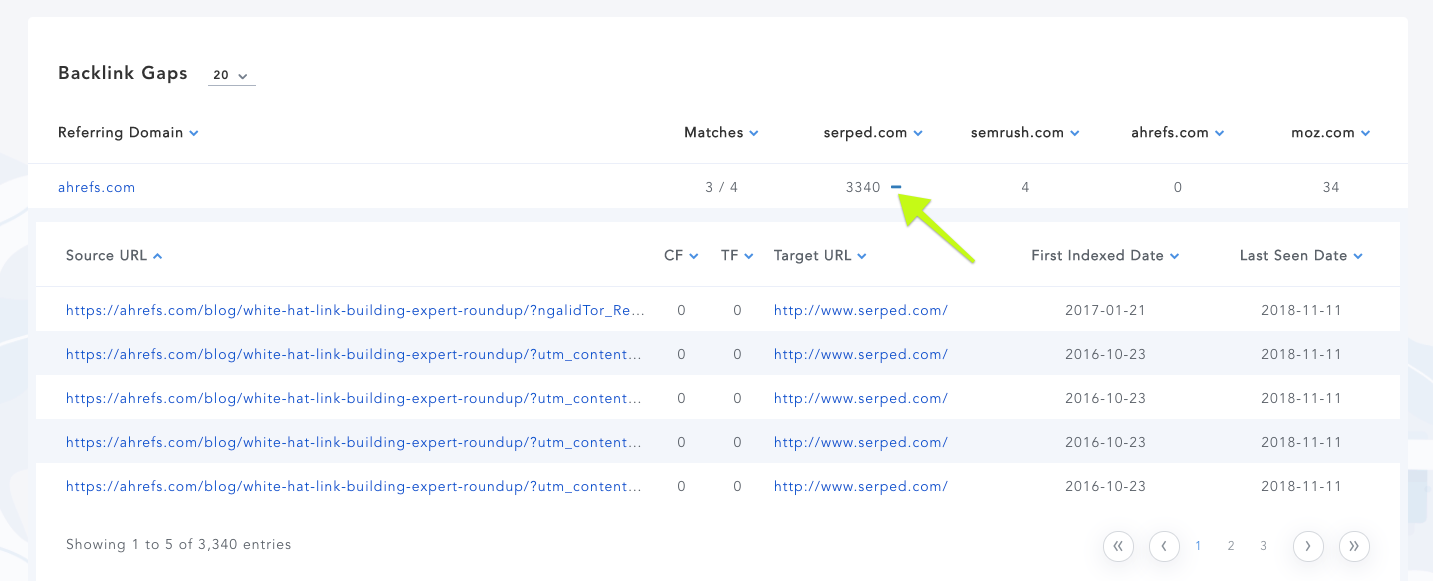 Using the Backlink Gap tool helps you by providing you with accurate insights to guide your link building effort. You get a list of websites linking towards your competitors which you can then try to contact and get your backlink.
As you see, it's easy to use SERPed to improve your backlink profile and, consequently, your authority. After you have your list, you just need to contact those webmasters and ask them to add a link to your website.
Backlinks Manager
This tool helps you take control of your backlink profile. It is also quite easy to use. First, you just need to go to the "Tools" menu and pick "Backlinks Manager":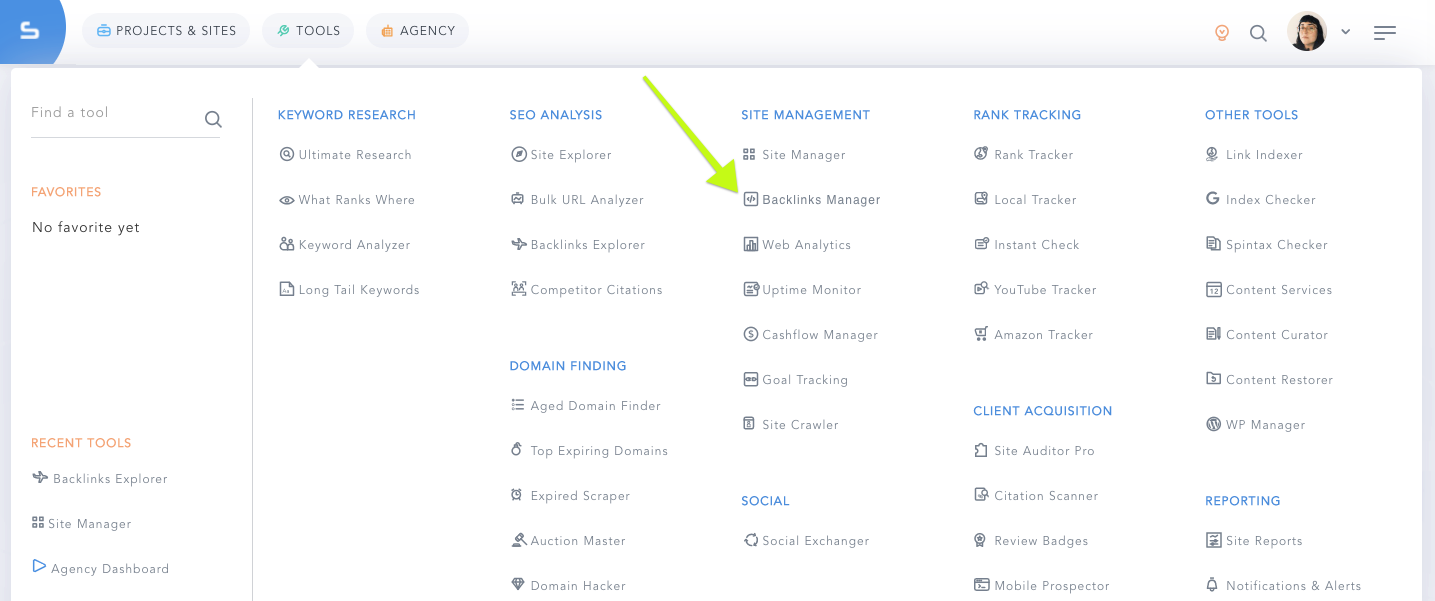 Next, click the "+" button to add a new website.
In the next screen, select a website:
Pick your site from the list or search for a new one. The next screen will give you two options: to fetch the URLs directly from your website or to upload a .csv file with the backlink list. For the purposes of this article, we'll choose the first option.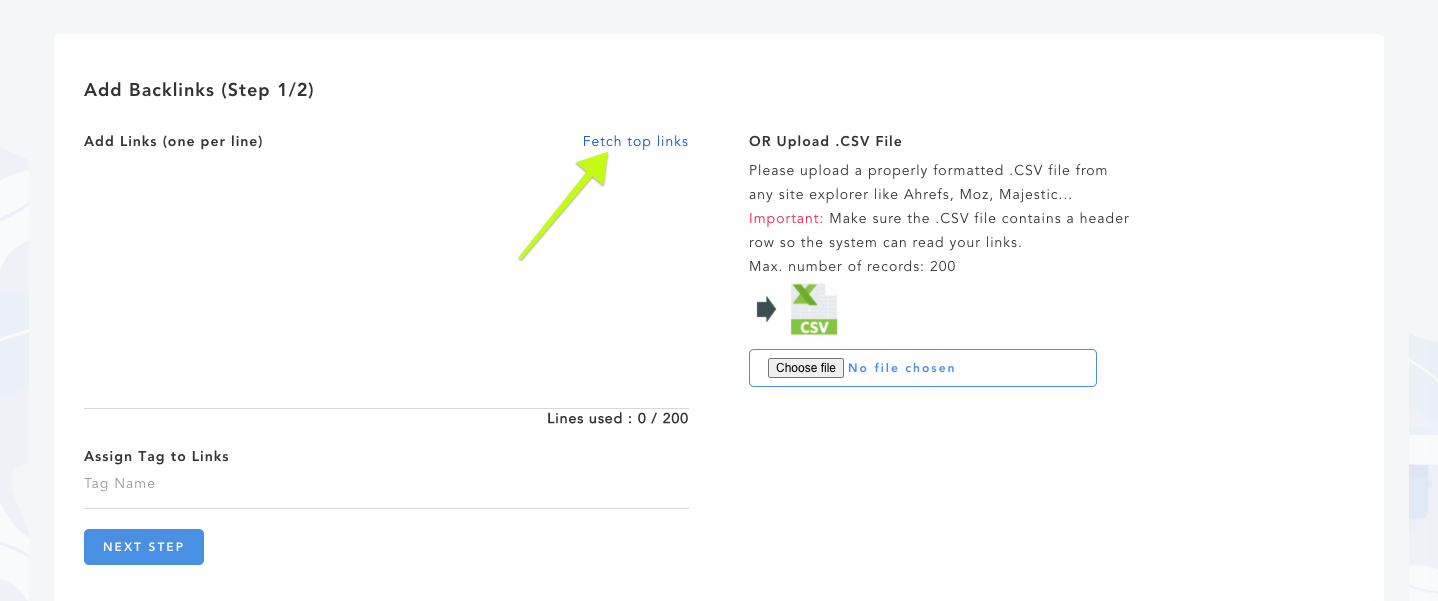 You can also assign a tag to these links to make it easier to organize your backlink activity.
The list shows up as follows.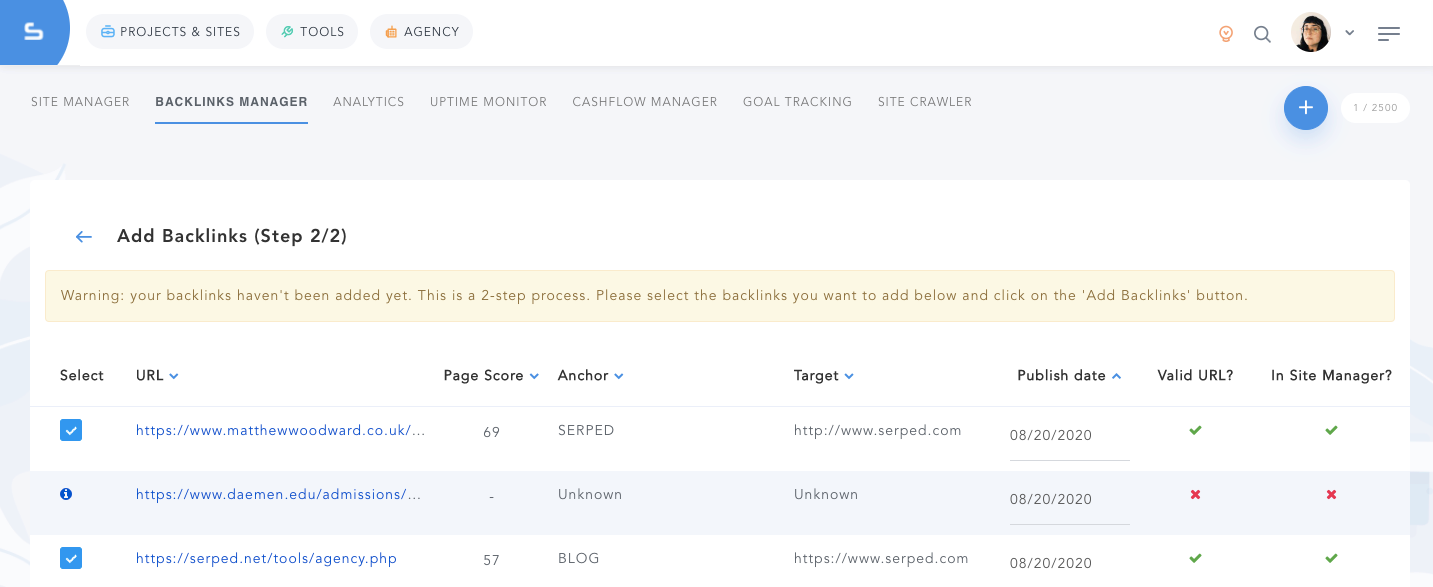 Then you just have to select the links you want to add to your profile and click the button "Add Backlinks":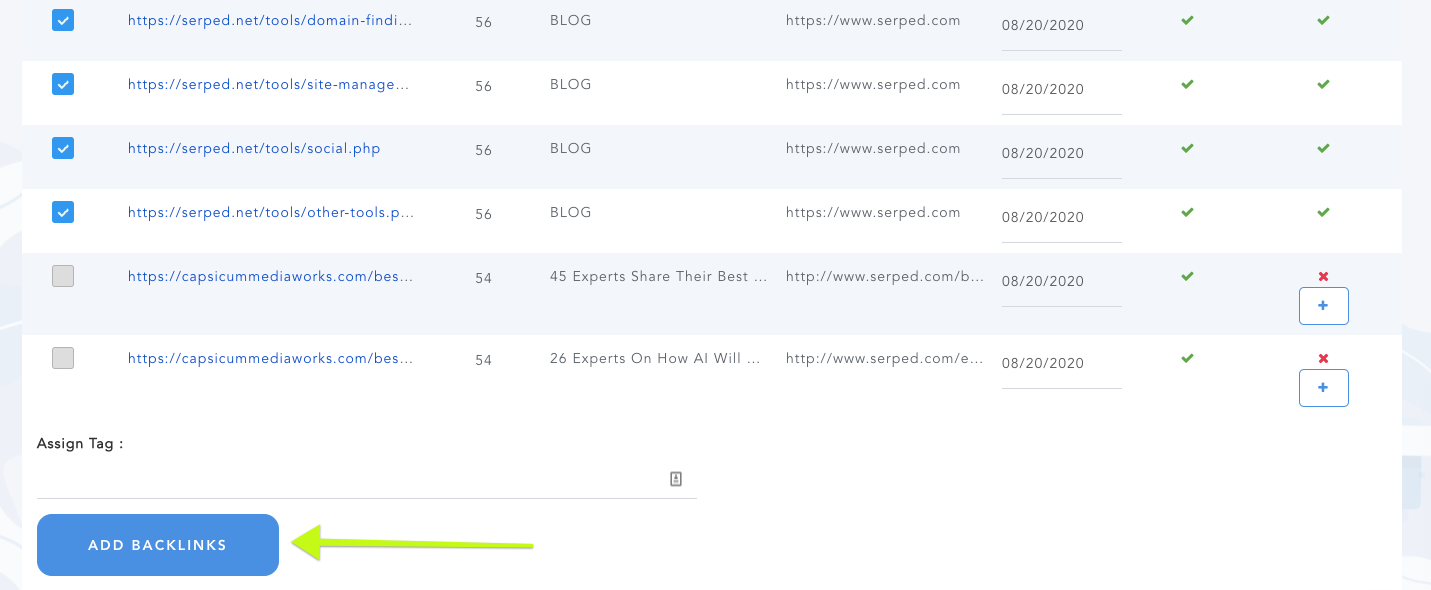 You will then receive a report similar to this one: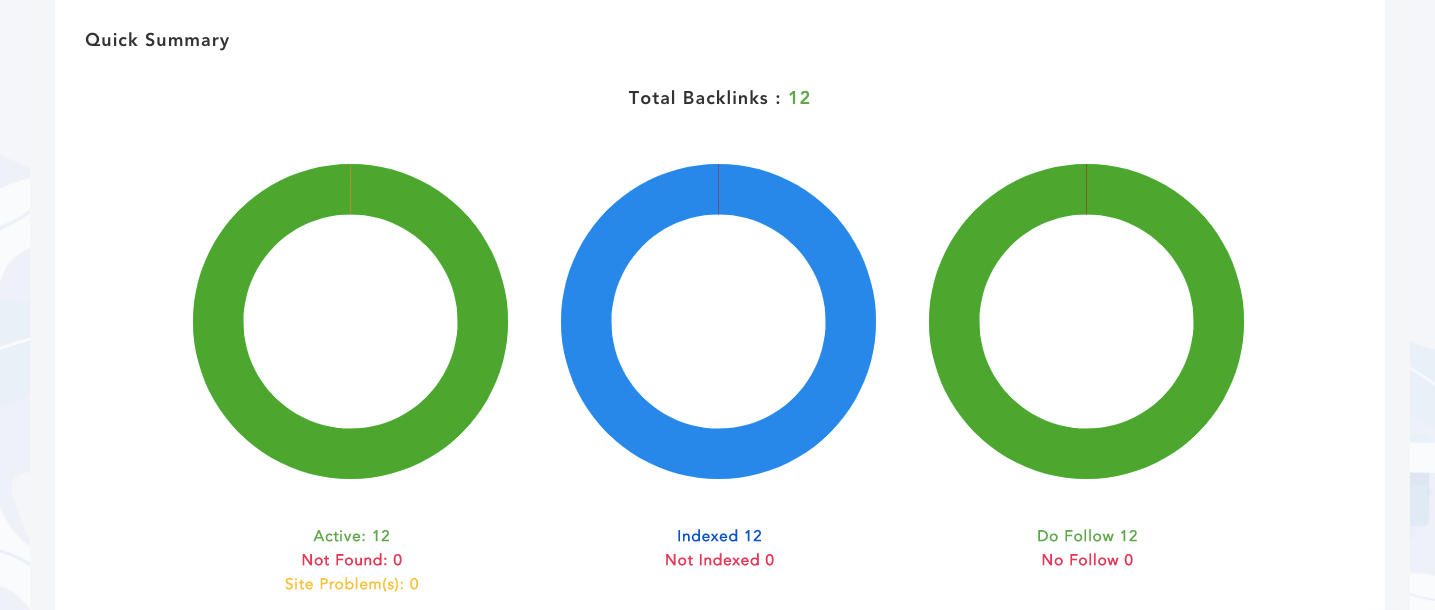 This report includes all these metrics about each of your backlinks:

To help you analyze your backlinks, you also get a domain authority report: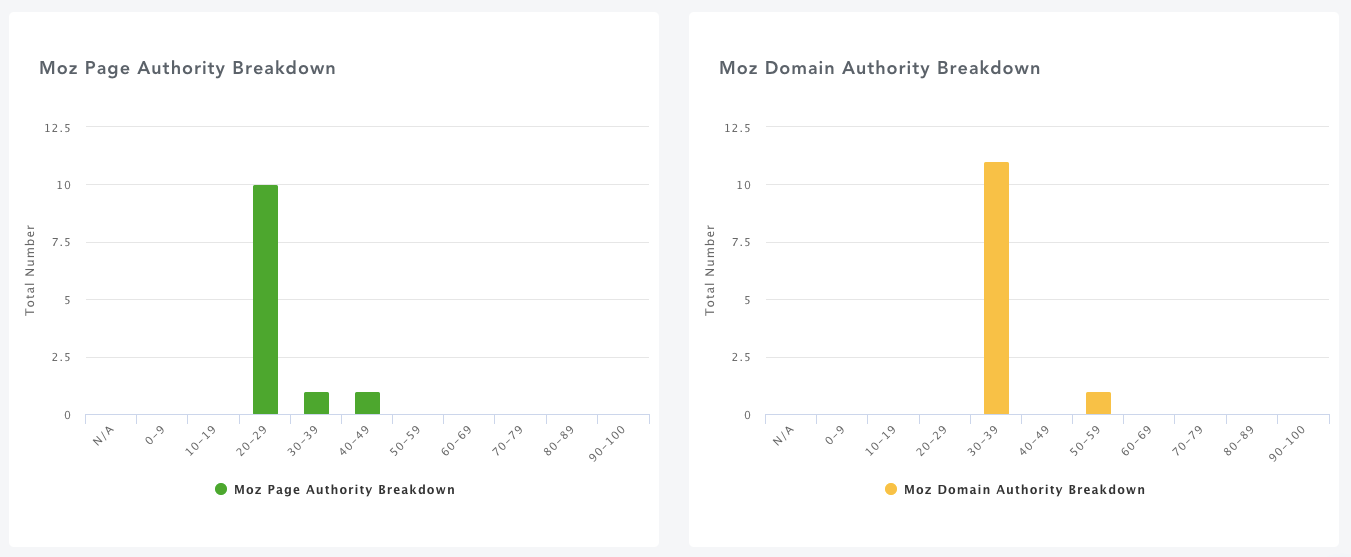 All these metrics make your backlink profile clear for you so you can disavow harmful links. We'll have an article about the Link Disavow Tool soon, so stay tuned.
Site Manager
Site Manager is another helpful tool when it comes to monitoring your Domain Authority. By checking the metrics you'll be aware of any issues or minor hiccups that might happen.
This is where you can find Site Manager in the Tools menu: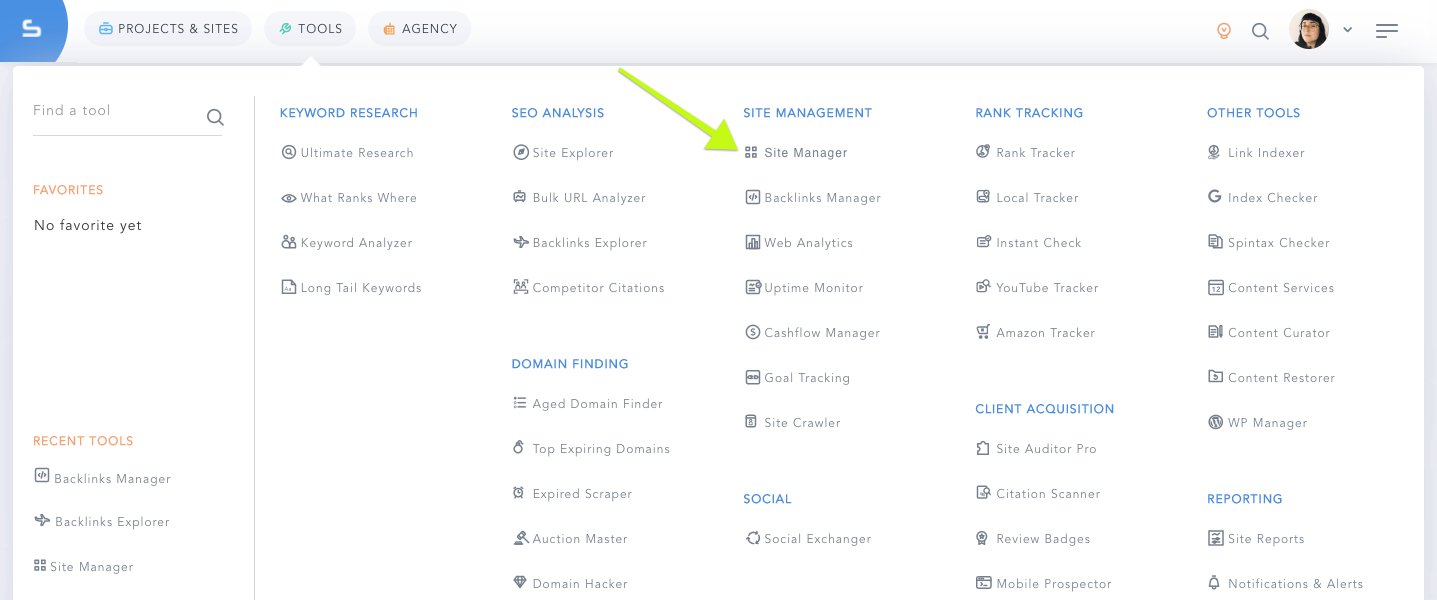 To enter your report, you just need to click the blue link with the website name: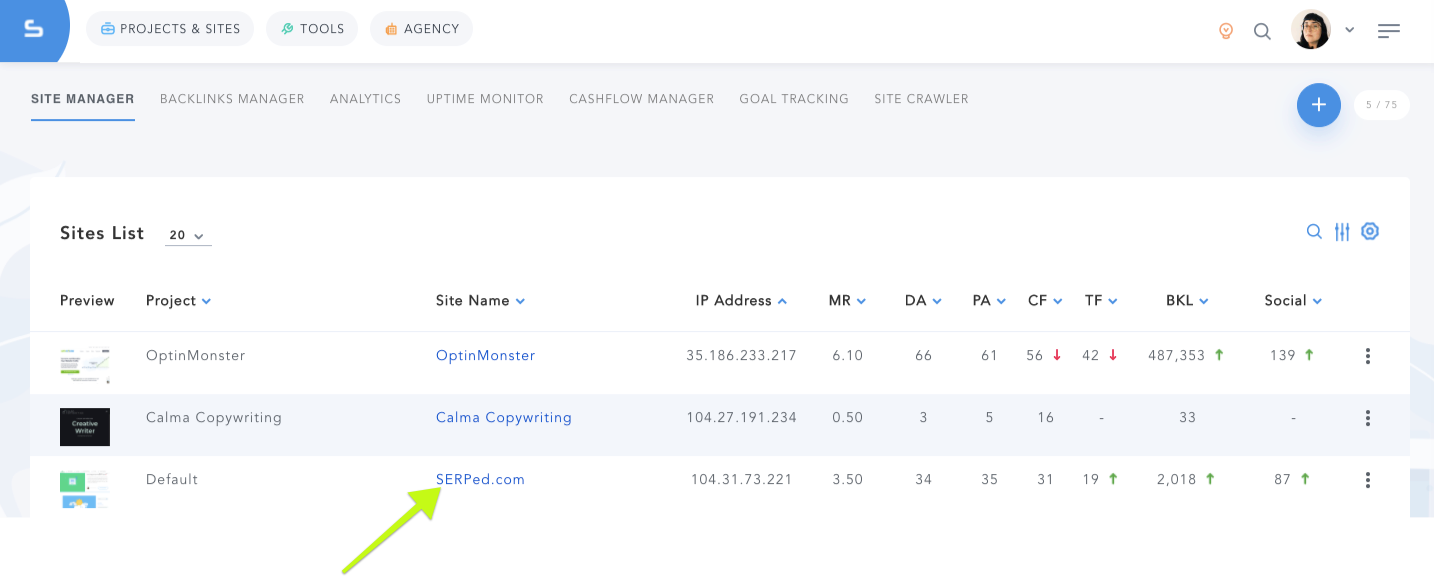 Then, you can access your data for Moz and Majestic metrics, plus Social Signals:
You also get Topical Trust Flow, which is an interesting way to know where you stand in your industry.
These metrics will help you understand if there are any issues with your domain authority and similar concepts, so you can be aware of any changes. If you notice a sudden drop in your Domain Authority, Citation Flow, etc., you can check the tools we referred to previously to know what is going on.
The Future of Domain Authority – Final Thoughts
This article was inspired by the tweet we mentioned in the beginning. Even though in the past Google has denied the relevance of domain authority and similar factors for its ranking, the documents that have been released indicate that Google does pay attention to them. Now that we know this, as SEO experts we need to adapt.
If you are already paying attention to the metrics we mentioned above, you can go on using them as you used to. If you didn't, it's time to incorporate these concepts into your SEO efforts.
The way to ensure a high authority is simple: work on your backlinks, improve variety, quality, and domain authority for those links, and you should be alright. We don't know yet how these factors affect Google's ranking system for sure, but we now know there is some value to them. And, of course, you should always work on your on-page SEO too – being relevant and knowledgeable helps increase your authority as well. There is no amount of link building that will work on low-quality content.