Imagine a tool that allows you to generate SEO leads on total autopilot… All you need to do is to seat back, relax and follow up with the leads it generates for you, to sell them your services and turn them into high value clients… Well, that's exactly what 'Site Auditor Pro' allows you to do!
This easy-to-use, powerful tool, included in SERPed.net, at no extra cost, allows you to create an audit form that you can embed anywhere you want and provide users with detailed SEO reports. In other words, it's an SEO lead-grabbing system that will bring in new business for your SEO company!
How Site Auditor Pro Works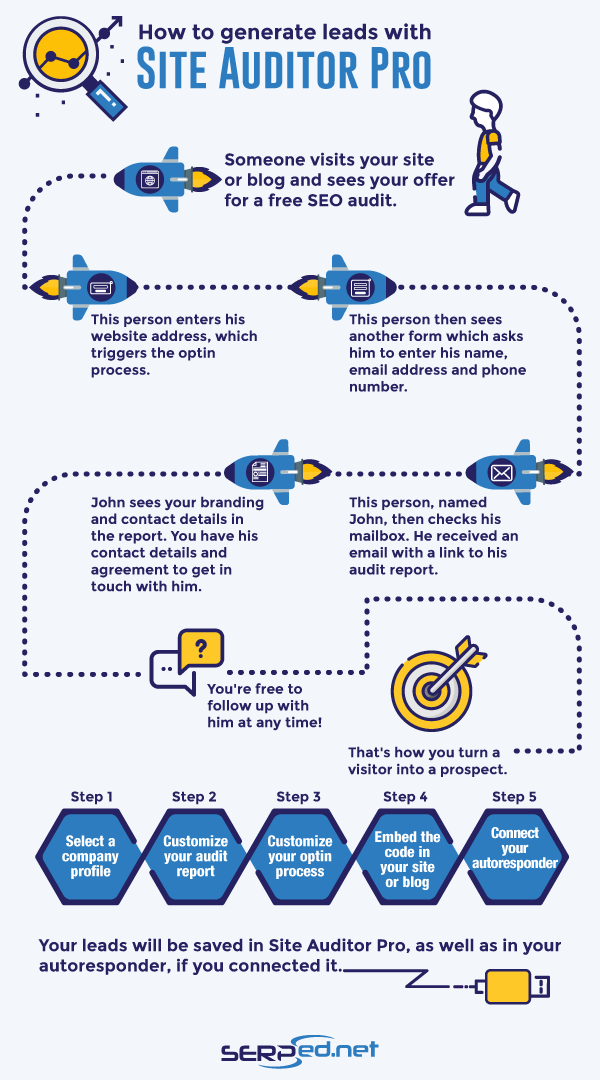 Our competitors charge between $50 and $200 per month, for lower quality tools… Ours is more advanced, more flexible, and comes with 30+ other SEO tools. We have done all the work for you. All you need to do is to add the embed code to any page and look like a total rockstar to your leads, who will go through our high-converting, pre-selling funnel and become high-value clients in no time.
'Site Auditor Pro' lets you customize your reports, with your logo and contact details, as well as your audit forms and emails. All the leads it generates for you are saved in your SERPed.net account. You can even add your Aweber, MailChimp, GetResponse, Ontraport, SendReach or Infusionsoft details, so they are automatically sent to your autoresponder.
You can send your audit form to local businesses you know, or set up Facebook ad campaigns to drive quality leads into your follow-up system. 'Site Auditor Pro' is a 100% white-label solution that provides a stunning SEO report with your branding to your leads in 60 seconds! If you're in the SEO business, this is a must-have! Period.
What are you waiting for? Log in now, go to the 'Client Acquisition' section and click 'Site Auditor Pro' to give this insanely powerful SEO lead-grabbing system a try!