As you may already know, Aged Domain Finder helps you find high quality aged domains that match your criteria. A cool and easy way to find powerful aged domains for your blog networks, niche sites…
Unfortunately, Aged Domain Finder 3.0 became a little unreliable soon after launch. We received reports that the tool wasn't working 100% of the time. Sometimes your searches returned results, sometimes not.
There wasn't a quick fix… That's why we decided to create another version of the tool: Aged Domain Finder 3.1, which is a lot more reliable than the previous one.
What's new in Aged Domain Finder 3.1?
First of all, let's talk about the search form… It's pretty much the same, except you can now specify a minimum and maximum Moz Page Authority, if you want to.
Speaking of minimums and maximums, entering a minimum of 3 attributes is not compulsory anymore. In the previous version, you had to enter a minimum of 3 attributes for the search to start. This is not the case anymore.
You can still choose between expiring and expired domains, as well as enter a keyword (optional), set minimum and maximum attributes (optional), select TLDs (compulsory), save your search as a template (optional)…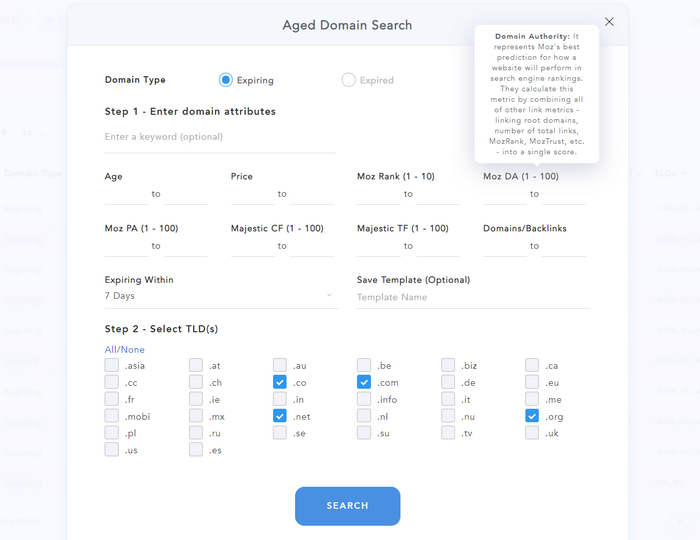 In the back-end, Aged Domain Finder now works in a different way. Results should be much faster to load. There might be less results than before, but the domains you get are the best ones you can get. We indeed get rid of spam and other low-value domains that you don't want to see anyway.
Less results, but better quality, affordable domains.
On the results page, you can see the list of domains of course, as well as key metrics. You can sort domains by age, price, metrics, time left (if expiring) or any other available attribute.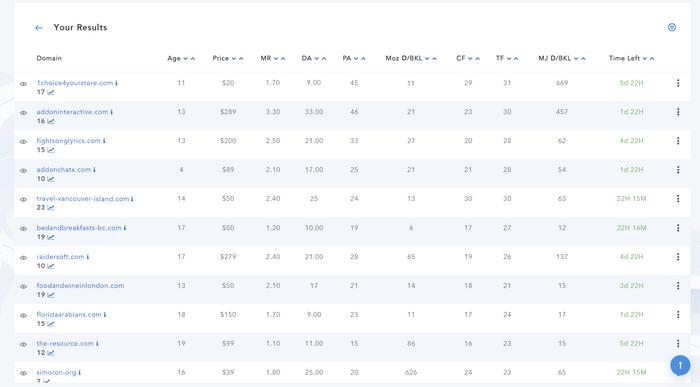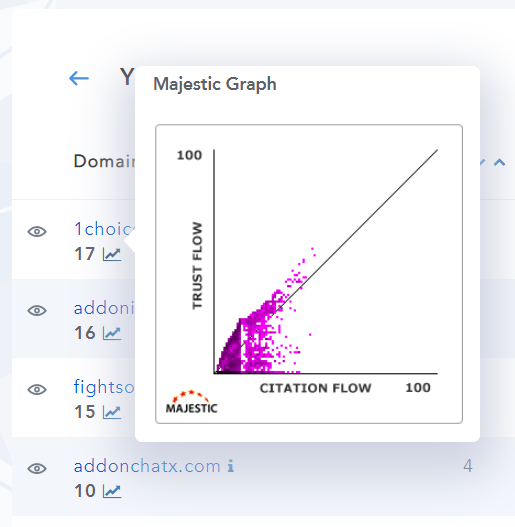 You will be able to see key metrics such as the Moz Rank, Domain Authority and Page Authority, as well as the Majestic Citation Flow and Trust Flow, number of backlinks and more. You can also see the Majestic graph, with the click of a mouse.
That's pretty much everything you need to know to have an idea of the domains you are looking at and find out whether or not you should look into them a bit closer.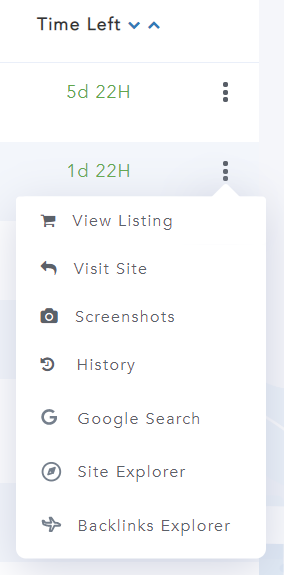 If there is a domain that you like, you can send it to Site Explorer or Backlinks Explorer to check its metrics and backlinks in more detail, in just a couple of clicks.
If you are ready to bid on the domain, or purchase it, go back to the results page and simply click on "View Listing" in the menu on the right. Just for your information, we don't make any money on the domains you purchase. These are NOT affiliate links.
Also please note that you can now decide which columns you want to include/exclude in search results tables.
For example, you could decide to hide the "PA" (Page Authority) column. To do so, simply click the cog at the top right of the table. A modal will appear. This is where you can tick/untick the columns you want to include/exclude.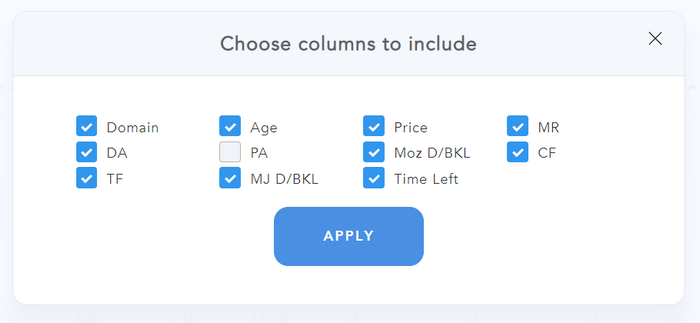 We also greatly improved the list of templates you can see when opening Aged Domain Finder. This table now includes a lot more information, including the criteria you selected when doing the search for the first time. This will help you easily find the template(s) you are looking for.

Last but not least, we also improved Top Expiring Domains, which now scans more domain sources to find the best expiring domains available on the market. All the domains listed in Top Expiring Domains have decent metrics. If you're in a hurry to find good domains, or if you don't want to spend time checking metrics and backlinks, make sure you give it a try.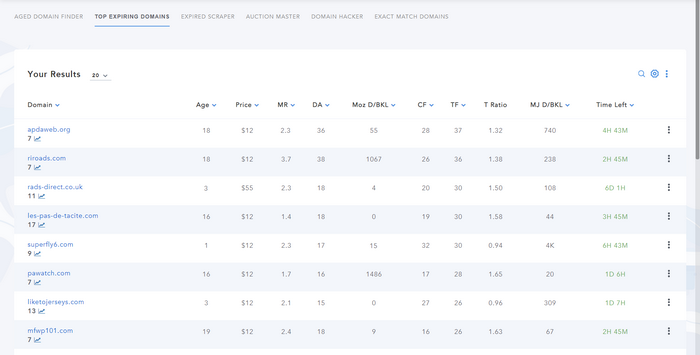 Just like for Aged Domain Finder, there might be less results than in the previous version of Top Expiring Domains, but the domains you get are the best ones you can get. No more lemons!
Want to find high quality aged domains? Try Aged Domain Finder 3.1 now…
Not a member yet? Click here to sign up now…
If you have questions or feedback, don't hesitate to leave a comment below. If you experience issues, please get in touch with our friendly support team.
Remember you can also find us on Facebook, Twitter and LinkedIN.