So, you work in SEO. Perhaps you are a freelancer or you run a digital agency that offers SEO services. Amongst the many challenges you are facing, one of them is probably getting new clients. How do you find new SEO clients?
There are a few techniques you can use to find new clients locally and even internationally other than cold calling or cold mailing. The goal of this article is to show you that there are many strategies that do not require cold selling.
What we'll try to do through these tips, is to show you how to build a relationship with your prospects that will make them want to become your clients. In this article, we'll focus on the top seven tactics.
These are proven tips that will always work no matter the location. This does not mean they're going to work immediately since there are usually 7 touchpoints between a customer and a brand before a conversion happens.
However, you might not get immediate results from cold calling or cold mailing either. The beauty of these tips is that they aim to make your clients come to you instead of you having to approach them with your sales pitch.
Isn't it better to have your clients come to you instead of you going to them?
1. Join Facebook Groups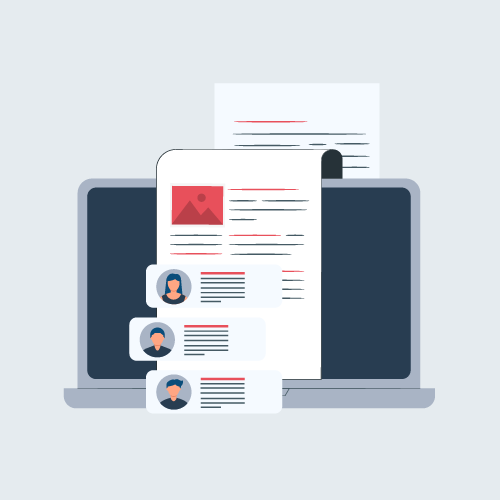 This is part of a bigger strategy that we recommend. To find SEO clients, one of the first things we advise, is to join Facebook Groups related to SEO and local businesses and start writing in them.
You don't want to start immediately spamming the group with links to your agency or business. You have to be subtle. Start of by showcasing your knowledge, which you can do by answering questions that other users have asked in the group. Show them you are knowledgeable about SEO and become an authority in these groups.
Once you've become an authority in SEO, people will start messaging you asking for help. If you provided them with the right answer, they'll want to know if you can provide your services to them.
This does not mean that if you answer two questions about SEO, you will immediately have clients banging on your door. This is a strategy that takes time but is completely worth it in the long run. Great results don't come easily when your company is new in the market or your social media presence in the past few months have not been that constant.
However, this is a strategy worth pursuing. Getting well-known in the SEO world will bring you no end of clients and referrals. Using social media as a whole is a good way to get prospects.
Share your news on Twitter, Facebook, LinkedIn, even Instagram if you have visual content that could be useful. Get a tool that will pick up mentions that interest you (like Awario) and respond to people who have questions that your agency could answer in detail.
This seems like working for free, but it is not, actually. Once your profile is well-known on social media, it's a lot easier to build trust with new prospects. After all, 84% of CEOs and VPs of large companies use social media to validate purchases.
2. Use SEO Forums, Quora & Reddit
SEO Forums are a great way to get in touch with possible prospects. Quora and Reddit are also social networks that provide you with a great way to contact people who are already looking for information for SEO.
Unlike Facebook Groups, they aren't as exclusive, even though each one has its own rules. When it comes to SEO Forums, one example is Warrior Forum, a well-known digital marketing forum with a dedicated SEO area.
At Warrior Forum, self-promoting posts are not accepted in most Forums like Search Engine Optimization, however, there's a Forum for Reciprocal Links that can help you if you're looking for backlinks.
The main reason why you should be on Warrior Forum is not to exchange links, though. It should be just like Facebook Groups: a way to share your knowledge and get important contacts in exchange.
On Quora, we advise you to build a strong profile before you start sharing links to your company website. However, if you've answered a few questions in the beginning and in between which aren't promotional, you should be in the clear.
As for Reddit, things can get a little bit tricky. Reddit openly despises any sort of promotion, even though they've started showing ads in their "subreddits" (forums within Reddit). However, their community can be harsh if they perceive you to be self-promoting. You'll get banned in no time if someone figures you out, so tread carefully.
Why do we include Reddit then? Because if you show your extensive knowledge in the right subreddits, you might get contacts of people who want to work with you. It is not forbidden to do business through Reddit – it's just open self-promotion that's frowned upon.
3. Use Guest Posting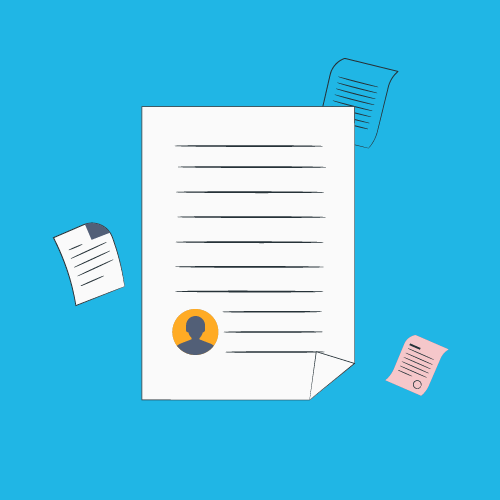 There is a lot of fear-mongering around guest posting. Some people say it's dead for all purposes, but we don't agree at all. It all depends on where you post and the type of guest posts you accept at your website.
It's not difficult to get to guest post at a famous website if you can offer them a valuable place in which to share their own guest post as well. However, if you're just starting, you need to build up your own website in terms of SEO to make this strategy worthwhile. But we'll cover that at a further point in this article.
Guest posting is not only a great way to get backlinks but also to reach audiences that would not be readily available unless you reached out to other websites. It's not only about going after the biggest players in your industry, but it's also about going after the ones that will make it count for you.
If you have experiences with some specific local business, find out where people in that business hang out and ask to place a guest post. Sometimes, it'll be easy to get that connection if you're straightforward in your approach and don't hide your intentions.
4. Have a Great Website (in terms of SEO and everything else!)
Your website is a digital showcase for your agency. If you want to get good clients, your website needs to be thoroughly optimized in terms of SEO so you can ensure you tap into that organic traffic.
So, you want to rank high on SERPs. A common strategy is to aim at certain niches. Let's say you've done a few jobs for a dental clinic in your area. Show that in your portfolio with a dedicated page. Do that for every business specialty you've covered so far. Other people who are looking for SEO services in that business will find you and will want to find out what it is that you can do for them.
You are an SEO specialist. We don't need to tell you how to optimize your website. You just need to know you have to do it. A great website is a perfect way to show your prospects that they've come to the right place for their SEO work.
After all, if you promote yourself as an SEO specialist and your website is poorly maintained, who is going to believe you? Plus, if you have the right opt-ins on your website, it's easy to get contacts.
However, there's more you can do other than just add opt-ins to collect contact info. We'll cover that in the next two segments.
5. Offer Free SEO Audits to Your Visitors With Site Auditor Pro
One of the tools that SERPed is highly proud of is Site Auditor Pro. This tool has already helped hundreds of freelancers and agencies find new SEO clients.
What does Site Auditor Pro do? It allows you to offer a free SEO audit to your visitors, in exchange for their contact details. The tool automatically generates and sends the audit report, with your company's contact details. Does it seem like hard work? Well, it's not.
You'll only have to enable Site Auditor Pro so you can set up an optin form on your site or blog, or set up a landing page. You can pick whichever metrics you feel are going to showcase your SEO knowledge; the ones that you prefer to work on to improve their website.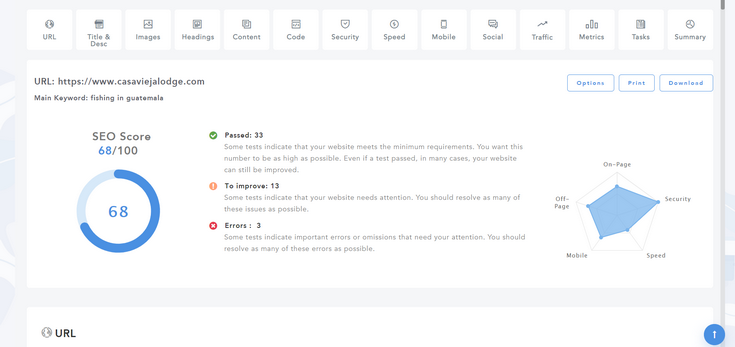 Site Auditor Pro is a great way to grab clients when they're not expecting it. After all, they just gave you their website URL and you show up with a complete report full of actionable insights that you can help implement. It's a great way to step up against the competition, which won't have access to this tool unless they use SERPed too.
One of the reasons why we believe in the value of this tool is the fact that most SEO tool suites don't offer any feature of this kind (if any of them do). So, having SERPed as your SEO toolkit will already bring you a huge advantage when it comes to getting new clients as a freelancer or agency.
6. Find Websites With Common Issues With Mobile Prospector & Advanced Prospector
This is another tool from SERPed that we couldn't let out of this list. What is Mobile Prospector for, you ask? Well, with Mobile Prospector you can find websites that are not mobile-friendly.
If you find some (don't worry, you will), all you have to do is contact the website owners and let them know you noticed their websites have such and such issues on mobile devices and that you'd be glad to help.
You might think it's a bit like cold emailing, except the difference is that you are actually offering something from the start even if they don't sign up for your services. You're sharing some insights about how they can improve their websites for mobile, which we all know is of the utmost importance right now when mobile traffic has grown 504% in daily usage since 2011.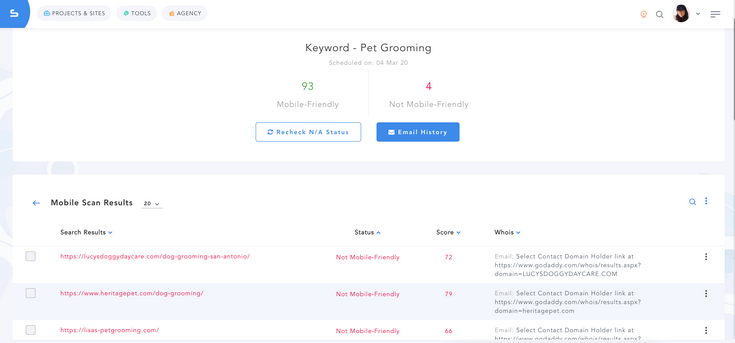 This seems like a great increase doesn't it? Well it is. Most internet users use mobile browsing pretty much every day in 2020. What this means for businesses is that their websites have to be responsive and adapted for mobile.
This is another great way to get new clients. Show them the benefits of having a good website on mobile and they'll convert easily.
Advanced Prospector works in a similar way to Mobile Prospector. Part of the Agency add-on, it allows you to research websites in a specific niche and check them for common mistakes, like websites that are not secure, that are too slow, that don't use AMP, and which CMS each of them uses.
This information can help you sell your services to the companies behind these websites. All of the factors that Advanced Prospector takes into account are related to SEO, so you can fix most of them easily as an SEO professional.
Once you have the information about what's wrong with the websites you checked using Advanced Prospector, all you have to do is to contact the website owners from SERPed (via SMTP) or using another method.
7. Attend public events and conferences
Another way to find SEO clients is to attend events related to SEO and businesses in your area. If you're a speaker, the better, but if you're not, you should nevertheless enjoy any chances you get, to meet new people who could be your next SEO clients.
It could range between being a speaker to having a booth advertising your services, or just attending with your team to mingle amongst the attendants. Every local or national event you manage to attend is an opportunity to get to know people who are looking for new information about SEO.
Of course, you can't go to all the events. But you should try to pay attention to any events that could be of interest, even if they're not directly related to SEO. Maybe you have experience in SEO for a specific type of business. Then, attend events related to that specific business.
You'll find people are more likely to trust you if you already know a bit about what their business entails. SEO work has a lot to do with research and knowing your subject.
Wrap Up
As you can see, using SERPed, it's easy to find SEO clients. Our agency add-on has plenty of useful tools to help you capture leads and get new prospects so you'll never have issues with getting new clients ever again.
We also have plenty more information about how to get your next SEO clients in our ebook, which you can download here. Using SERPed will help you, but when it comes to getting new clients, you should always have a plan B, a plan C, and any other plan you can think of.
To make your agency profitable, having plenty of sources from which to get clients is essential and should be one of your main priorities. If you need any extra help from us, let us know in the comments or through Facebook, Twitter, or LinkedIn.