Today we are super excited to announce the release of a new lead generation tool called SEO Prospector.
This tool, as the name suggests, will help you find SEO leads and clients.
SEO Prospector is a new option in Advanced Prospector, a tool that's included in the SERPed Agency add-on. You can learn more about this add-on here or by clicking on the "Agency" button in the top menu inside the members area.
To run a search and find SEO leads, simply open Advanced Prospector and click on the blue + button located at the top right, which will open this modal: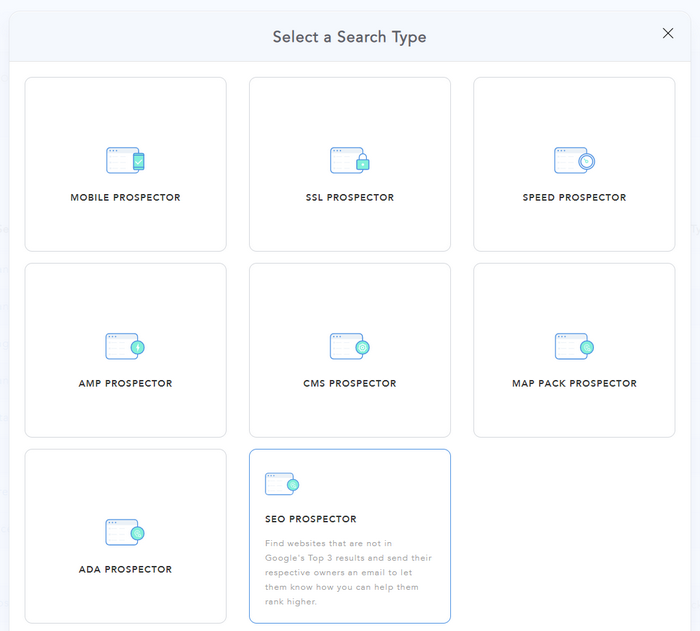 As you can see, SEO Prospector helps you: "Find websites that are not in Google's Top 3 results and send their respective owners an email to let them know how you can help them rank higher."
Click on this box to open the search form: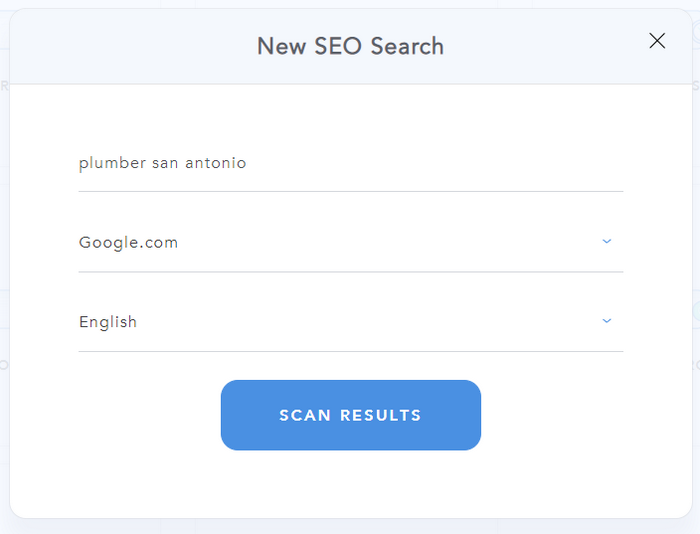 Then, simply fill out the form:
Enter a keyword e.g. plumber san antonio
Select a search engine e.g. Google.com
Click on "Scan Results"
SEO Prospector will then search for this keyword in Google and list all the sites it finds in the Top 100 organic results, as shown in the example below: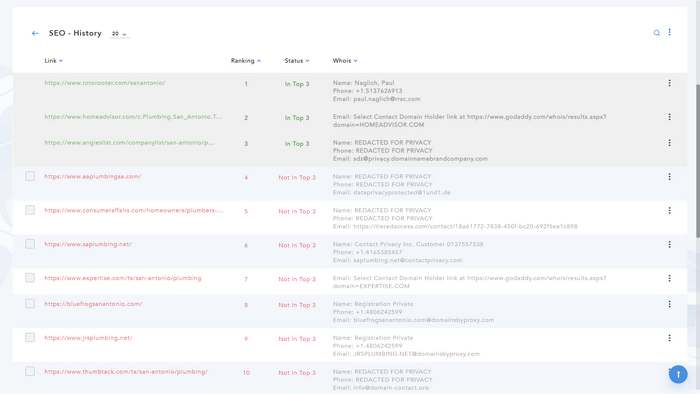 No need to contact the first 3 sites, as they are already in Google's Top 3 organic results. However, all other site owners below that should be interested in ranking higher in organic results for this keyword. This is where you come in!
Please note that you can view related keywords and respective positions by clicking on the 3-dot icon on the right, and then on (i) Keywords: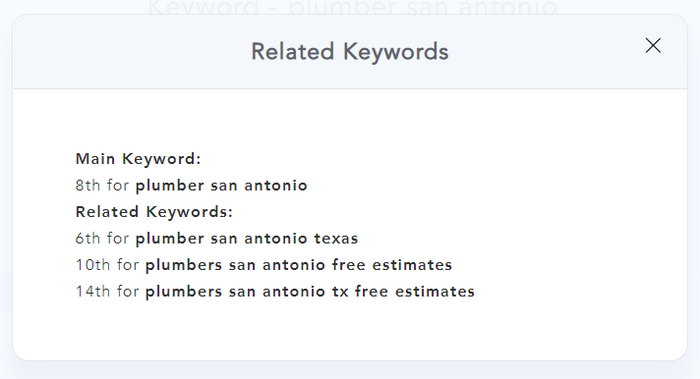 We'll talk about these related keywords again a bit later…
Then, simply select the sites you would like to get in touch with by ticking the boxes on the left and clicking on "Email/Download Prospects".
Then this modal will appear: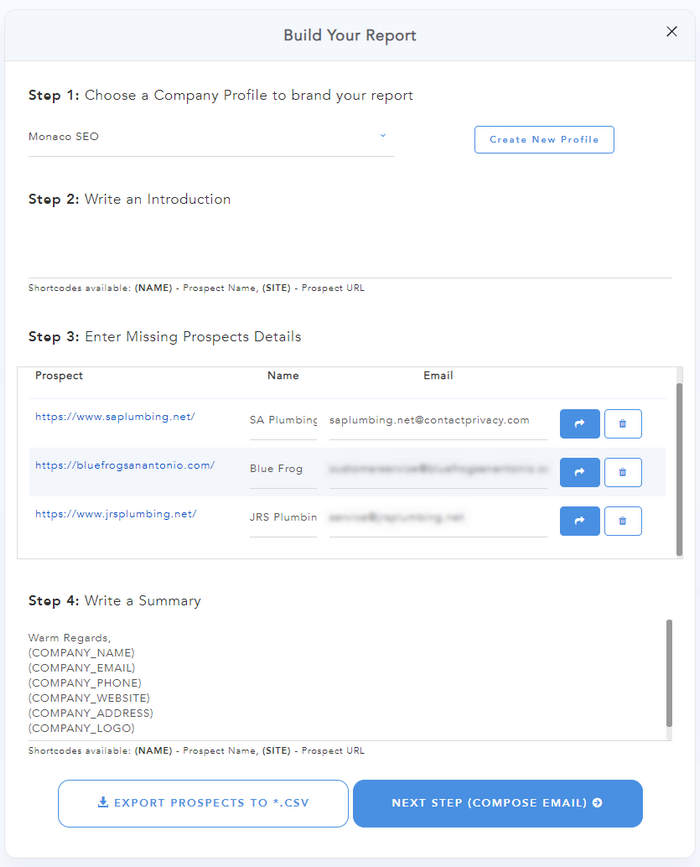 From here all you have to do is simply:
Select a company profile (to show your brand, contact details, etc.)
Write an introduction (which will be displayed at the beginning of the report)
Make sure there is an email address for each business
Write a Summary (which will be displayed at the end of the report)
If the email address is not provided by our system, we suggest you visit the website or Facebook page of the business in question. You should be able to find it quite easily.
If you don't want to spend any time looking for missing email addresses, we suggest you try our Hunter.io integration.
---
Hunter.io Integration
All you need to do is to add your Hunter.io API key to your SERPed.net profile. Once this is done, if SEO Prospector can't find a prospect's email address in the WhoIs database, it will send a request to Hunter.io, which should be able to find it for you.
Not a Hunter.io member yet? Click here to sign up… (50 free requests per month)
---
As you can see, you also have the option to export this data as a CSV file.
Then, click on "Next Step"…
In this step, you can draft the email that will be sent to the site owners that you have selected. We provide you with an email template of course, with some shortcodes. You can modify it, or write your own email and then save it as a template… This is completely up to you!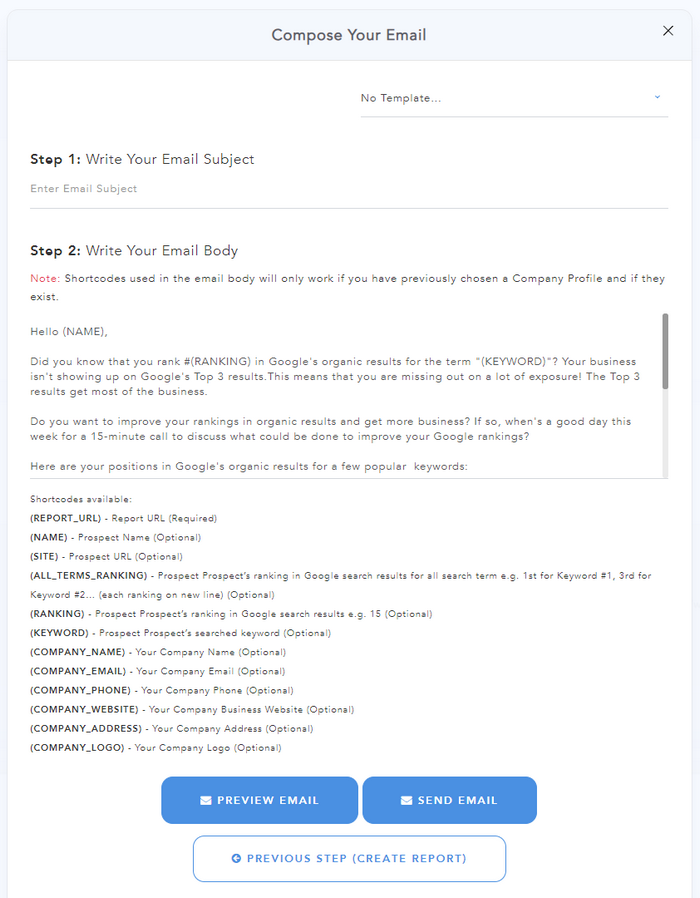 In the email, you should remember to mention the keyword you searched for and associated position, but you can also talk about related keywords, as shown below: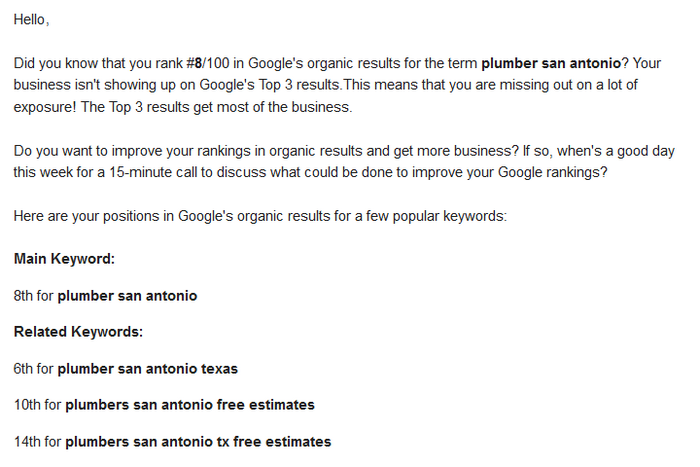 You have the option to preview the email of course… If everything is fine, click on "Send Email".
⚠️ IMPORTANT: Please note that, before you can send emails via our system, you must add your SMTP details to your SERPed.net profile.
To do this, go to "My Profile" and click on the "Integrations" tab. You can use SendGrid, MailGun, or any other SMTP provider.
You may also use your Gmail SMTP information to send this email from your Gmail or G Suite mailbox. You can find detailed instructions on how to do this here.
If you don't want to use an SMTP provider, no problem… Simply use the CSV export function and email these businesses the way you want… using Gmail, Outlook or any other email service provider.
Then, simply wait for your email notifications to start pinging or your phone to ring ? Not everyone will get back to you of course, but even if only 3-4 business owners get back to you, out of 100… It's still 3-4 leads, right? For just a few minutes of work…
Last but not least, you can access your email history from the results page, to see who you contacted exactly, what email they received and so on. This way you can keep track of everything and make sure you are not missing any important information.
That's how you can find SEO leads in just a few minutes ?
SEO Prospector – Tutorial Video
➡️ Not a member yet? Click here to sign up now… Make sure you take the Agency add-on or you will not have access to this tool.
➡️ Already a member? Log in now and give this new lead gen tool a try!
If you are a member but don't have the Agency add-on yet, log into your account, click on the "Agency" button located at the top and follow the on-screen instructions.
If you have questions or feedback, don't hesitate to leave a comment below.
Remember you can also find us on Facebook, Twitter and LinkedIN.