The news is in, and it doesn't look good for Google Plus, with the Google announcing that the platform is to be shut down.
Plenty of people have claimed the writing was on the wall right from the beginning, and that this was bound to happen at some point or another. Others, though, have remained faithful to the platform. They've spent a lot of time building out a presence on Google Plus and have always sung its praises.
Whichever group you belong to, this post will fill you in on Google Plus and its role in the social media landscape. You'll learn how Google Plus impacted SEO results and how you can use this knowledge to improve to improve your SEO campaigns.
Yes, Google Plus is not going to be around for much longer. But using the information in this post, you'll understand how to take the marketing lessons learned from Google Plus and apply them to any future products released by Google or anyone else.  
Let's begin!
The History of Google Plus
As other social media networks like Facebook started to develop a huge user base, Google felt like should get in on the action. The company did this, by creating a social media network in 2011, known as Google+ (AKA Google Plus).  
One of the cool things about Google Plus is the way that you'd organize your 'friends.' So instead of having a large list of people on your friend's list, you'd instead use a Circle system.

This meant that you could have a Circle for 'family,' but also another Circle for 'acquaintances.' You could even dedicate Circles to specific kinds of content, making it easy to monitor certain topics, whenever they're mentioned on Google Plus.
The Circles feature was welcomed, because nobody else could see your Circles, meaning you had a high level of privacy over who you interacted with on the network. The Circles also made it easy to share content. People could post content/opinions to these Circles, and only those in the Circle could see the content.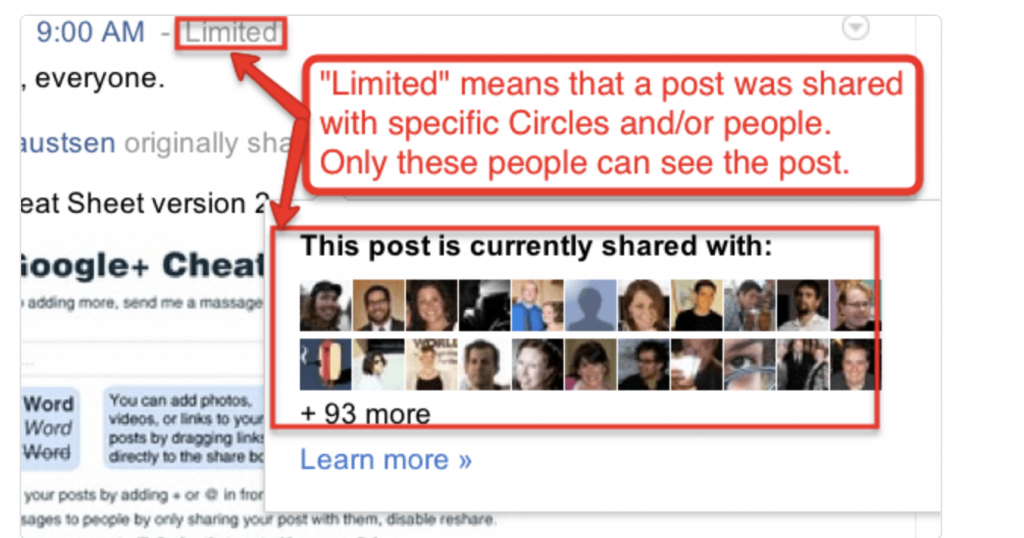 Aside from that, Google Plus functioned like a normal social network.
You could '+1' content, which is the same as a 'like' on Facebook. You could also comment on content, again, just as you would on Facebook.
There was also a feature that allowed people to 'share' this content with their own Circles. In effect, this is like someone 'retweeting' something on Twitter. Eventually the network added 'hangouts' which made it easy for people to conduct video chats.
Initially, the system was set up so that it was invite only, a little bit like Gmail when that was first released.
The social network grew rapidly and only four weeks after its release, data showed that the network had over 25 million unique users. However, despite reports of over 90 million users, a lot of people felt like the network was a bit of a 'ghost town.'
Some felt that this was down to the fact that user numbers were inflated, because people were forced to sign up, if they had a 'Google account.'
For instance, you might create a Google Account to use other Google Products, such as YouTube. But, setting up a Google Account also meant that you set up a Google Plus account. There was data to correlate with this viewpoint too, with research showing that 90% of Google Plus users had never created a public post.
That said, the network did show signs of success.
A lot of people liked the network, because of the privacy offered by the 'Circles system.' This meant that privacy settings were easy to control, making it easy for you to decide who was going to see what – something that was slightly tricky at the time for people that wanted to do the same with a Facebook account.
Of course, the ironic thing here, is that one of the main things that led to Google closing the network down, was a data breach, with Google admitting that an API bug exposed the data of over 500,000 users.
Even outside of the data breach, there was evidence that Google Plus didn't have a bright future. Official data provided by Google stated that "90 percent of Google+ user sessions are less than five seconds."  
You could argue that the network was doomed to fail, when the person who 'invented' the network, left in 2014. Ever since then the network experienced a slow death, but it was recent events that really put an end to the network and forced Google to make a decision on its future.
Google Plus and SEO
Because Google owns Google Plus, there was a sense that it could gather data from the platform more easily.  This interested people in the world of SEO, because it meant that any ranking signals related to Google Plus activity, might have a rapid impact on search listings.
Whether this actually happened, is up to debate, and there's a wide range of opinions on this.
Initial data did suggest that Google Plus had a significant impact on SEO results. The chart below shows data from 2013, which highlights how '+1's' had an even bigger impact than the number of linking root domains!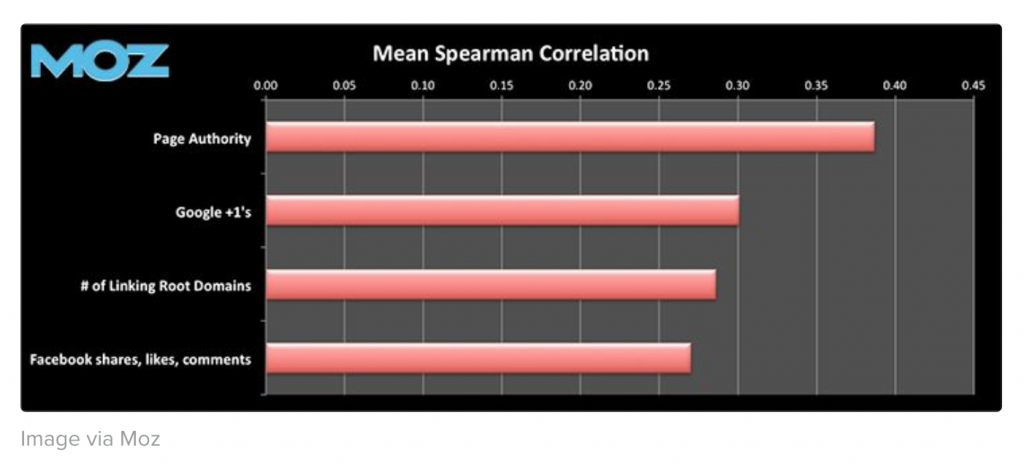 However, upon further investigation, many came to the conclusion that it wasn't the +1's themselves that generated the improvement in rankings.
Rather it was that if someone +1'd your content, it created a link. Because Google owns the property, they're able to gather data on the link very quickly and hence use it to improve rankings.
Here's a great explanation of what was going on.

Another thing noticed early on, is that Google Plus lead to personalized search rankings. This meant that your activity on Google Plus reflected how content appeared in the search listings.
Rand Fishkin designed an experiment that helped to bring some awareness to this concept. He wanted to see what would happen if a large number of people +1'd a post on Google Plus. If you take a look below, you can see the brief he provided for this experiment.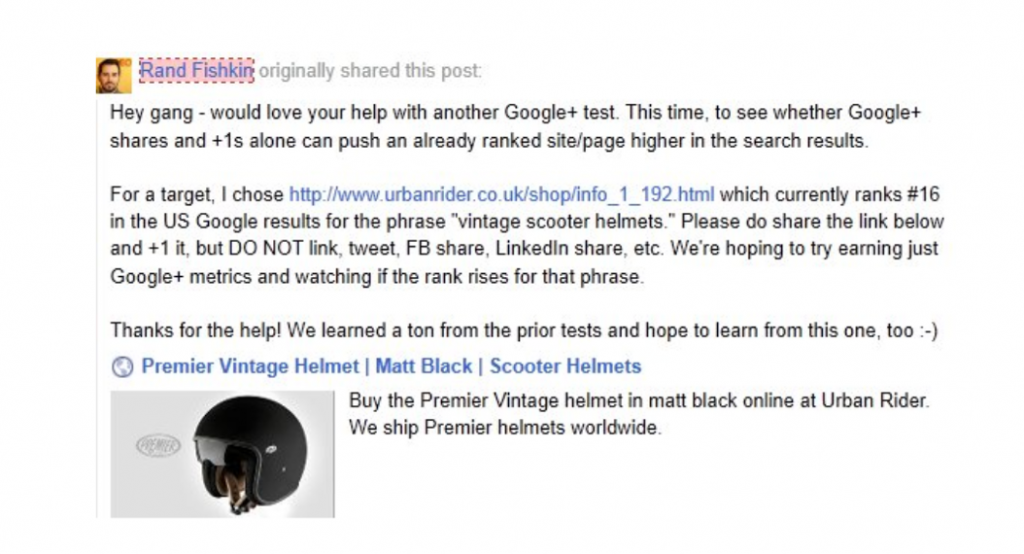 After engaging in this experiment, people found that there was indeed, an impact on their search listings, as a result of interacting with this content on Google Plus. For instance, some people saw a result similar to the one below, which indicates an improvement in ranking.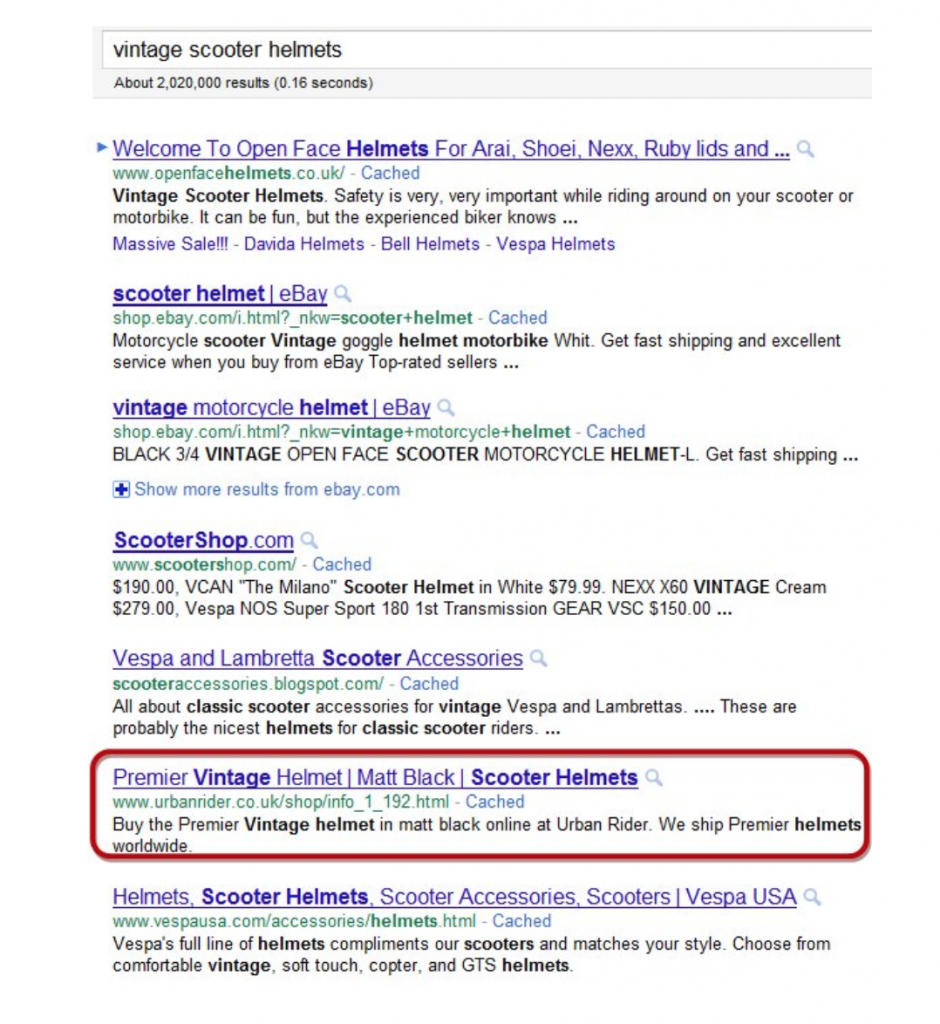 Others, though, noticed a different ranking for the exact same link. In addition to this, many found that after performing the same search using incognito mode, the same link was found much lower in the search listings.
Over time, there was still some evidence that having a presence on Google Plus, did have some impact on SEO. The chart below shows that some level of presence on Google Plus, whether having a page shared on the platform, or just having a link to an account, did correlate with an improvement in rankings.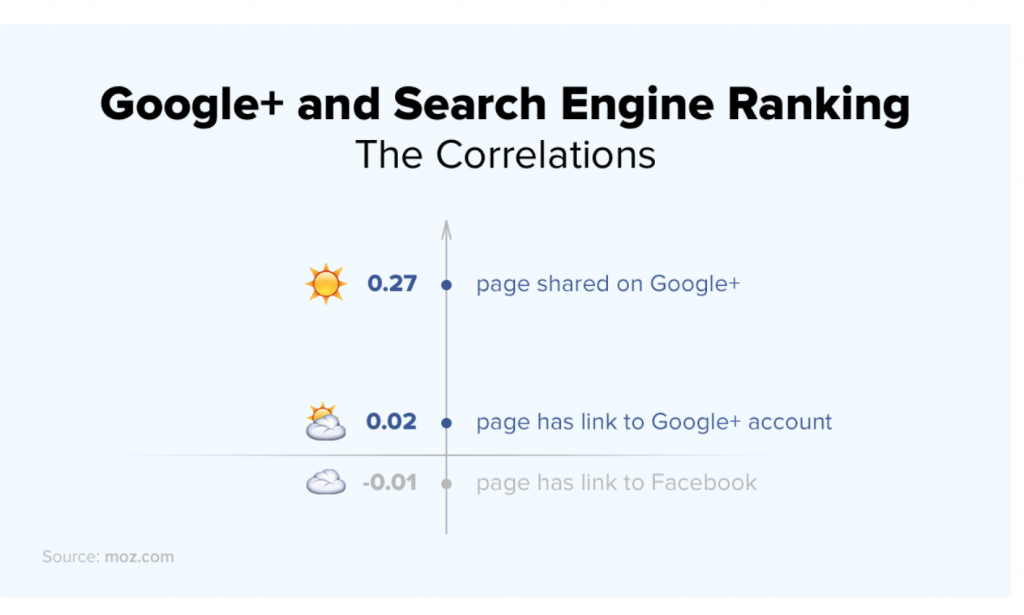 So… Many considered that Google Plus had some effect on rankings.
But it wasn't exactly clear if this effect would produce an improvement in rankings, in a definitive and clear-cut way. Because there isn't a lot of people on the network, it'd take a lot of effort to generate some buzz.
Eventually, it became clear that after the initial boost Google Plus didn't have a huge impact on rankings. Many felt that having a large Google Plus presence didn't produce the same uniform effect you'd expect if you decided to build more backlinks or if you produced better/more content. Thus, in the end, many felt it was better to just stick to tried and tested SEO principles.
SEO Without Google Plus
One of the reasons activity on Google Plus improved SEO rankings, is because it helped show that your website belonged to a larger brand.
Because Google can no longer use activity on Google Plus to help determine search engine rankings, it has to rely on data from other social media networks. But Google doesn't have as much access to the data of other social networks, as it did for Google Plus. Thus, it often relies on branded searches to help determine the strength of a brand.
Following this, it's worth thinking about how you can build a brand on other social networks. In doing so, you'll be able to improve the number of branded searches for your company, which will help improve your SEO results.
You should also think about how you can use other Google properties to help you nudge your rankings a little bit higher.
One of the things you can do is set up a Google My Business account. Even if you're not a local business, Google My Business can help you build out a presence within Google's ecosystem, that can possibly help your rankings.
Remember – the goal here is to build out your website so that it represents a brand. If Google releases a new product in the future, think about how you can use it to build a presence for your website. If you can build a large presence on a new platform, it'll show Google that your website can be trusted.
A Quick Mention on Paid Ads
If you have some experience with running paid ad campaigns on Google, you may have noticed that you could show how many followers you had on Google Plus. This, of course, works well in regard to social proof, since if a company has a lot of followers, it's likely a sign that you can trust the company.  
Here's an example of how that would look.

Well, since Google Plus is shutting down, you can't really make use of this anymore. That said, there are other ways you can incorporate social proof into your ad. One example is to include the reviews you have, an example of which is shown below.

When doing this you can show the reviews from your Google My Business account, or the reviews from your Google Merchant Centre account.
It's worth noting that anyone can leave reviews on your Google My Business account, but for your Merchant account only customers that have bought something from you can leave a review. Thus, the Merchant account option works well for ecommerce stores.  
What Does the Future Hold?
Whenever a big digital company releases a new platform, it inevitably causes a stir in the online marketing world. That's because marketers know that there's an early mover advantage on offer for those that can take action.  
Google Plus is a prime example of that and early data did suggest that the platform had a big impact on SEO results. Of course, the effect didn't last long and Google eventually limited the impact of the network on search results.
Whether or not you managed to take advantage of the platform, you can take the lessons you've learned here, and apply them to new platforms in the future. Provided your brand has a solid base, you should be able to propel your company to new heights if you know how to rapidly build out a presence on future platforms.