Today we are pleased to announce the release of a cool new feature called Keyword Clusters.
As you may already know, SERPed.net allows you to find keyword ideas with the help of Keyword Research tools, like our Ultimate Research tool for example.
With Keyword Clusters, you can group keywords by topic automatically, saving you hours of tedious work.
These closely related keywords have the potential of ranking together, so definitely worth checking before you decide what keywords you should target for your next campaign.
You can either generate keyword clusters from Ultimate Research or create clusters by uploading your own list of keywords, from another tool for example.
Update: Keyword Clusters is now available in Long Tail Keywords and Keyword Lists, in addition to Ultimate Research.
Keyword Clusters in Ultimate Research
To generate clusters in Ultimate Research, simply run a search and, once on the results page, click on the "CLUSTERS" tab located here: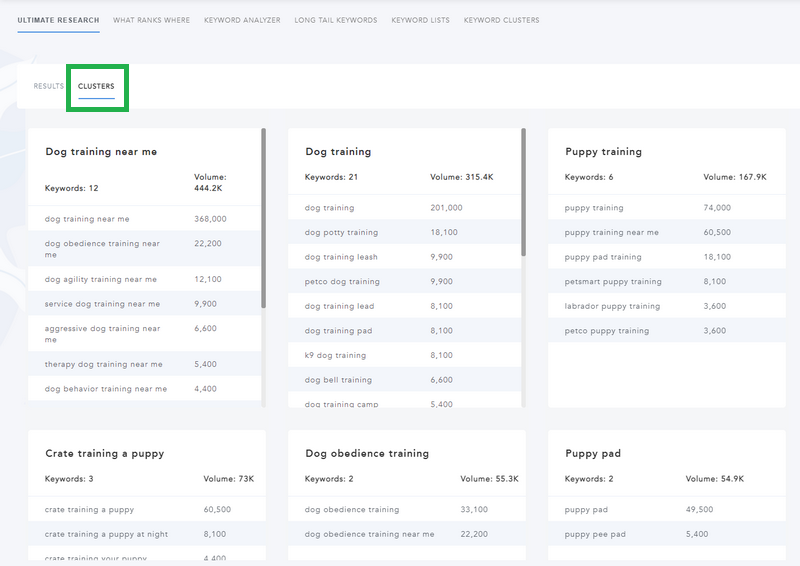 As you can see in the screenshot above, we generated various clusters for the keyword "dog training", including "dog training near me", "puppy training", "dog obedience training"…
Each box indicates the number of keywords, as well as the total search volume, for all the keywords listed in the box. You can also see the search volume of each keyword of course.
TRY SERPED.NET NOW
30-day free trial, 30-day money back guarantee
This is a great way to find other keywords to target, as well as keywords that have the potential of ranking together.
Please note that generating clusters doesn't cost any extra credits.
CSV Import Function
To generate clusters from a list of keywords from a tool other than SERPed.net, open Keyword Clusters, which is located under the Keyword Research category in the TOOLS menu.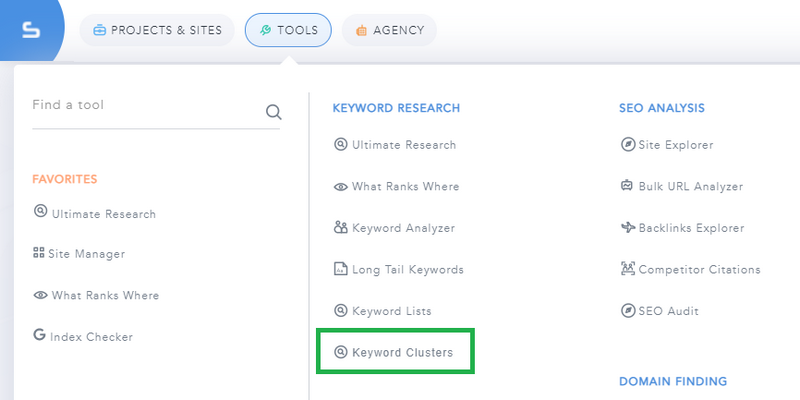 Then, click on the blue + button located at the top right. Select a CSV file and click on the Import button.

We will then generate clusters for you, using the list of keywords you imported.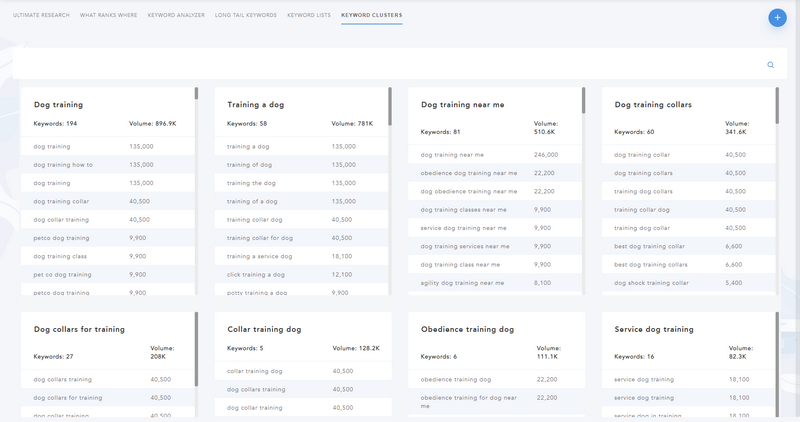 ➡️ Not a member yet? Click here to sign up now…
➡️ Already a member? Log in now and give this new feature a try!
If you have questions or feedback, don't hesitate to leave a comment below.
Remember you can also find us on Facebook, Twitter and LinkedIN.