Keyword research is one of the main pillars of SEO. It is usually the first step when it comes to on-page SEO, and it guides the way content is created.
SERPed.net is a very comprehensive tool suite that includes keyword research as part of the toolbox. ⚙️
In this article, we'll go through the tools included in SERPed that allow you to perform keyword research and analysis.
1. Ultimate Research
Ultimate Research is the main keyword research tool in our toolbox. You can find it here in the Tools menu: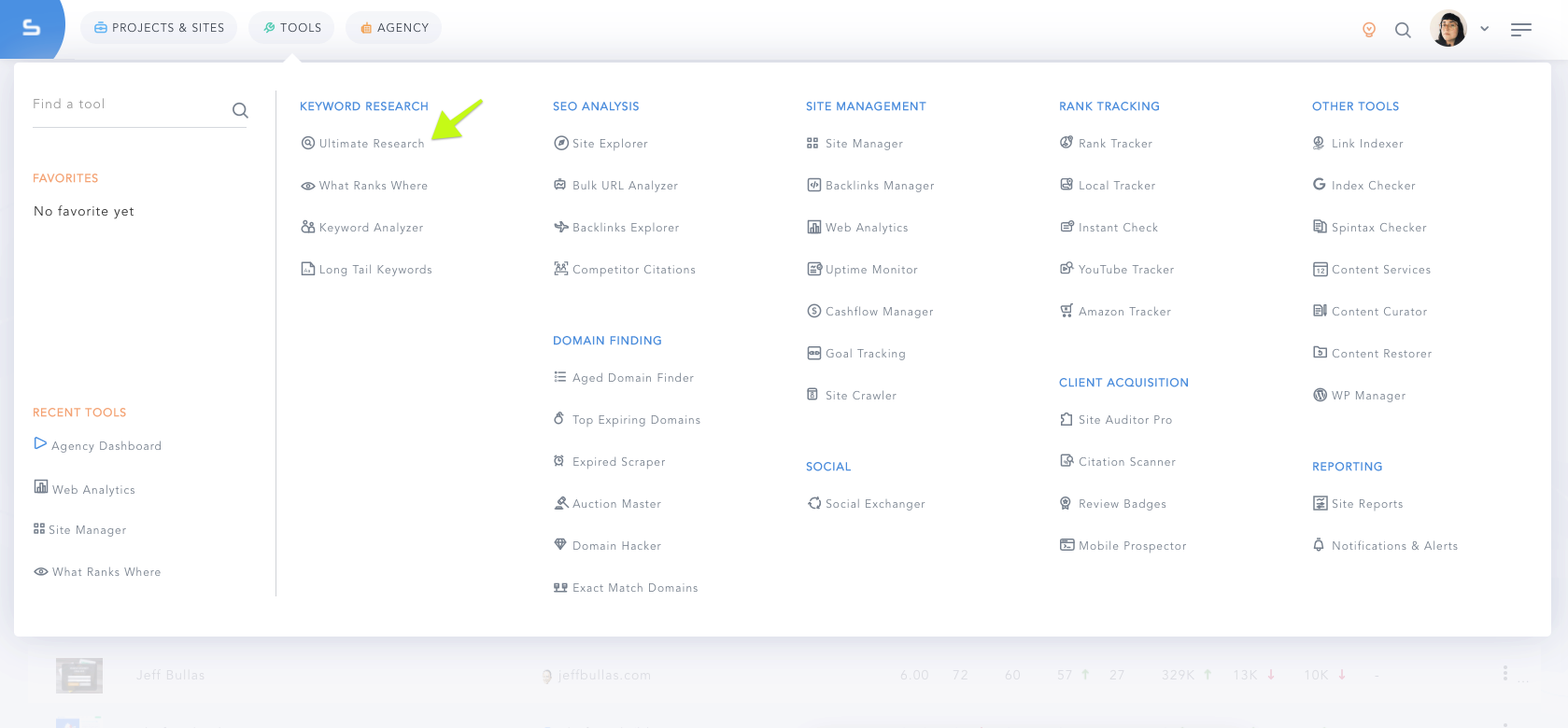 Once you've entered the tool, you'll see it's quite simple to use. To search for new keywords, just click the ➕ button. Previously searched source keywords stay on the initial page so you can go back to them anytime you need stats or to go through previous keyword lists.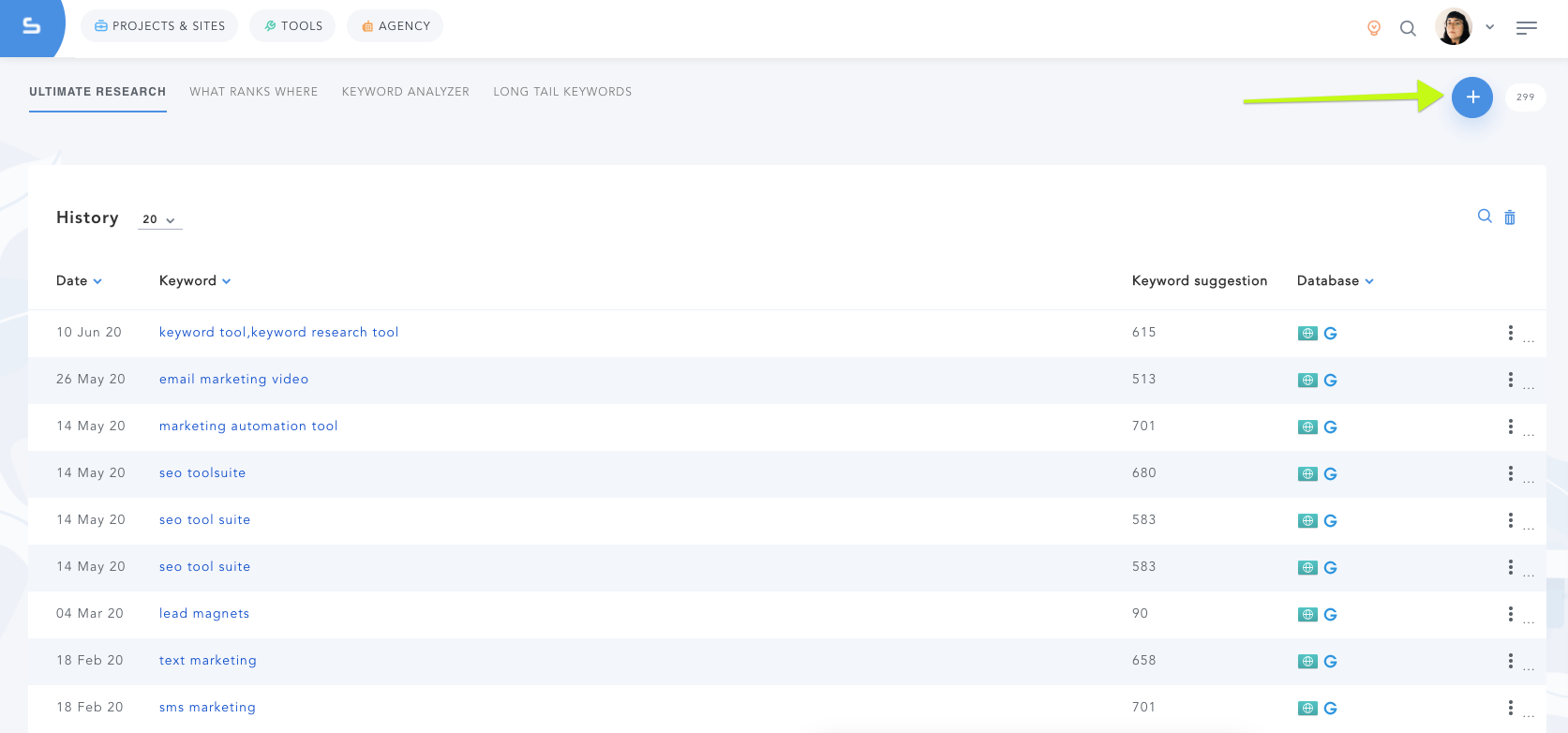 Once you click the ➕ button, a popup window will appear in which you can enter your main target keyword to find similar keywords and phrases. For now, ignore the Advanced Search option – we'll get to it in a second.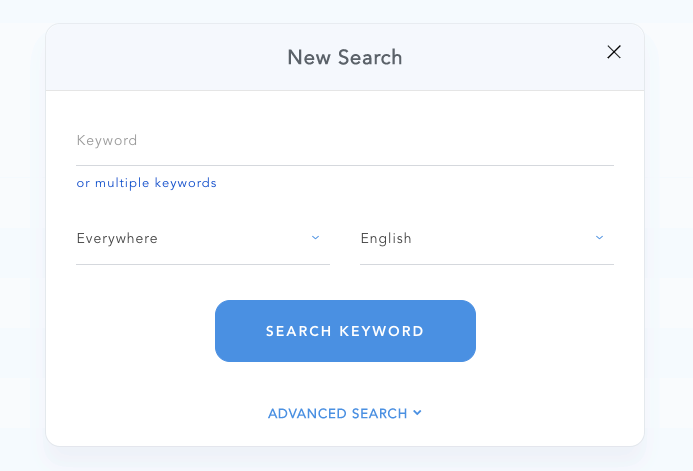 So, just type in your main keyword to get suggestions and you'll get a list of hundreds of related keywords.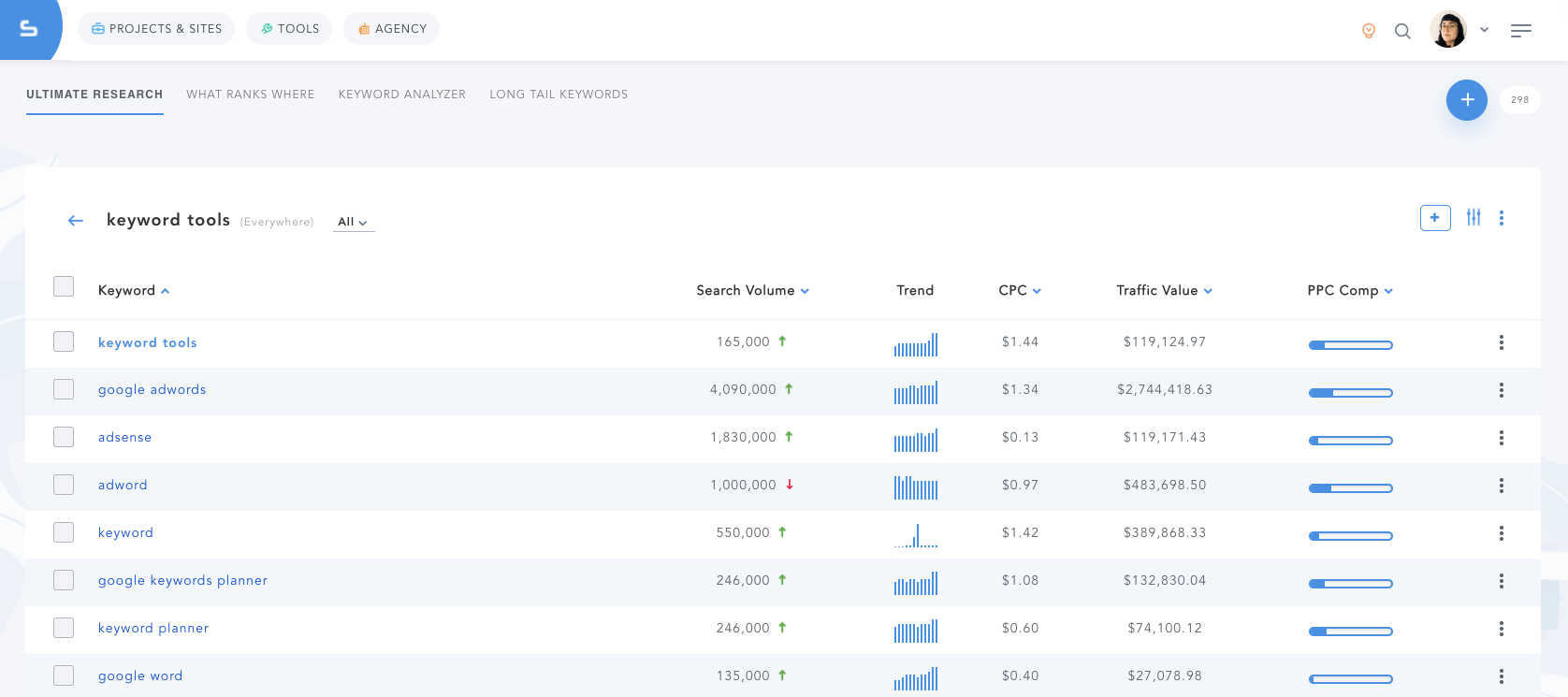 You can see plenty of data on this screen, including the search volume, trends, CPC (cost per click if you were to run a paid search campaign), the whole traffic value (estimated through Google Ads' API), and PPC (pay per click) competition.
This display includes all the data that you could get from Google Keyword Planner plus a few extras.
If you click one of the keywords, you'll get more details: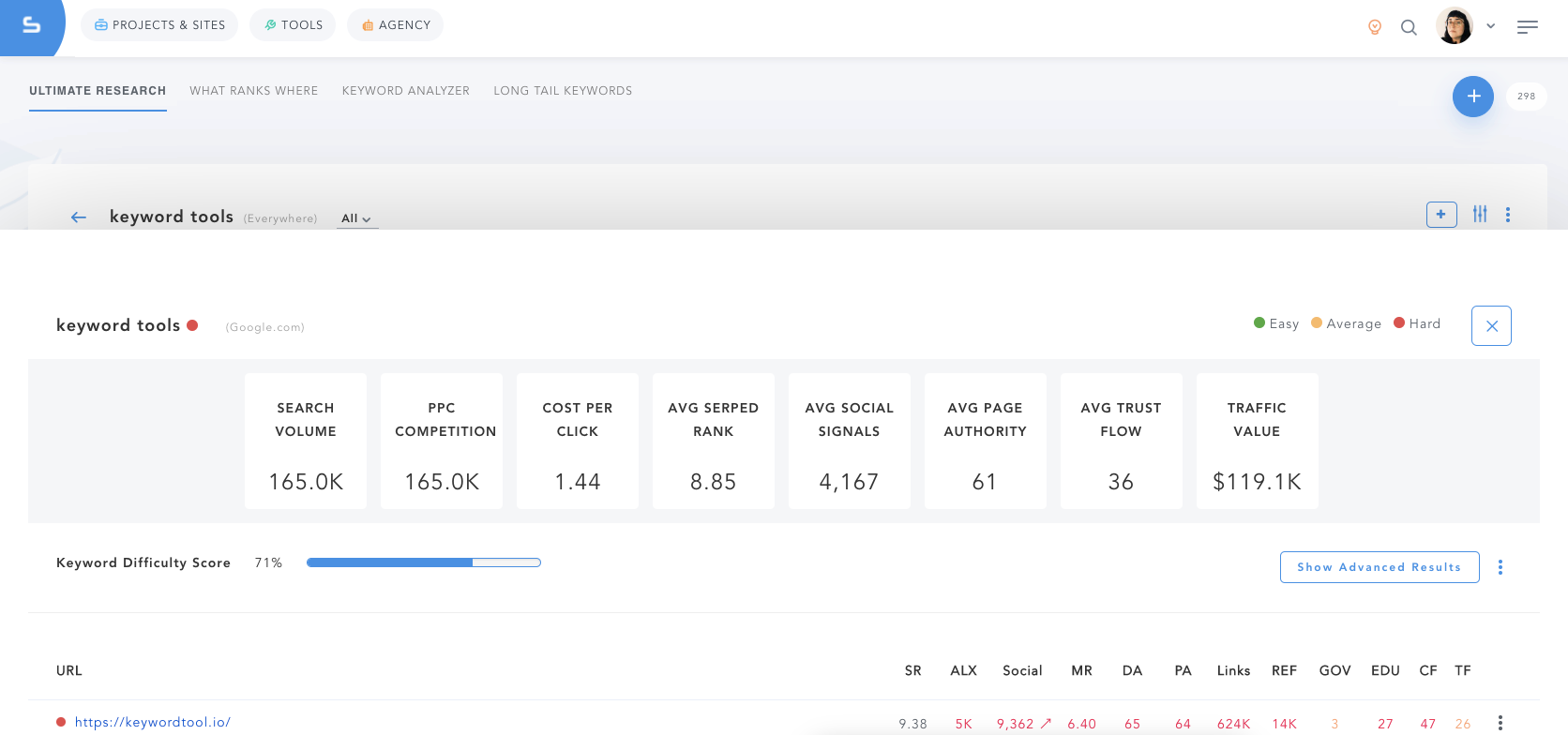 The URL list contains your main competitor websites for the keywords in the list. You also get averages for those websites, including SERPed Rank which is our own metric.
You also get Trust Flow and Average Page Authority. These two measures come from different sources: Trust Flow is a Majestic metric and Average Page Authority comes from Moz.
This is another reason why SERPed is such a cost-effective tool: you can get all the metrics you need without having to purchase any other software packs.
On the right-hand side of the table, you also get your Alexa score, social mentions, MozRank, Domain Authority, Page Authority, Links, Referrals, the number of .gov and .edu sites containing that keyword, Majestic's Citation Flow and, as previously mentioned, Trust Flow for each of the websites ranking for that keyword. 🔑
At the top left, right next to the keyword, you can see a small circle that can be green (low competition), yellow (average competition), and red (high competition). This color code indicates how hard it is to rank for that keyword.
If you click the three dots on the right of each keyword, you'll get the following options: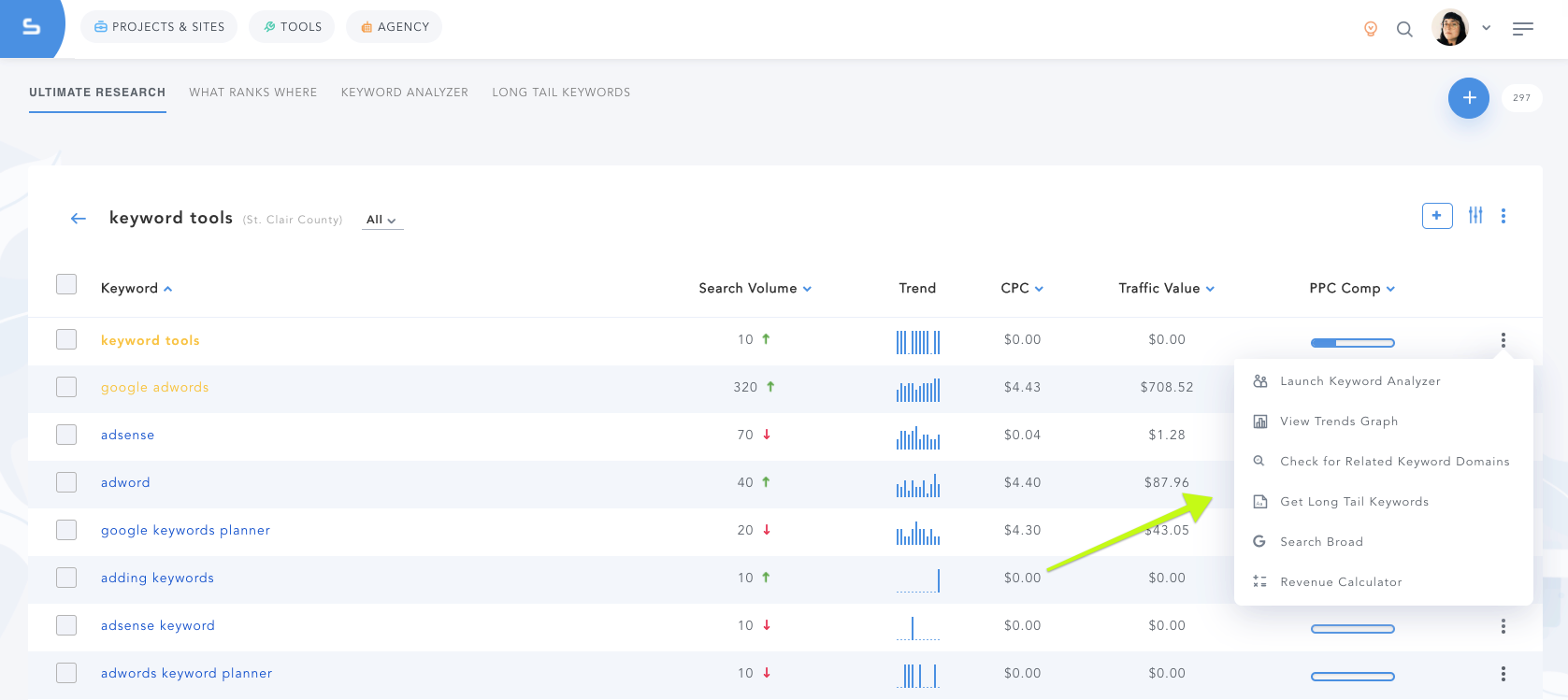 We'll go through Keyword Analyzer later, which is another very useful tool for your keyword research. We'll also discuss Long Tail keywords at the end of this article.
You can view a yearly graph for the search volume trend of each keyword, go to Google search using Search Broad, or even calculate your possible revenue for each keyword using the Revenue Calculator.
We offer the option to export the results to .pdf, .txt, .csv, .xls (for Excel) or even .ods (Open Office). Remember your previous searches will stay on your SERPed account if you ever need to go back to them.
This tool is:
➡️  Great for finding new keyword ideas 
➡️  Perfect to get keyword stats so you can plan your SEO content strategy
Ultimate Research – Tutorial Video
Ultimate Research – Tutorial Video
2. What Ranks Where
This tool shows you which keywords your website (or a competitor) ranks for. To add a new website to your account, you just need to click the ➕ button: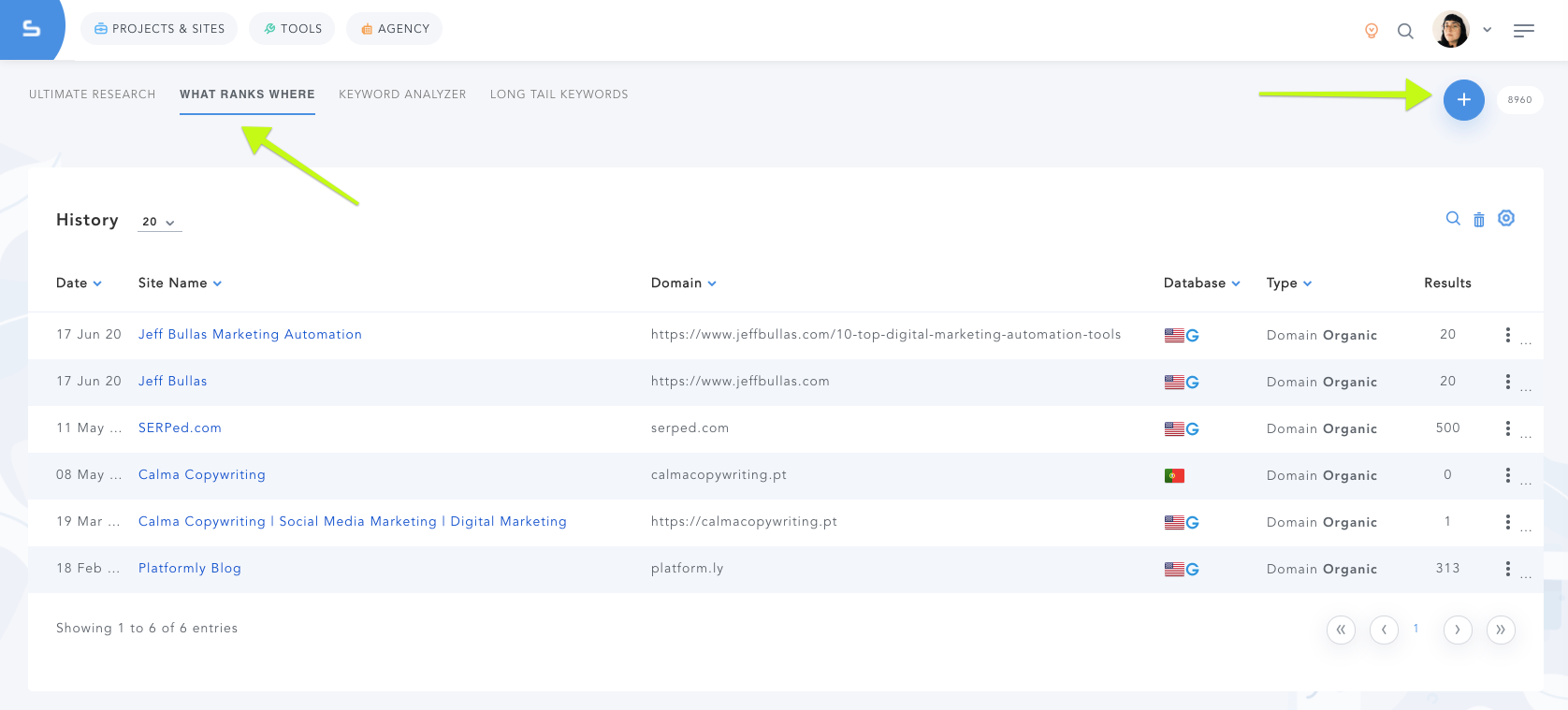 Once you have clicked that button, a popup appears. It requires you to fill in the website name (that is going to show in the History), the URL, the country you want to search for, and the number of keywords found.
There are also three options at the bottom that allow you to pick the search type (organic or PPC) whether you want to check the whole site or just a specific URL, and the order in which results appear (position or traffic percentage). ↪️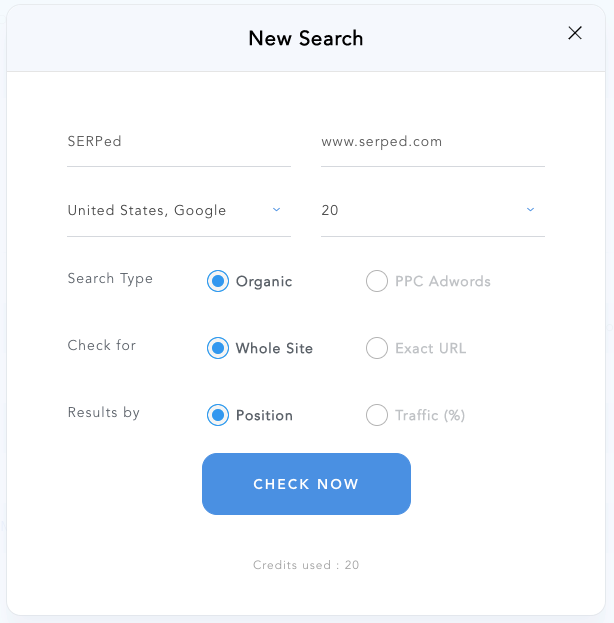 The results show on the next page: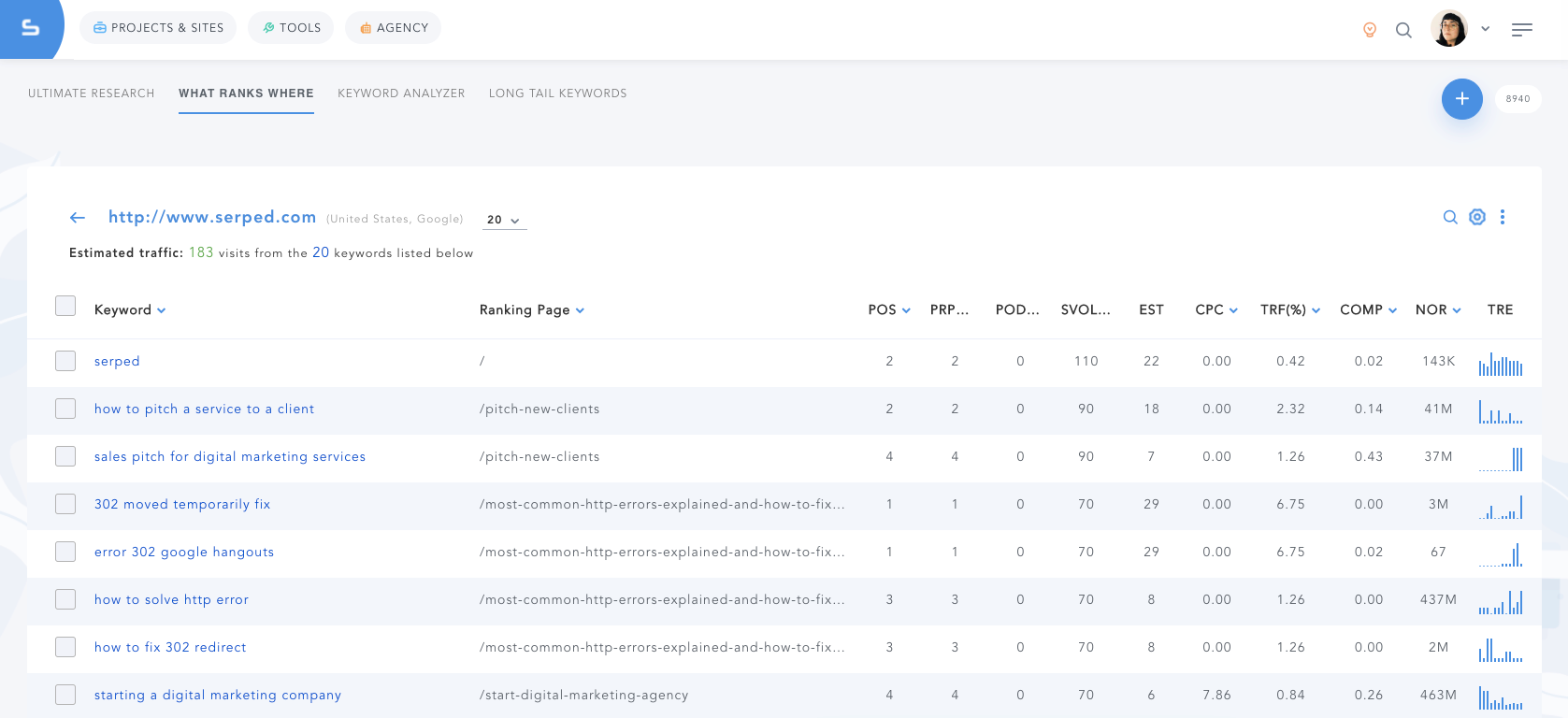 In the results page, you can see the estimated traffic for the top keywords (in this case we're only showing 20 results).
Then, for each keyword, you have the position it ranks on SERPs (search engine result pages), the previous position, the position difference (if it has gotten higher or lower in organic search), the monthly search volume, estimated traffic, cost per click, traffic value (in percentage), the pay per click competition, number of results for that exact same keyword, and lastly, a small graph on the right showing the search volume trend.
All this data can help you understand for which keywords you're currently ranking and perform a competitor analysis to find out new keywords you should be ranking for. Just like Ultimate Research, all your previous searches can be found in the history screen, which shows when you open the tool.
This tool is:
➡️  Ideal for finding out the keywords you rank for
➡️ Great to find keywords your competitors rank for so you can add them to your plan
What Ranks Where – Tutorial Video
3. Keyword Analyzer
Keyword Analyzer gives you insights into a specific keyword, showing you data about it and the websites that rank for it. It can help you define whether the keywords you found on Ultimate Research will be truly useful for your own website. The "History" section shows your previous searches and can be useful if you want to compare different keywords.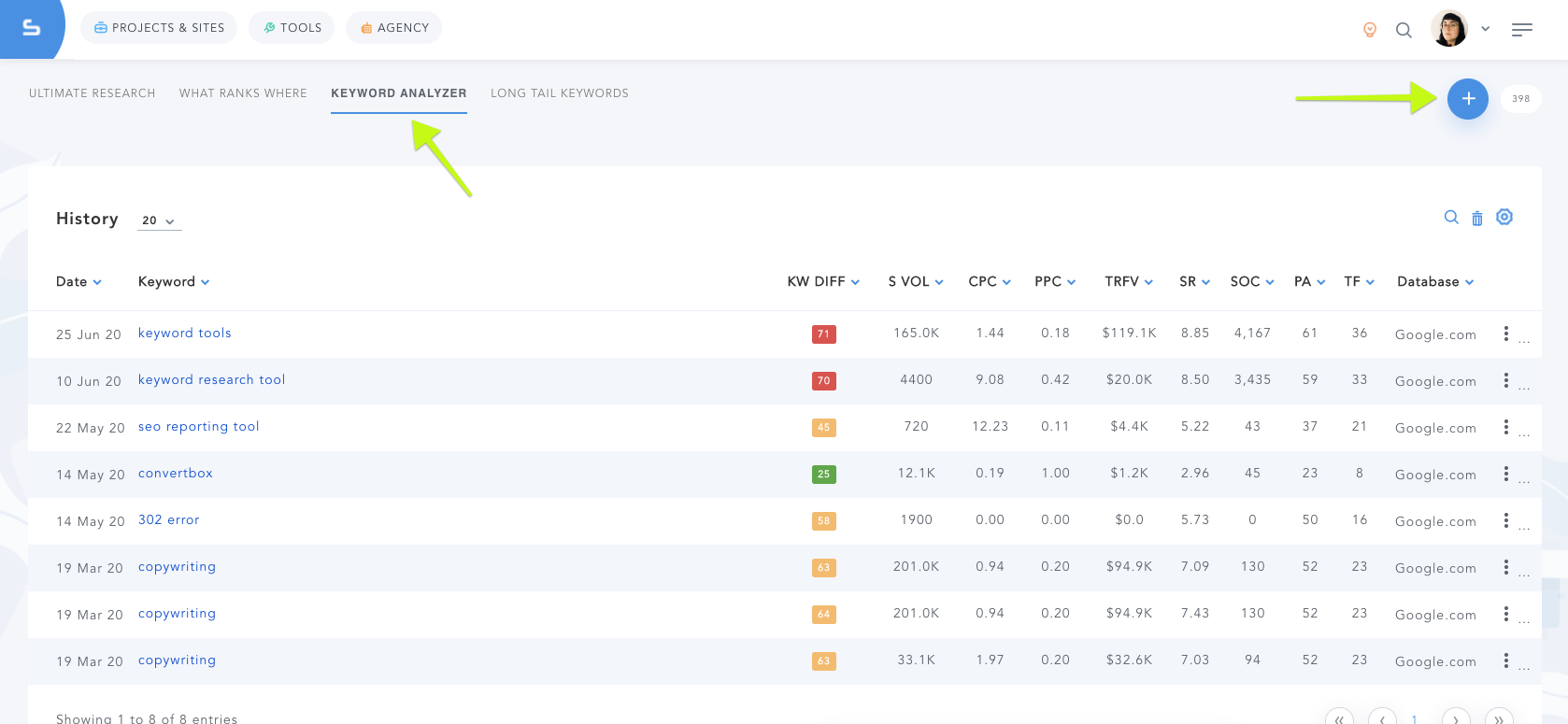 Once you enter the tool, you just need to click the ➕ button to add a new keyword. This popup will then appear: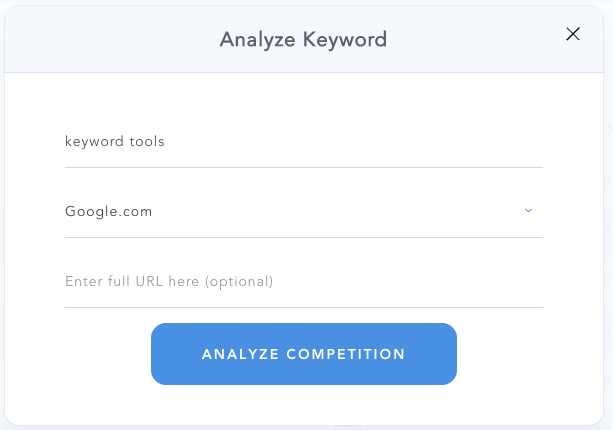 Then just enter the keyword you want to get stats for and pick the database. If it's a general search, you can leave it on Google.com; if it's local, you can find the different databases for certain countries. You can also enter a specific URL if you want to limit your search, but this is optional.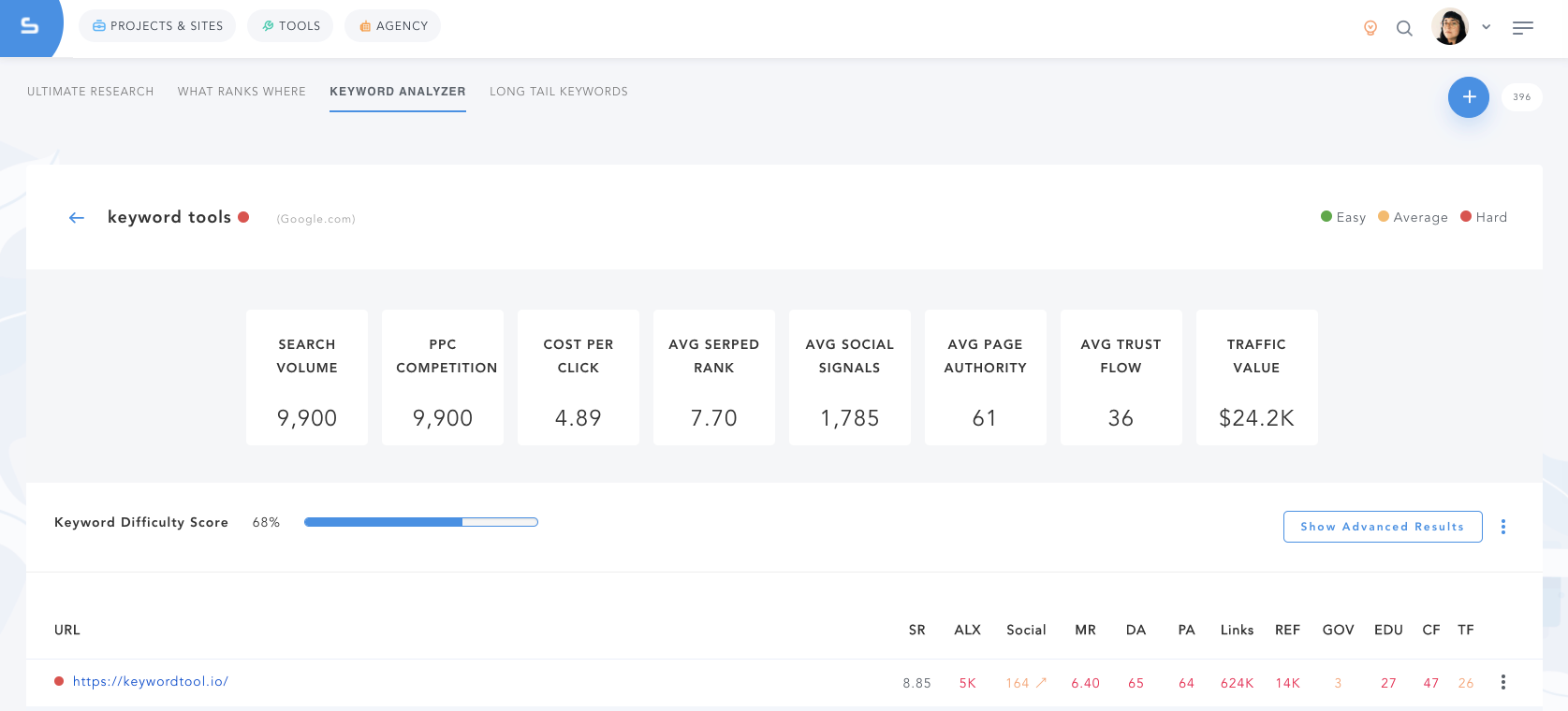 On the results page, you'll get the same data as if you click on a specific keyword on Ultimate Research results: competition, difficulty, search volume, Alexa Rank, Moz Rank, DA (Domain Authority), PA (Page Authority), and more. 🔎
This tool allows you to get a history of your most important keywords so they won't get lost among the results from Ultimate Research. If you don't use this tool, it's easy to lose focus on long keyword suggestion lists. Great for:
➡️ Comparing keyword stats
➡️ Getting data on your keyword ideas
Keyword Analyzer – Tutorial Video
4. Long Tail Keywords
When it comes to keyword competition, the best way to make sure you rank for the right keywords is using long tail keywords. These are keywords that are longer and more specific than your source keyword, making it easier for you to rank for relevant terms without having to compete with older, highly optimized websites.
Long tail keywords help you rank higher for specific searches. The way it works is that specific, longer keywords have less competition, so if you use longer keywords, you have more chances of ranking higher for those terms. These keywords usually include your source keyword or some variation, which helps you rank for those as well.
Our long tail keyword tool gives you suggestions for this type of keyword, helping you develop your SEO strategy further.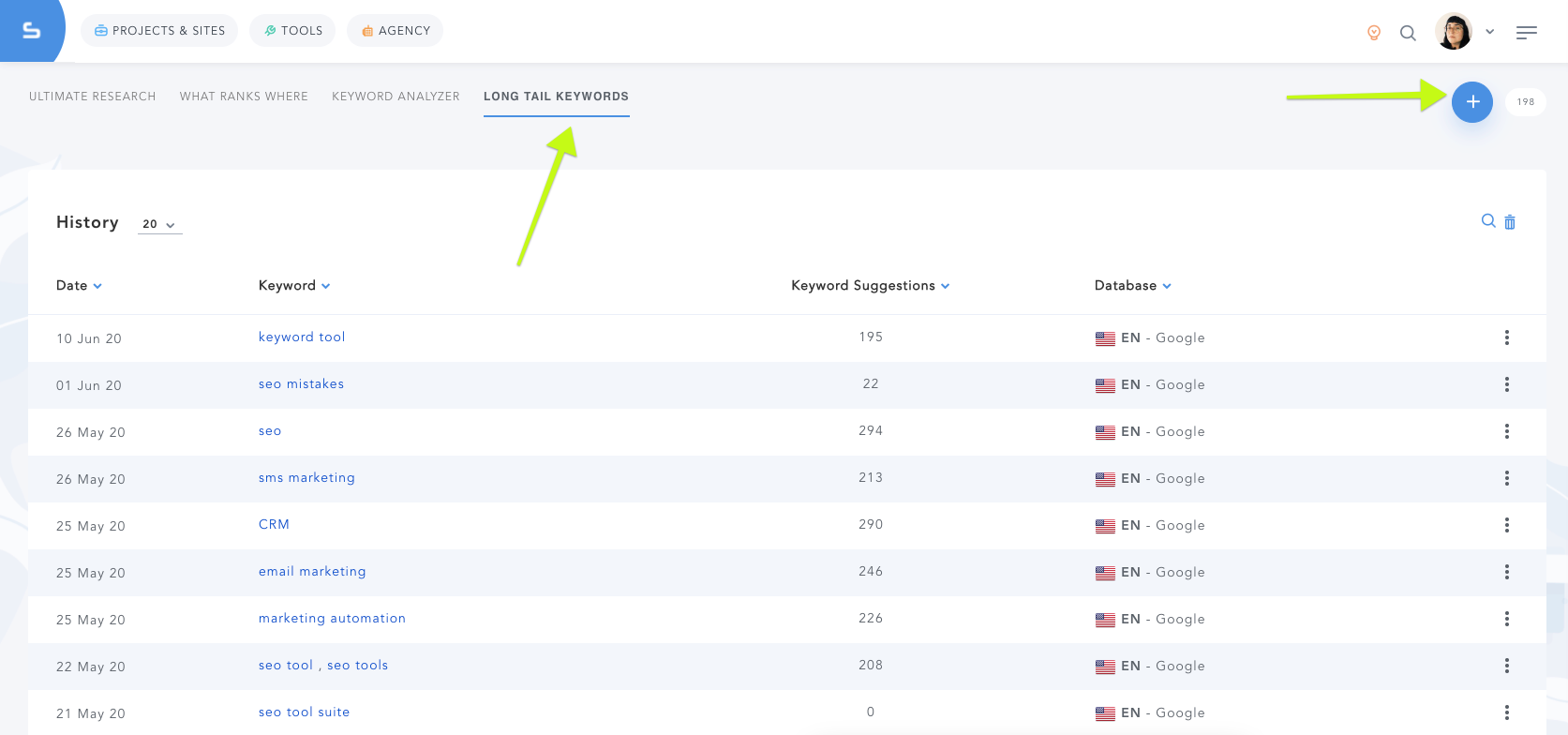 As is the case with all the tools mentioned in this article, all you need to do to start a new long tail keyword research is to click the ➕ button on the right-hand side of the tool screen. The following popup will appear: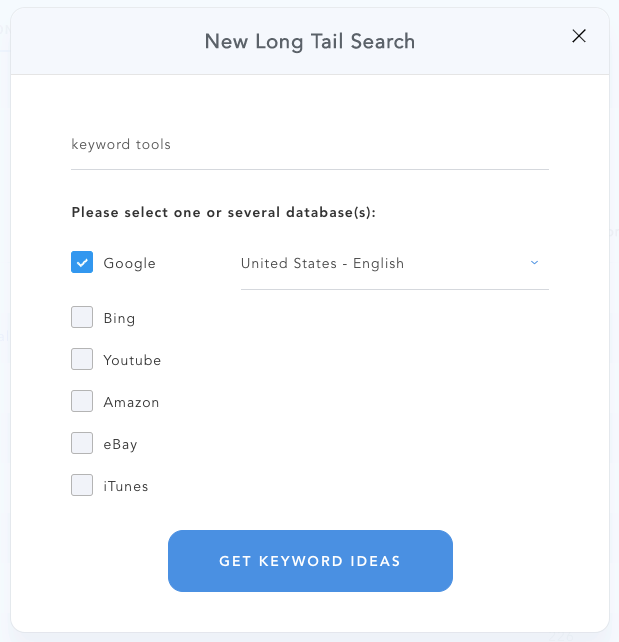 You just have to fill in your source keyword (in this case, we used "keyword tools"), pick your database and the country, and click on "Get Keyword Ideas".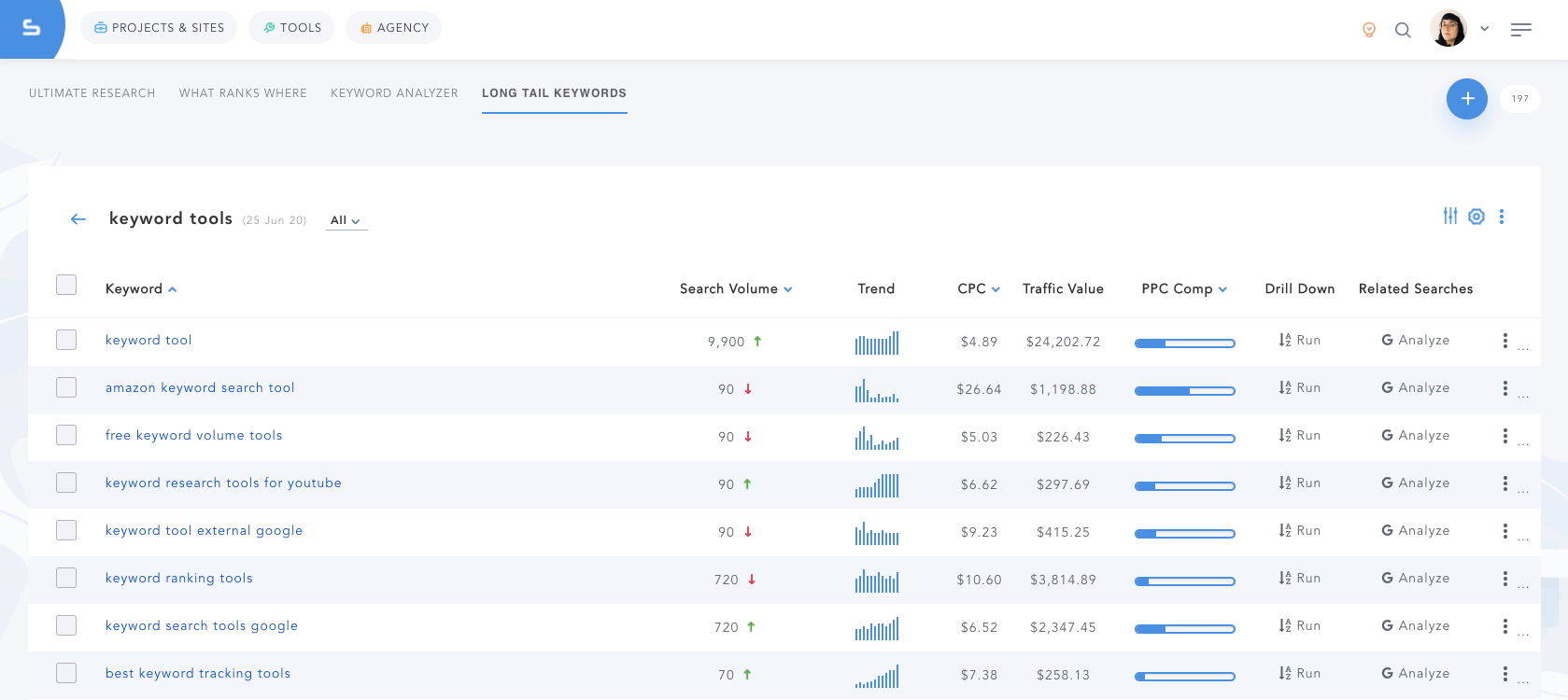 You'll get a list of long tail keywords that match your source keyword. Each of them has details about its source volume, trend, CPC, traffic value, PPC competition, and related searches.
You can also drill down each keyword to get another list of related long tail keywords, making it possible to find thousands of keywords for each search.
You just have to pick between adding the new keywords to the same project or creating a new one.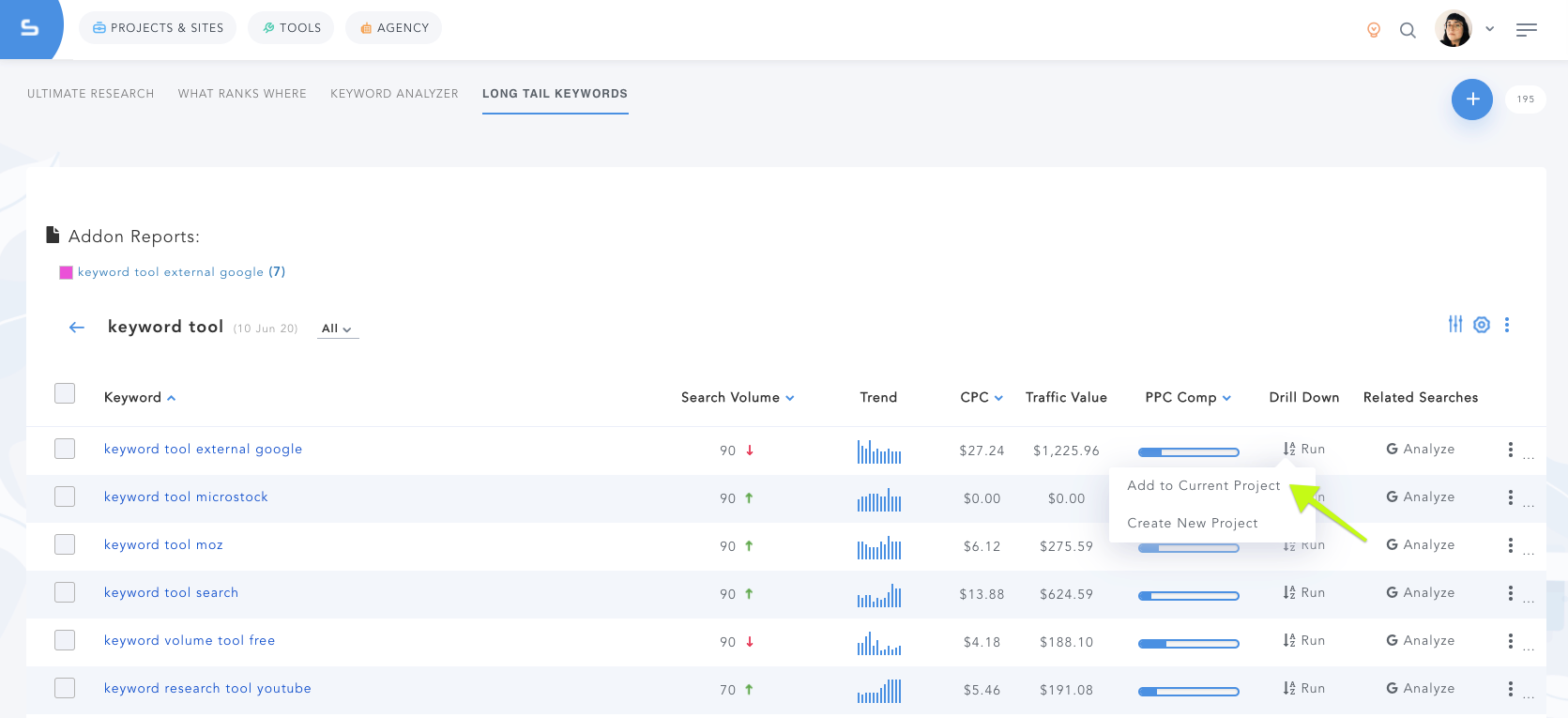 When you get the new list as a result of drilling down, you can go on drilling down as long as you want to find the right long tail keyword.
For each keyword, you can click on the three dots on the right to access other tools, such as running keyword analyzer (which we already covered) viewing the trends graph, related searches, or related domains.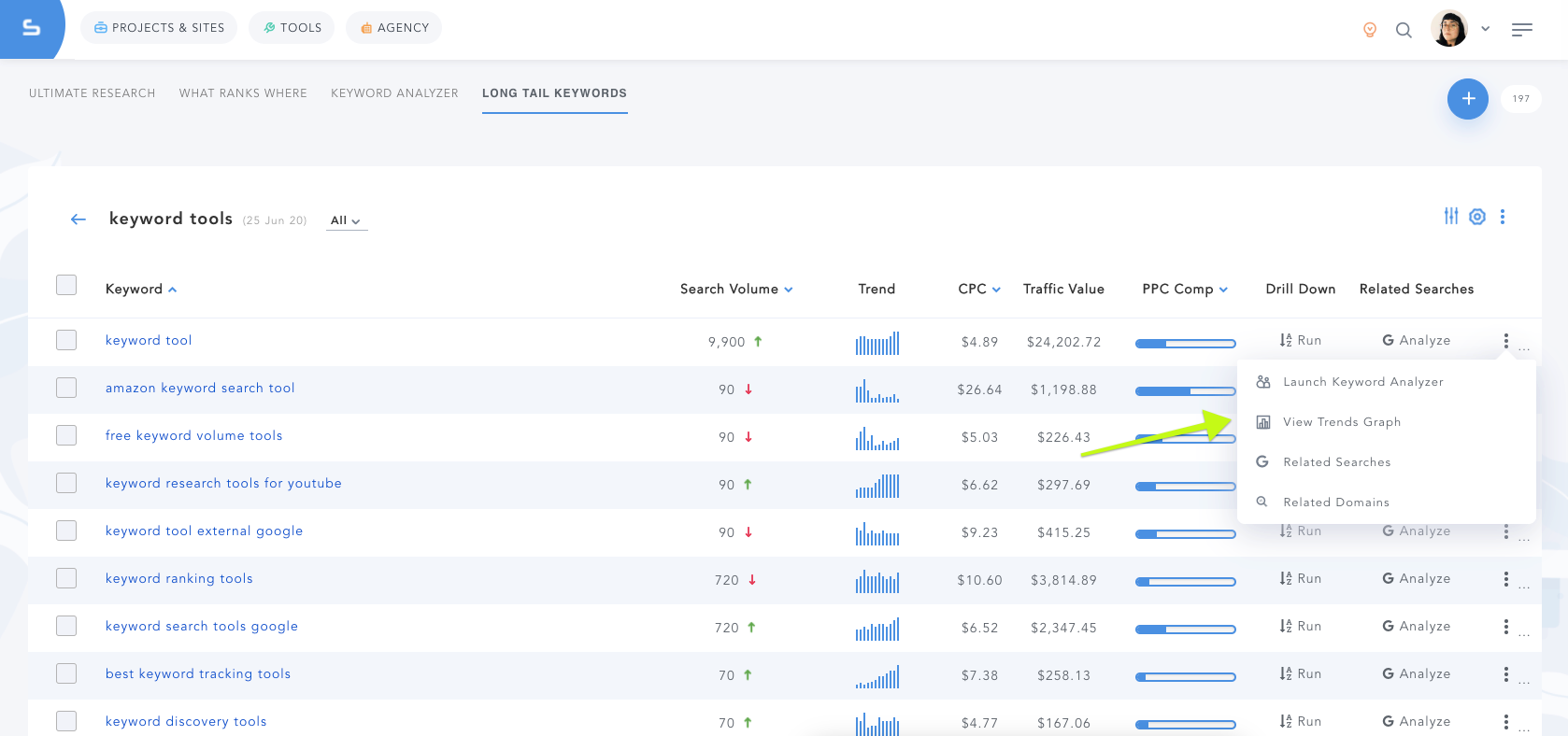 If you pick the trends graph, you'll get this popup: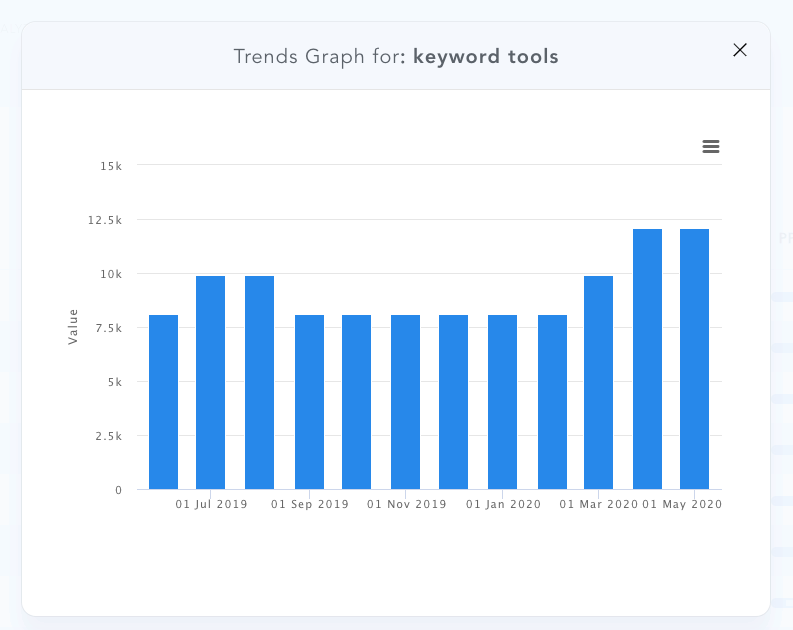 This gives you data for a whole year so you can analyze the evolution of each keyword, which is quite useful when picking your target keywords. You can also see related searches to get more keyword ideas.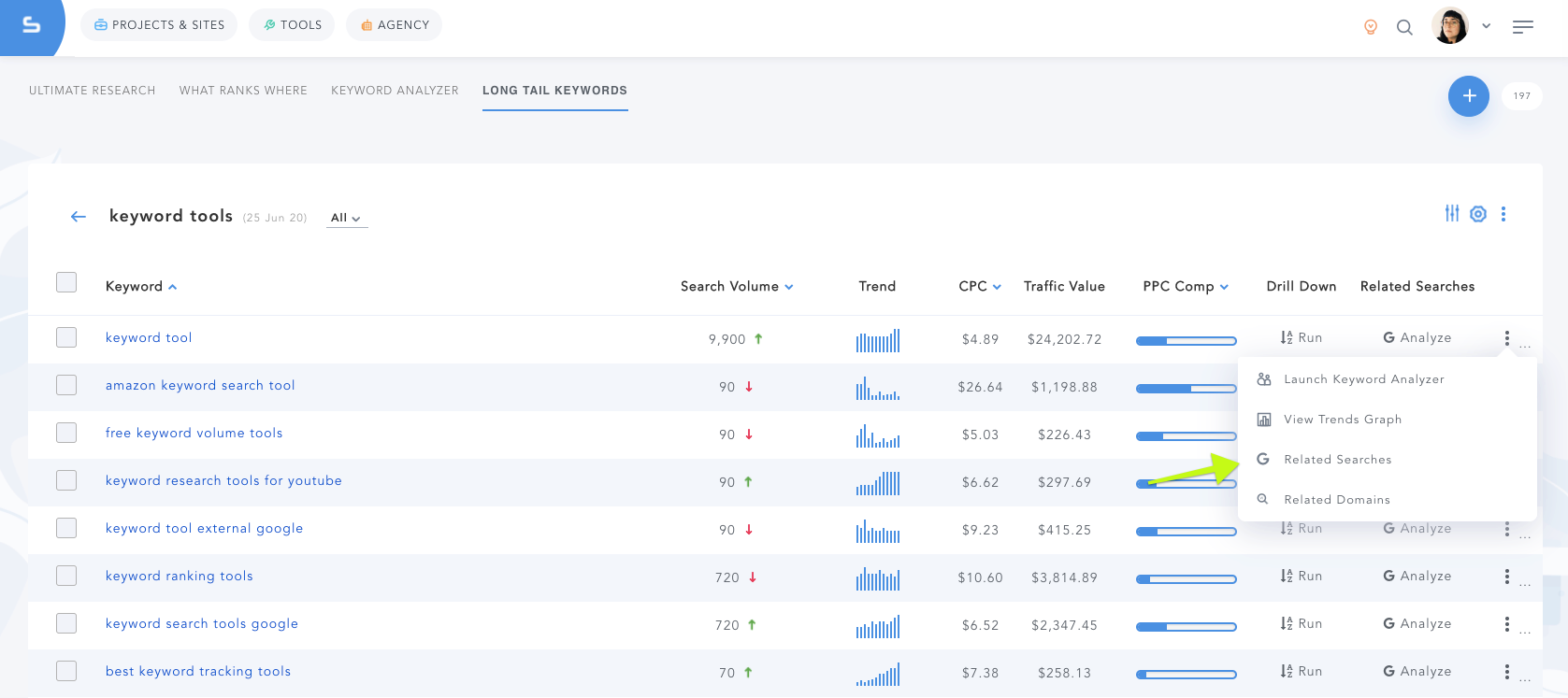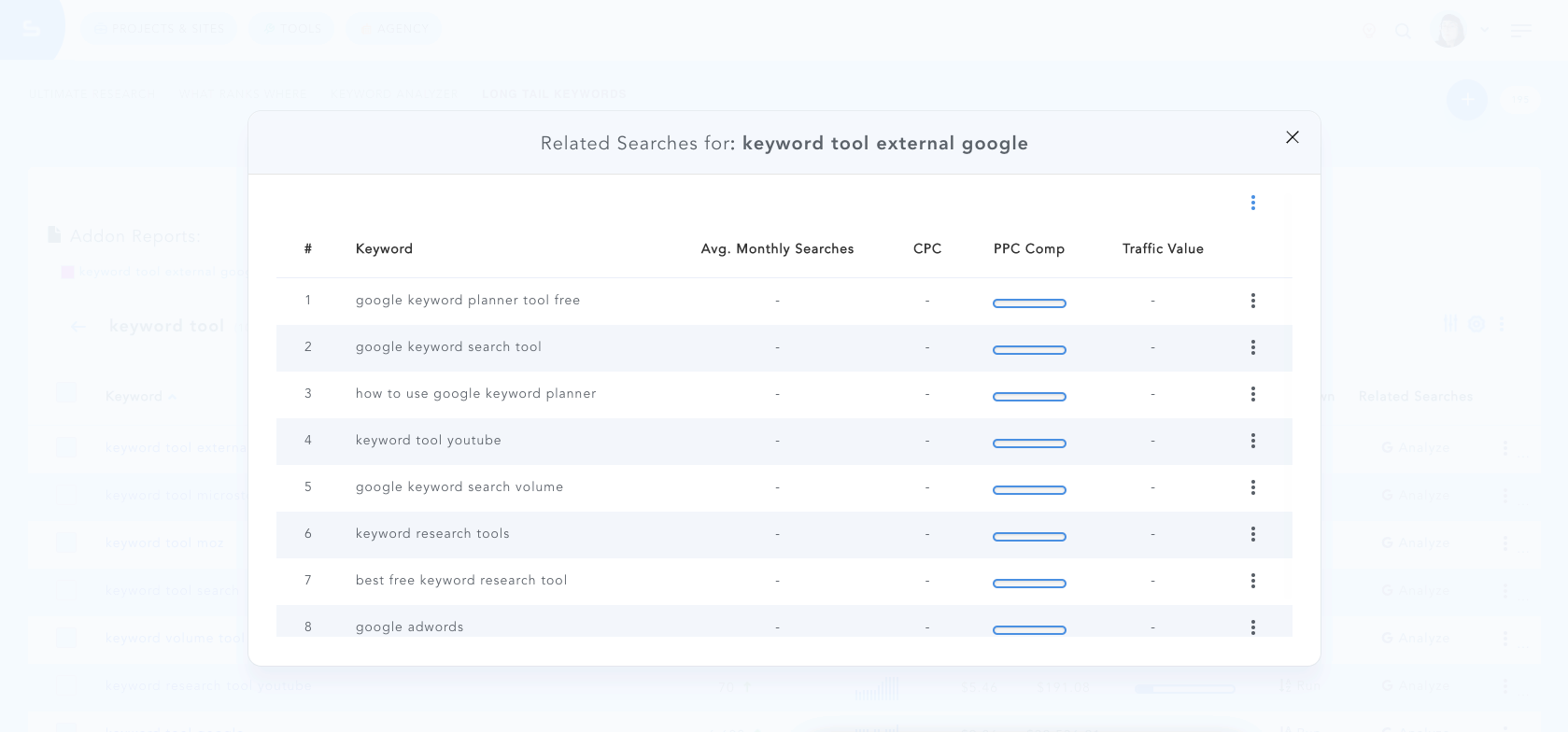 In this case, no data shows for the keywords at the time of writing, but you can always run them through Keyword Analyzer to get all the data you need. This tool is:
➡️ Ideal for finding specific keywords with less competition
Long Tail Keywords – Tutorial Video
Wrapping Up
With these four tools, you can do all your keyword research tasks using SERPed. All of the tools are interconnected with each other so it's easy to go from one to the other, getting a 360º view of any keyword idea.
With this article, we have tried to show all that you can do with each of the four tools, from Ultimate Research to Long Tail Keywords. However, the best way to discover all the tricks is by subscribing and testing it out yourself – if you don't use SERPed already, of course. We offer a 30-day money-back guarantee that ensures you have absolutely nothing to lose if you subscribe.
➡️ Not a member yet? Click here to sign up now…
➡️ Already a member? Log in now and start doing some keyword research
For our power users, these tools might be well known, but we're constantly updating and improving each tool in our suite. If you have any questions, feel free to use the comment box below, and remember you can always find us on Facebook, Twitter, and LinkedIn.