Are you wondering how to measure SEO ROI?
If you do SEO, you need to know how profitable your campaigns are. Are your SEO campaigns driving traffic to your website? Is that traffic resulting in sales?
All these questions need to be answered as part of analyzing your SEO efforts and results. And that's where SEO ROI comes in.
Defining ROI
ROI is a concept that refers to return on investment, i.e. what is your actual profit in contrast to the value you have spent.
ROI is not the value of all sales; it measures what you actually got from this campaign, removing from the sales total the amount that was spent. 💵
Defining ROI in SEO
In short, ROI in SEO will measure the percentage of return you are getting from a specific SEO campaign.
So, you need to know:
How much money did you get in sales that resulted from your organic visitors?
How much did you spend to achieve this result?
We'll show you how to use these values to measure SEO ROI further along this article. For now, we'll start by showing you the importance of SEO ROI. 🔎
Why Is SEO ROI important?
Of course, if you are making an investment in any type of digital marketing technique, you need to know if it's working or not. And how do you know if it's working? Through your sales values.
Making sure you're getting something out of your SEO efforts is essential for your company to be profitable.
Also, it's important to know the results while your SEO campaign is ongoing, as it can take up to a year to see results in SERPs (search engine result pages). This means that while results are still not noticeable in SERPs, you need to have a way to check and make sure your investment (or your client's) is successful. 💰
Therefore, while you're still rising in the ranks – and sometimes far from the first page of results – you need a way to show that your SEO efforts are paying off. And, once you have gotten to an advantageous position, it's still important to show how your SEO efforts have brought money to the company. If you are selling enough to get a decent profit, that's a way to show the value of your optimization efforts.
Benefits of Measuring SEO ROI
Knowing how to measure SEO ROI is very important when it comes to analyzing campaign results. The best way to prove that you are achieving results is to have supporting ROI data. There are also other benefits that come with it, such as:
Finding out which activities get the best returns will help you understand which of them are profitable. Having this information will help you decide which parts of your SEO you should focus on, and which you should refrain from spending time (and money) on. 🤑
Knowing where to invest helps you optimize your SEO strategy for best results. You can make changes to your strategy to match the target audience and buyer personas.
Estimate future returns. As you analyze results, you can forecast future earnings and factor them into your business plan.
Identify opportunities for growth. As you analyze results and returns, you can find areas in which your business can improve and grow.
That said, SEO ROI can be useless if other KPIs are not taken into account. Sometimes, it's not only about sales. Other metrics can give you a bird's eye view of your results from SEO, such as clicks, impressions and similar measures.
These other metrics cannot stand on their own if you're only going to measure sales. It is necessary to take all metrics into account when evaluating an SEO campaign.
The Importance Of Setting Clear Goals & KPIs
When it comes to digital marketing, it is easy to get lost in all the possible KPIs. Some KPIs are considered "vanity metrics" for some SEOs, while not for others.
To calculate your results, and how your campaigns are performing, it's essential to have clear goals for each. What do you want to increase – visibility, leads, conversions? When should you achieve the result you are after? 📆
It is very important to know where you're going, and why. And SEO, as a marketing technique, is one of the hardest to measure results. Therefore, you need to rely on a few traffic metrics to evaluate success.
Setting precise goals is of the utmost importance if you want to make sure you are heading in the right direction. In the next section, we'll go through the KPIs typically used to evaluate SEO success.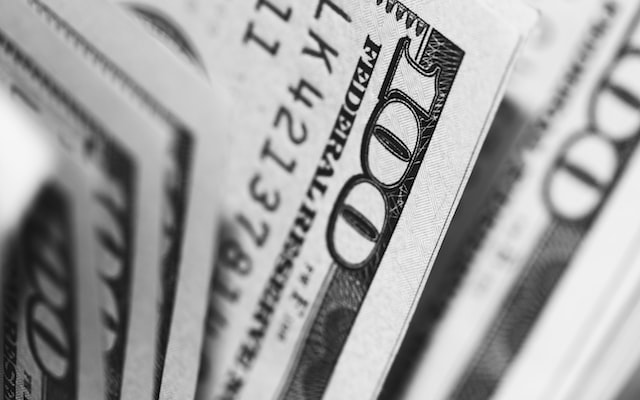 The Different Types Of KPIs Used To Evaluate SEO Success
1. Organic Traffic
When measuring results for SEO, this is the first metric you should check. Organic traffic shows how many visitors arrived on your website through organic search – i.e. those who typed keywords in Google, Bing, and etc.
Even though results from Google Ads Search Campaigns come from a specific keyword as well, they are filtered out since they are paid results. Organic traffic costs "nothing" to get – well, apart from the investment on SEO freelancers or agencies, of course. 🏬
2. Search Rankings
Search rankings show your position on search engine result pages for your target keywords. One of your main goals is moving up on the result pages, ideally to the top of the first page.
Of course, it's not easy to get to the top, especially if your keywords have a lot of competition. The higher you get, the more traffic you'll receive.
3. Organic CTR
CTR stands for click-through rate. This is measured by assessing the number of visits that resulted in a click (meaning, the number of clicks from that landing page to another place in the website) and dividing it by the number of visits in a specific time period.
How Can SEO ROI Help Me Get More Clients?
A great way to attract clients is through actionable tips that you can deploy for them. A preliminary SEO ROI analysis can help you understand possible weak points in their SEO strategy (or lack thereof) that you can then use to make a better proposal. 📝
Having a comprehensive proposal is essential when working with SEO clients. You don't need to tell them that you're the best in town – you need to show them what you can offer, and SEO ROI is a great metric to use. After all, your clients want returns, and they want to know how you can help them make more money, before anything else.
How To Measure SEO ROI
If you need to calculate your (or a client's) SEO ROI, you need to perform a few calculations. If you use SERPed, our SEO ROI Calculator does the heavy lifting for you, but more on that later.
First, add your keywords to an Excel or Google spreadsheet.
Then, add the monthly search volume next to each keyword. You can get this number from Google's Keyword Planner or a keyword research tool like Ultimate Research for example.
Then, you need to enter a capture rate for each keyword. The higher the keyword position, the higher the capture rate. For example, if you rank 1st or 2nd, you could expect a capture rate around 70 or 80%. Multiply the search volume by the capture rate and you should get an estimation of traffic, for example:
Search Volume of 1,000 x Capture Rate of 40% = 400 visits
You will then need to take your contact rate and closing rate into account. The contact rate is how many visitors you successfully get in touch with, for example:
400 Visits x Contact Rate of 25% = 100 Leads
Now, for the closing rate… This is how many leads you successfully turn into clients, for example:
100 Leads x Close Rate of 25% = 25 Clients
Then, you need to know your lifetime value in order to proceed. Can you estimate the value a customer will typically spend in your products? Once you have that value, add it to the spreadsheet to calculate the monthly value, for example.
25 Clients * Lifetime Value of $500 = $12,500 every month
You can then multiply by 12 if you are interested in seeing the yearly value.
You will then need to deduct the cost of the SEO campaign of course.
As you can see, it is not that complicated, but it can be a little time-consuming, which is why we decided to create an SEO ROI Calculator, which gathers all search volumes and more, as well as calculates everything for you.
How Can SERPed.net Help Me With SEO ROI?
If you're looking for an easy way to calculate SEO ROI automatically for all your keywords, SERPed.net can help. We have an SEO ROI Calculator included in our Keyword Lists tool. Here is how you use it…
First, click on "Keyword Lists" in the "TOOLS" menu, under "Keyword Research".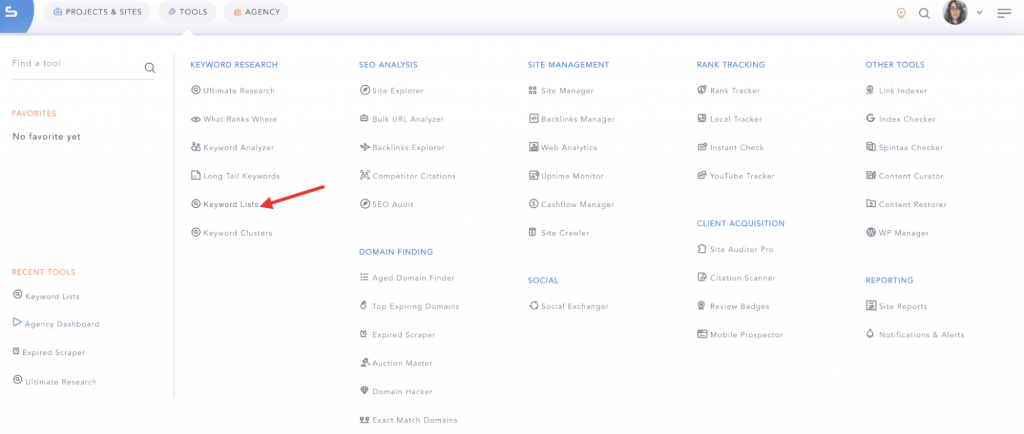 To create a new list of keywords, click on the blue "+" button. In this case, we'll use previously selected keywords in the "Test 2" list.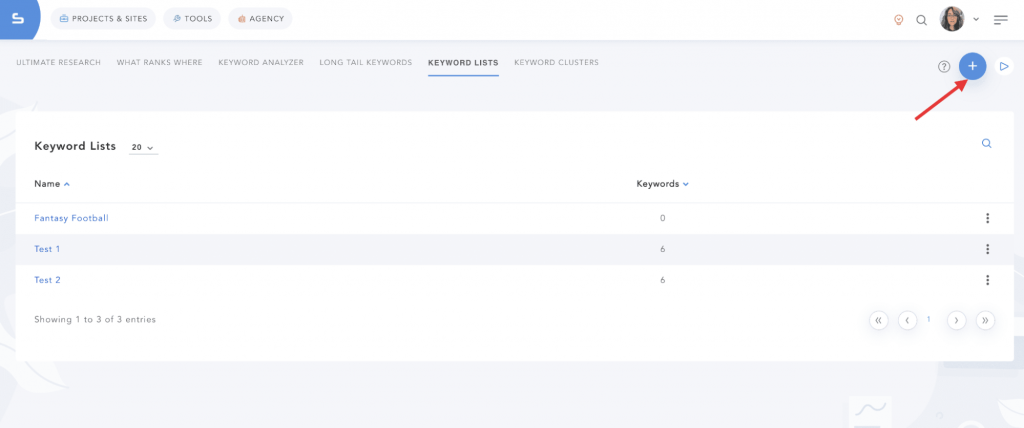 Then, click on the "Show SEO ROI Calculator" button.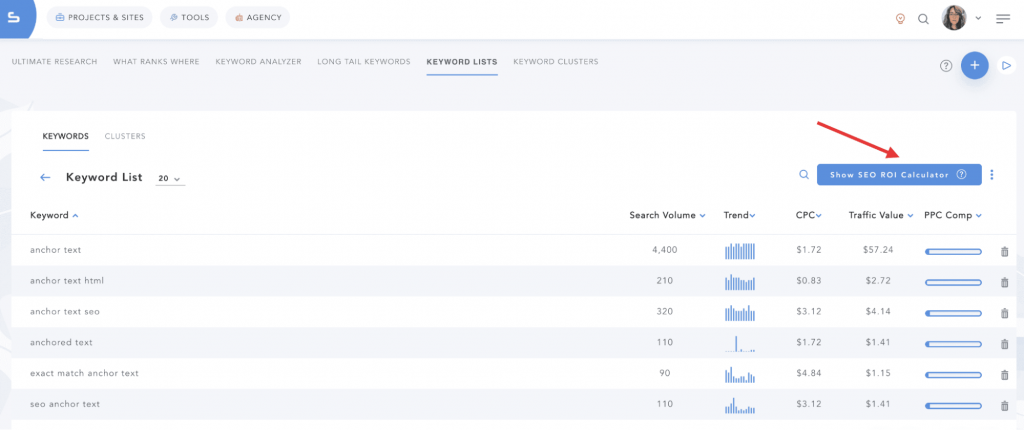 Once you click that button, more fields will appear in the table.

You'll find that, at the right of the competition bar, there is a field you can fill in. The field is for Traffic Capture, which means the percentage of visitors that will click on your link on Google's SERPs. You'll then get an estimation of your monthly traffic.
Once you're happy with all the Traffic Capture values, you can scroll down to see a few different metrics including the Total Search Volume and Total Monthly Traffic.

Now, at the bottom you have what interests us the most here. First, Web Traffic, which is the monthly traffic to be expected from these keywords. The Contact Rate measures the amount of leads collected among visitors. The Closing Rate is the percentage of sales generated from leads.
The lifetime value is the amount of money you expect to make from each customer.
These last three metrics have to be input manually, as each business is different. Then, from calculating how these metrics interact, you'll get your monthly ROI value and the yearly ROI value – the results you should expect in a year from now, taking into account all the other inputs from you and the automatic calculations. You will of course need to remove costs from these values.
We'll use an example to make it easier. Let's say you have the following:
Your target keywords have 70,000 monthly searches combined;
Your Traffic Capture is 30% (so, 0.30), meaning you get 21,000 visits every month;
Your Contact Rate is 20% (so, 0.20), meaning you get 4,200 leads every month;
Your Close Rate is 10% (so, 0.10), meaning you get 420 sales every month;
If your Lifetime Value is $300, then your monthly ROI will be $126,000 and your yearly ROI $1,512,000.
Remove costs from those values, and there you go – that's your SEO ROI. ✅
Wrapping Up
As you have seen, SEO ROI is not that easy to manage if you don't have the right tools.
Using SERPed.net will allow you to calculate this metric easily, using both your data and ours.
Knowing which keywords are performing better than others and the ones you shouldn't spend that much time on can make a huge difference in your SEO results. At the same time, if your optimization is working, you'll see an increase in visitors, but other factors weigh in for top performance – such as UX/UI (user experience/user interface), design, fonts, CTAs… We'll discuss these factors in more detail in a new blog post, so stay tuned.
Did we forget anything? Would you like to add something? Check the comment box or find us on LinkedIn, Facebook or Twitter.
---
Now you can calculate your SEO ROI using SERPed.net. If you're not sure about becoming a member, you can use our 30-day $7 trial and test the tools yourself, no strings attached.
30-day $7 trial, 30-day money back guarantee