New Tool Review Badges: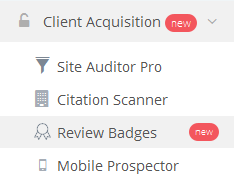 This tool is awesome for providing additional value to your clients (or using it as a selling tool for future clients explaining how you will increase their social proof and reviews).
This tool allows you to copy a small code and paste it on your client's site to provide links to any citation source where reviews can be left and read. This system also allows you to subtly add a link back to your company website for SEO benefits and also referral traffic.
Rather then reading about how you should get this on all your clients sites now, simply watch this video that will show you the tool in action:
Long Tail Keywords Gets an Upgrade:
Our 'Long Tail Keywords' tool is great when you have a niche and a few main keywords. You use those main keywords to find more great, long tail keywords that you use in your website copy, and in the backlinks you build to A) rank for those long tail keywords (and variations of them) so you catch the low hanging fruit as you then start going after your more main keywords and to B) water down your anchor profile. Check out this short tutorial video to see the new, ultra powerful 'Long Tail Keywords' tool in action:
As always, we will continue to improve the suite of tools, to ensure you have access to an 'unfair' advantage over your competitors.
Click here to login to your account now and get using the suite of tools.
P.S. Do you have any SEO related tasks you want done for you (who doesn't, right? I'm personally using it for Facebook Likes, LinkedIn Endorsements and more) Use our new 'Crowd Sourcing' tool called 'Social Exchanger' today. (Learn more here…)