Today we are pleased to announce the release of a new feature called Questions. A simple name for a very powerful feature. 🚀
As you may already know, SERPed.net allows you to find keyword ideas with the help of Keyword Research tools, like our Ultimate Research tool for example.
Well, you can now find question ideas in addition to keyword ideas, to use as part of your SEO strategy… or a dedicated "People Also Ask" strategy.
The "People Also Ask" box in Google's search results is indeed a great way to get extra exposure. As a reminder, this feature answers questions related to the user's search query. Each answer that is provided by Google comes from a webpage, which could very well be yours.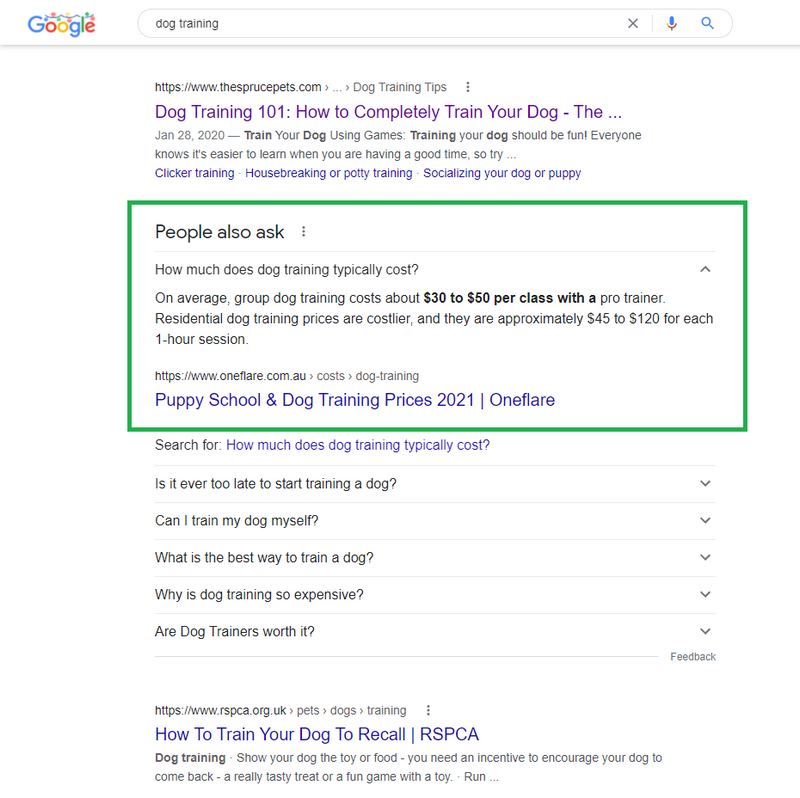 Questions in SERPed.net
The Questions feature is available in Ultimate Research, which is located in the Keyword Research section.
To generate question ideas, open Ultimate Research and run a search.
Then on the results page, click on the "QUESTIONS" tab located here:

The system will then find question ideas from various sources, including but not limited to: Google, YouTube, Yahoo!, Bing and Quora. The search can take a minute or so, so please be patient.
Here are some results: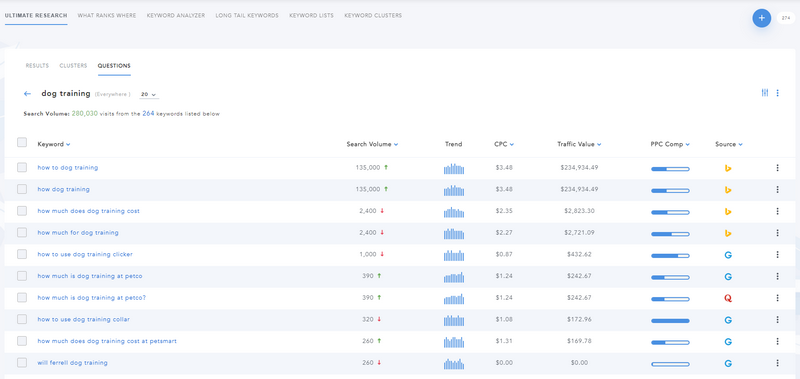 As you can see in the screenshot above, we generated various question ideas for the keyword "dog training", including:
How much does dog training cost?
How to use dog training clicker?
How much is dog training at Petco?
How to use dog training collar?
…among many others
Each question comes with several metrics including the search volume, search volume trend, cost per click, traffic value and pay-per-click competition. You can also see the source of each question.
If you want to export results in the form of a PDF, TXT or CSV file, simply click on the three dots at the top right and choose a format.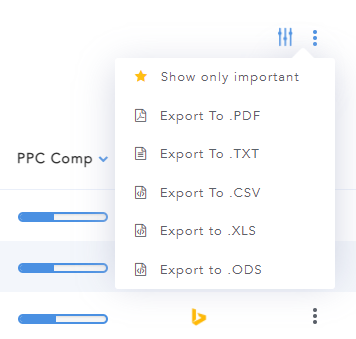 This a great way to find questions to target and include in your content, as well as find question ideas to be included in Google's "People Also Ask" SERP feature.
Please note that generating question ideas does NOT cost any extra credits!
Still not sure how to use this feature? Watch our tutorial video:
➡️ Not a member yet? Click here to sign up now…
➡️ Already a member? Log in now and give this new feature a try!
If you have questions or feedback, don't hesitate to leave a comment below.
Remember you can also find us on Facebook, Twitter and LinkedIN.