Today we'd like to introduce you to our new rank tracker called "Rank Tracker". We didn't get very creative with the name, but we actually made a lot of improvements to this tool, so make sure you keep reading.
In SERPed v2, our rank tracker was called "Global Tracking" and allowed you to track Google, Bing and Yahoo rankings in the countries of your choice, for both desktop and mobile.
In SERPed v3, "Rank Tracker" replaced "Global Tracking" and now allows you to track Google, Bing and Yahoo rankings in the countries of your choice of course, as well as the cities and ZIP codes of your choice, for both desktop and mobile.
Overview
If you open Rank Tracker, you will land on the Overview page, where you can see the list of sites you are currently tracking, as well as your position breakdown, biggest gainers and biggest losers. This page is an overview of all your rankings.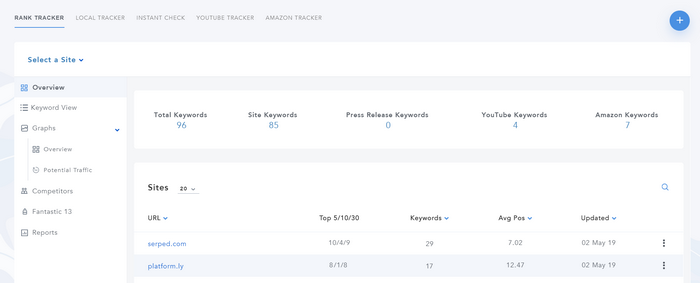 From here, you can either click on a site in the list, or select a site from the drop-down menu located at the top left. This menu will help you easily navigate between the different sites you track.
Keyword View
In the Keyword View section, you will see the list of keywords you are currently tracking, with their respective positions, ranking pages and search volumes, as well as useful graphs, including a mini history graph, your position breakdown and more.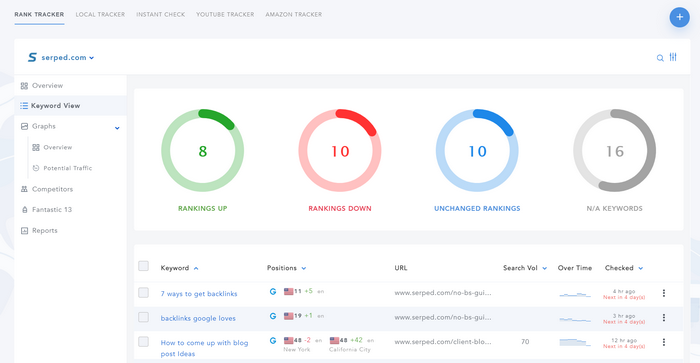 Keyword
If you click on a keyword, you will be directed to a page dedicated to that keyword, with a detailed history graph, as well as more information about the ranking page, including Moz and Majestic metrics, social signals…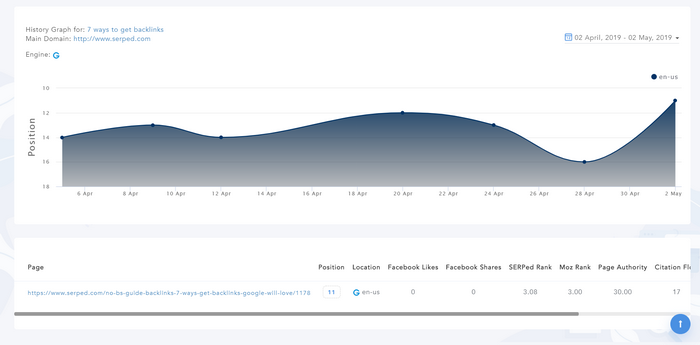 You can also see a history graph with competitor rankings over time, as well as the Fantastic 13 graph, which we will talk about later.

Add Keywords
To track a new keyword, simply click the + button located at the top right of the screen. This will open a modal, where you can enter your keyword(s), select one or several search engine(s), enter location(s), set a frequency and more.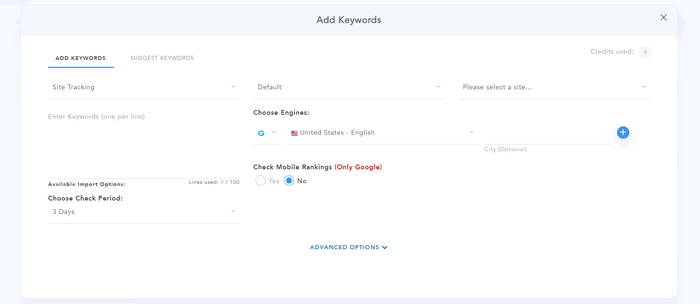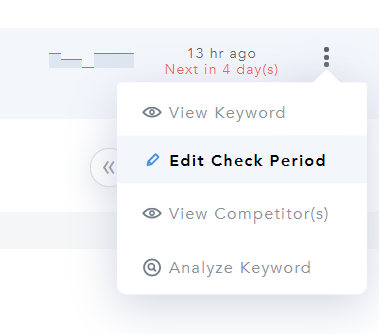 Update: it is now possible to edit the check period of keywords! For example, imagine you asked the system to check the rankings of a particular keyword every 7 days… If you want to increase the frequency of checks, you can now do so by clicking the "Edit Check Period" option in this menu. Your credit spends will automatically adjust.
Graphs
From the left menu, you can access the Graphs section, where you can find plenty of useful graphs, including the Average Position graph, Estimated Traffic graph, Search Visibility graph and % in Top 10 graph.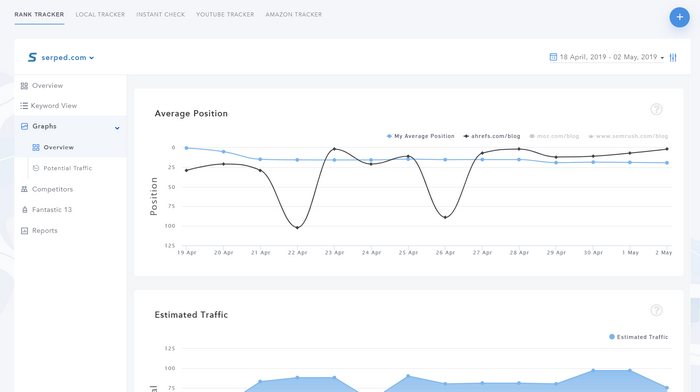 Potential Traffic
From this menu, you can also access the Potential Traffic section, where you can modify your past positions and have an idea of the traffic the site could have received.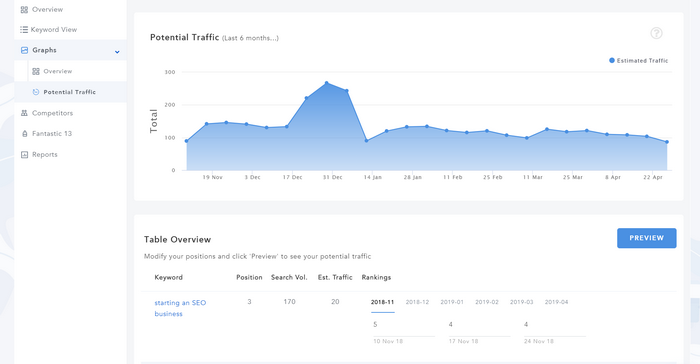 Fantastic 13
Make sure you check the Fantastic 13 section, in which we show the ranking fluctuations of the Top 13 results for all the keywords you track.
This feature is reserved to Ultimate and Enterprise members. If you are a Premium member, check it out anyway as you have access to sample data and can see how powerful this feature is.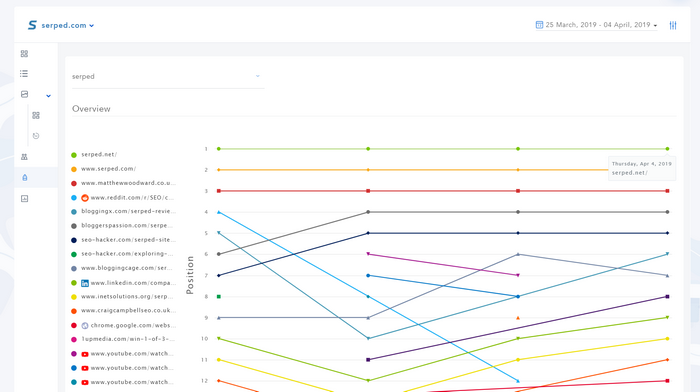 Reports
Last but not least, you can generate reports from the Reports section, as the name suggests. You can generate 2 types of reports:
Quick Public Reports: reports you can generate in just a few clicks and easily share with your clients – these reports can include your company logo and contact details of course;
Rankings Reports: more detailed reports you can build (using our new report builder, which we'll talk about later) and even schedule, so your clients receive them at the frequency of your choice.
Here is an example of quick public report: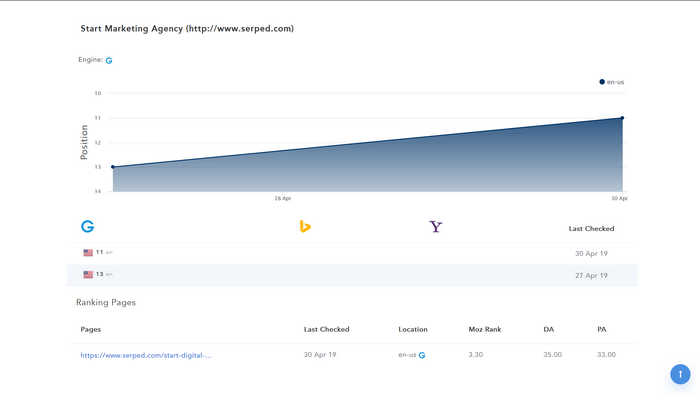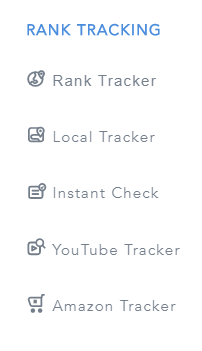 What are you waiting for? Log in now and give our new rank tracker a try… You can find it under the RANK TRACKING section in the TOOLS menu.
Not a member yet? Click here to sign up now…
Next time, we'll talk about "Local Tracker", which replaced "Local Tracking". This other rank tracking tool allows you to track your local rankings, also known as the Google Map Pack. This tool doesn't track sites but local businesses listed in Google My Business.
If you have questions or feedback, don't hesitate to leave a comment below. If you experience issues, please get in touch with our friendly support team.
Remember you can also find us on Facebook, Twitter and LinkedIN.