Today we are proud to announce the release our new Chrome extension. We know how valuable your time is, so we wanted to provide you with a way to check metrics and backlinks, find keyword ideas, analyze competition and more, on the fly, right from your browser.
To use this extension, you will need an active SERPed.net account of course.
Inside the members area, go to My Profile -> API/Plugins -> Chrome Extension and click on the download button to install the plugin. Alternatively, you may download it from the Chrome Web Store.
Once done, you will need to activate it and add your API key, which you can find in the API/Plugins section in your profile inside your SERPed.net account.
All the metrics that matter at the click of a mouse
Visiting a website and want to quickly check its metrics and backlinks? Simply click on the SERPed icon in Chrome and you will see all this data, instantly.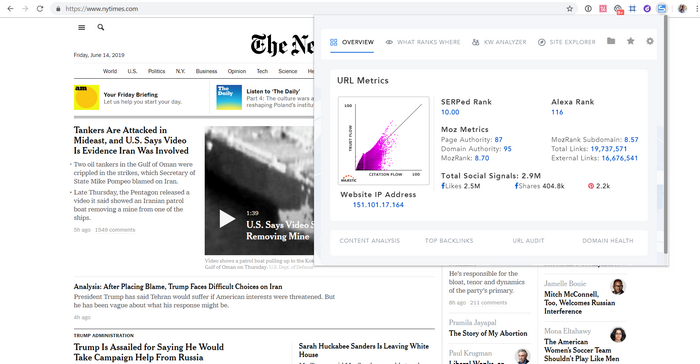 You will see the Moz metrics, as well as the Majestic graph, SERPed Rank, Alexa Rank, social signals and IP address. This also works for expired domains of course.
From there, you can even run a "Content Analysis", as well as check the "Top Backlinks", run a "URL Audit" and check the "Domain Health".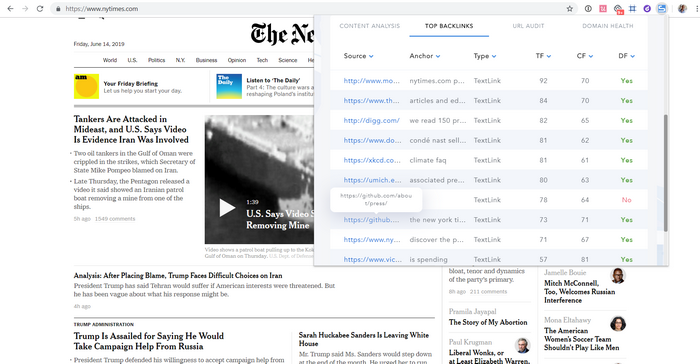 Find what keywords any site or page ranks for
You can run a "What Ranks Where" search directly from the plugin interface, and find out what keywords the site or page you are visiting ranks for.
This is a quick and easy way to see what keywords your competitors rank for and find keyword ideas for your own website or blog.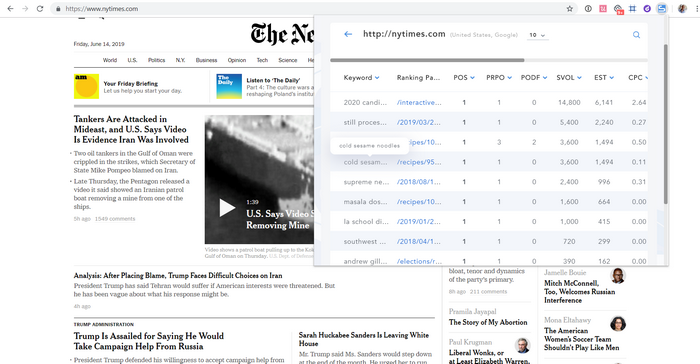 Analyze competition on the fly
You can also run a "Keyword Analyzer" search and get an idea of the level of competition, in organic results, of any keyword.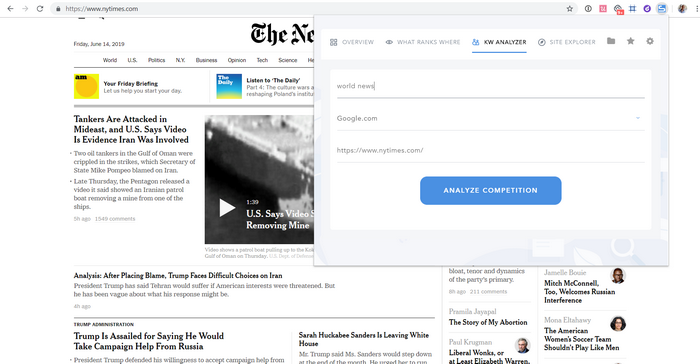 That way you can quickly find out whether or not you can compete, how hard it would be to be in the Top 10 results, how much you should charge your clients to rank for a specific keyword…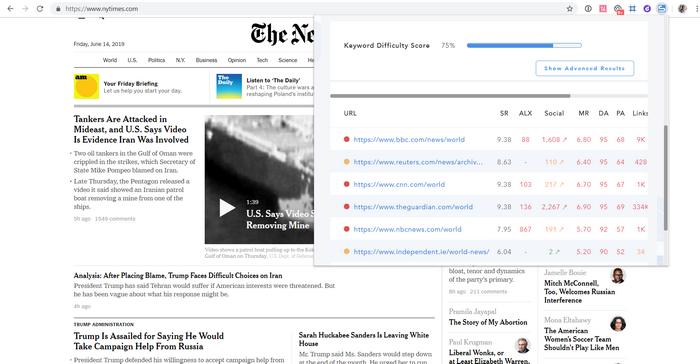 More metrics, backlinks and other useful data
If you'd like to know more about a specific website or domain, you can run a "Site Explorer" search.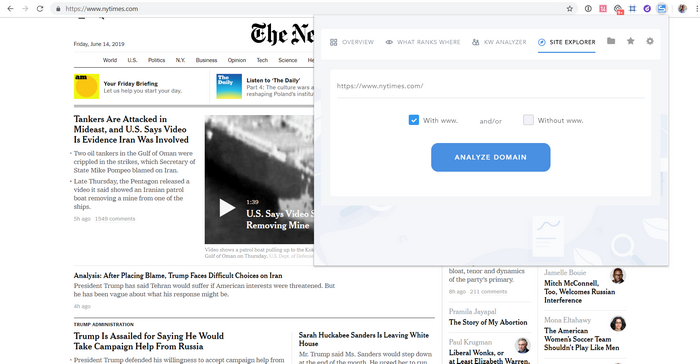 The results won't show in the extension (there is not enough space for all this data!) but in a new tab, just like if you ran the search from your SERPed.net account.
Not familiar with "Site Explorer"? Make sure you give it a try now as it's our most popular tool ever.
Start monitoring backlinks in just a few clicks
The SERPed Chrome Plugin also allows you to quickly add backlinks to "Backlinks Manager", so we start monitoring them for you.
That way if a backlink suddenly becomes inactive or nofollow, or is de-indexed, you will quickly find out by simply looking at the "Backlinks Manager" table…
You can add backlinks to "Backlinks Manager" using our plugin in 2 different ways:
By opening the URL of the backlink and clicking on the SERPed icon: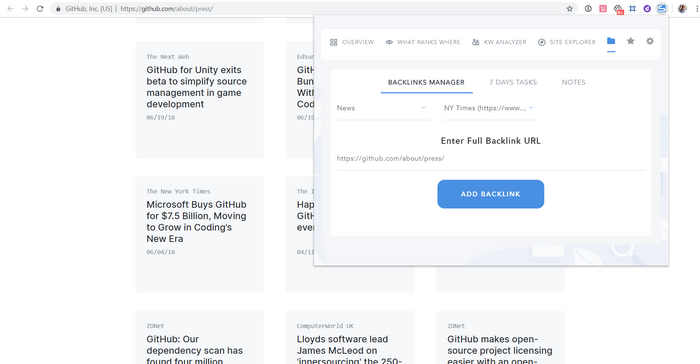 By right clicking on a link and clicking on "Add To Backlinks Manager":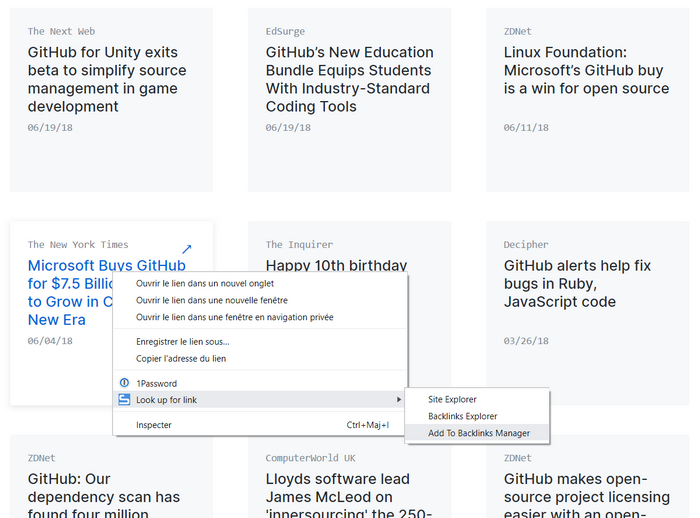 Analyze keyword difficulty from Google's results pages
You can even enable the SERPed.net button in Google results, to perform an analysis of the keyword you are searching for, and find out its search volume, cost-per-click, level of competition (in both paid and organic results) and more.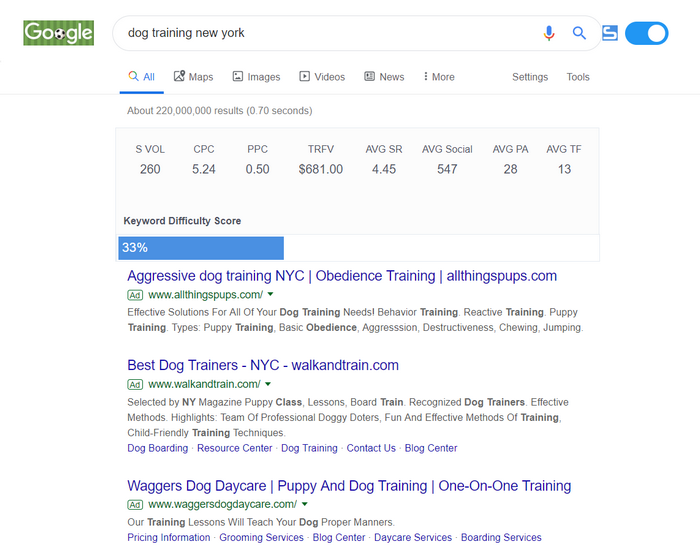 Last but not least, you will be able to see upcoming tasks, as well as create new tasks, on the fly, view, create and edit notes, access your favorite tools…
Click here to download our new Chrome extension and give it a try…
Not a member yet? Click here to sign up now…
If you have questions or feedback, don't hesitate to leave a comment below. If you experience issues, please get in touch with our friendly support team.
Remember you can also find us on Facebook, Twitter and LinkedIN.