Do you use WordPress for your site or blog? We have some good news for you… Our new WordPress plugin is live! The SERPed.net WordPress Plugin 3.0 is indeed available for download in the members area.
Here is what you should know about this plugin…
Why use the SERPed.net WordPress plugin?
Auto Update
First of all, you can set the plugin to automatically update your WordPress version, themes and plugins, for better security.

The only downside is that there is a chance your theme or an active plugin is incompatible with your WordPress version and causes issues. It's not so common, but it's something to keep in mind.
Add Post/Page as Inner Page
As you already know, in Site Manager, you can add inner pages, to track their metrics, number of backlinks and more, alongside the homepage of the site.
With this plugin, you can add a post or page as an inner page, in just a few clicks. All you need to do is to click on "Add Post To SERPed" or "Add Page To SERPed", fill out the short form and… That's it!

Web Analytics
The plugin allows you to add your "Web Analytics" Site ID, so you don't need to add your tracking code to every page you want to track.

Optin Forms (Free SEO Audit)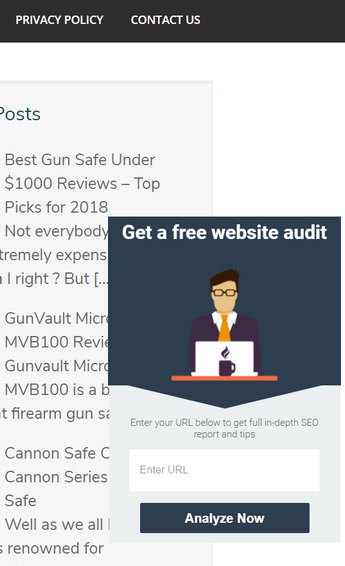 You can also use the plugin to create an optin form to offer a free website audit to your visitors, using "Site Auditor Pro", which you might already be familiar with.
First, you will need to create a project in "Site Auditor Pro" in the SERPed.net members area. Once this is done, you may create a form using our WordPress plugin. You will be able to create 3 different types of form:
Normal Widget/In-Content Form: to generate a form that can be used in a sidebar, widget or on any other place within your content.
Top Bar (Hello Bar): to generate top bar form that is shown at top of your site and will scroll along with the screen.
Slide-In Form: to generate a form that slides in when users reach % of your site.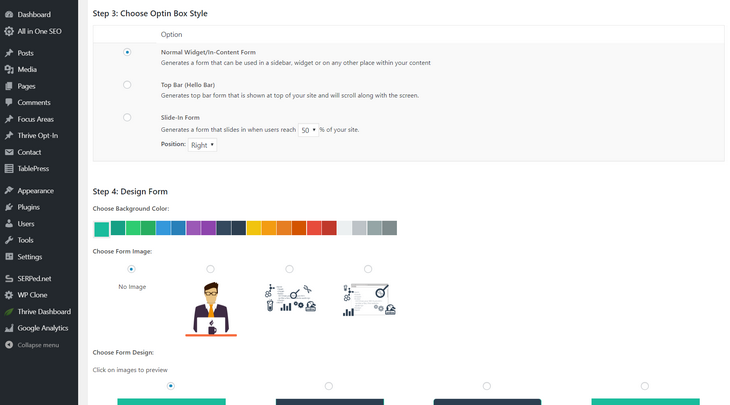 Internal Linking
You can also use it for internal linking. In the "Link Projects" section, you can indeed create a project to automatically generate links when specific words are used. This is very useful if you do affiliate marketing, for example.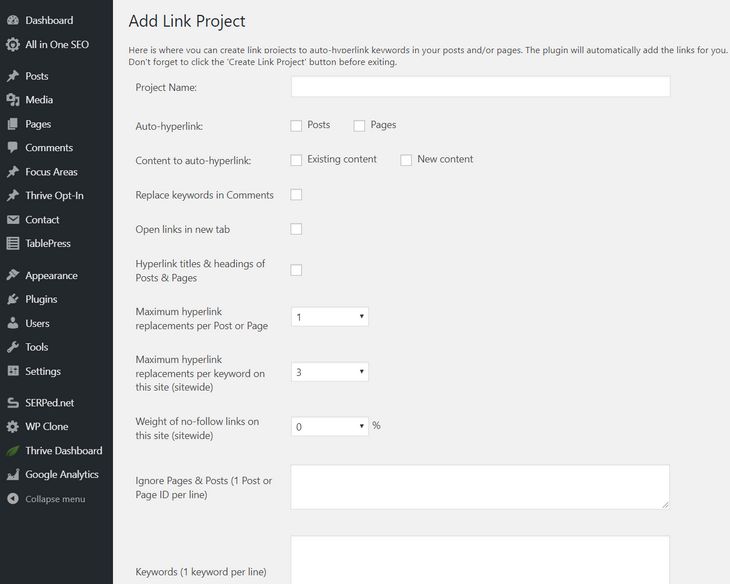 You can then view useful statistics in the "Keywords Statistics" section.
Metrics Widget (New)
Last but not least, and this is something new… You can create a widget that shows your page's metrics, like in the example below: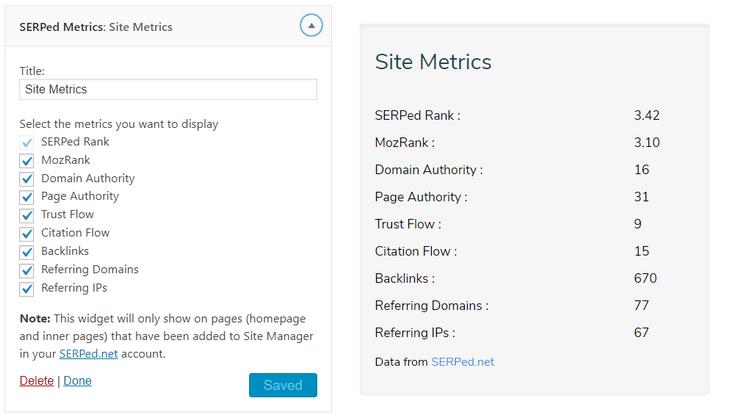 The plugin pulls the metrics from your SERPed.net account, which means you must have previously added the page to Site Manager. If the page is not in Site Manager, the widget won't appear at all.
How to download / install the SERPed.net WordPress plugin?
To download the plugin, simply go to your "Profile" page in SERPed.net and click on the "API/Plugins" tab. You may also download it from "WP Manager", which is located under "Other Tools" in the "Tools" menu.
Once you have download the ZIP file, you must upload it to your WordPress site or blog. To do so, simply open the "Plugins" section inside WordPress and click on "Add New". Then click on "Upload Plugin", select the ZIP file, wait a few seconds and click on "Activate".
Once your plugin is active, click on "SERPed.net" in the left menu and enter your SERPed.net API key. You may find it on your "Profile" page in SERPed.net, under the "API/Plugins" tab.
SERPed WordPress Plugin – Tutorial Video
Not a member yet? Click here to sign up now…
Remember you can also find us on Facebook, Twitter and LinkedIN.