I'm sure you've thought the exact same thing:
Finding a profitable niche is hard.
In the beginning you have lots of good ideas. But, there's always that little bit of doubt in the back of your mind, isn't there?
You know, the one that says, "…but, is this going to make me any money?"
And it eats away like a cancer at your ideas.
Meaning you probably never get around to starting that side hustle, or blog, or affiliate site you'd always talked about doing. But what if there was a way to prove a niche was profitable before you started?
That way you could minimize your risk and maximize your results, and make an informed decision on getting started.
Well in this article I want to show you exactly how you can do that in just a few simple steps using the SERPed tool. So if you want to find profitable niches and make the right online business decisions, read on…
What You'll Learn…
The truth about choosing a niche

How to find precise traffic stats and what it's worth

A one-click solution to analyzing keyword difficulty

How to decide if a niche will give you the right return on investment
To complete this tutorial you'll need access to the SERPed SEO suite of tools. You can apply for access right here.
A Quick Note on Choosing Your Niche
Most internet marketing sites will tell you that you can't (or shouldn't) choose a niche that you're not an active part of every day. But, you know what?
You can.
Great business ideas come from identifying a problem and trying to solve it. And, if you identify a problem, and can come up with a site that provides a solution, then you go for it.
I find it hard to believe that your local mattress salesman has a 'passion' for mattresses. Or that your local greengrocer has a 'passion' for cauliflower. So why must the same apply on the internet?
What's important is that you learn as you go and eventually hire people to help you where you need it.
Okay, that being said, let's move onto the first step to identifying your profitable niche…
Step #1: Perform A Quick Google Trends Search
Google Trends is a great tool that shows you the current interest around a topic (and where that interest comes from). Which means in a few searches you can decide whether a niche is even worth exploring.
For example, I know Colin (the big dog here at SERPed) needs to improve his French, so let's explore this niche and see if I can create a niche site that will benefit him.
If I put Learn French into my local Google Trends it comes up with this page of results: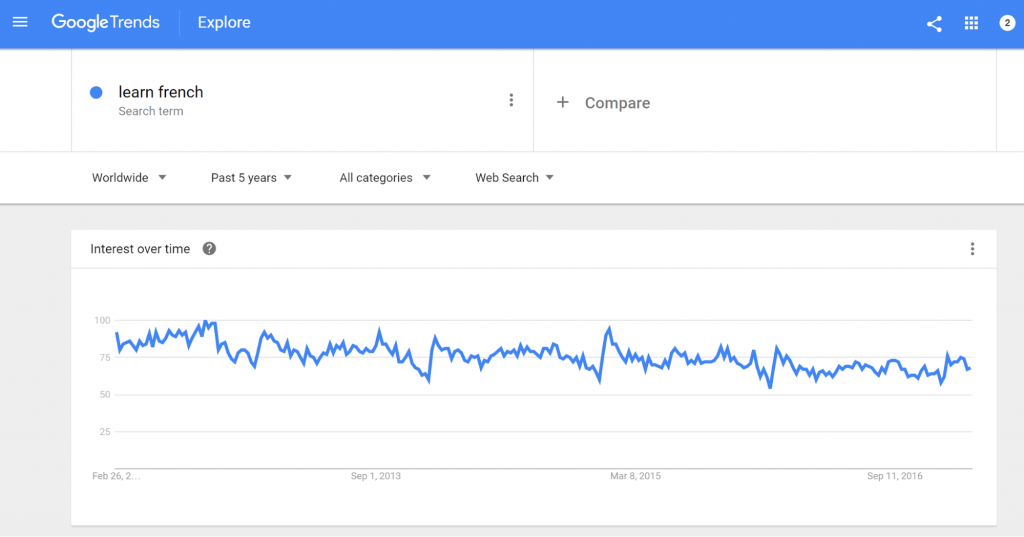 So I can see that while there is interest it has been decreasing over time, at least in the UK. But does that mean the niche isn't profitable? Not quite.
Because if you scroll down the page you can see where learn French is profitable.

This give you some vital information about how to target your niche site. For example, based on this data alone, I could target a site at:
Helping Canadians learn French

How to learn French in the UAE

Where to find learn French in Kenya

The Irish Guide to learning French
Just to spin a few creative variations off the top of my head. So maybe if I had an initial idea to turn this into a UK site, maybe I should think about retargeting with a .ca or a .ie extension.
However in this step we've found that learning French has potential to be profitable. But now it's time to swap over to SERPed and do some deeper research into the niche.
Step #2: Look For Related Keywords
The next step is to view what people are searching for around that keyword, and how many searches they're getting per month.
This step will indicate how many potential people this site will reach per month.
In the SERPed tool head over to the Ultimate Research tool which you can find under tools > keyword research > ultimate research.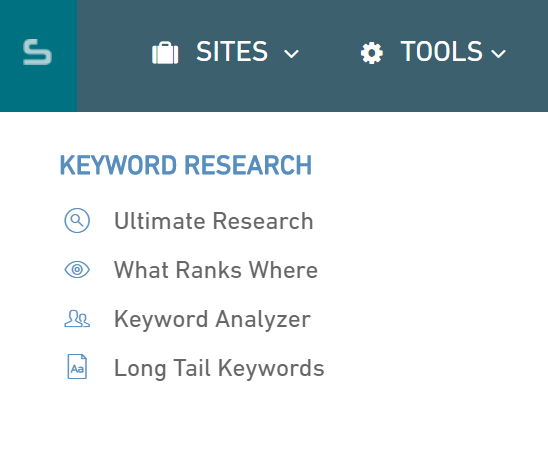 Here you'll be able to find out a lot about the niche itself, gather lots of related keywords, and decide if the time invested is going to be worth the outcome.
Once in the tool select the short keyword, like "learn French" and select the database you want to look for. I'm going to continue with the UK right now.

That'll take you to a page with all the related results to the keyword you've searched. You'll get a lot of keywords here, so it's best to apply a filter to make sure it's niched down as much as possible.
You can do this by selecting, Include > Keywords > Equal To > [Keyword]. For example I wanted to make sure I only got French results here, so my specific target became that:

And as you can see from the top result there are a lot of searches for this keyword, although as Google Trends said, it's decreasing:

But there is quite a high traffic value there (more than $1 per person). And there are a lot of related searches that really boost up the amount of searches per month.
With the top 10 alone we're looking at 30,000+ searches a month here before we get to the long tails in the next section.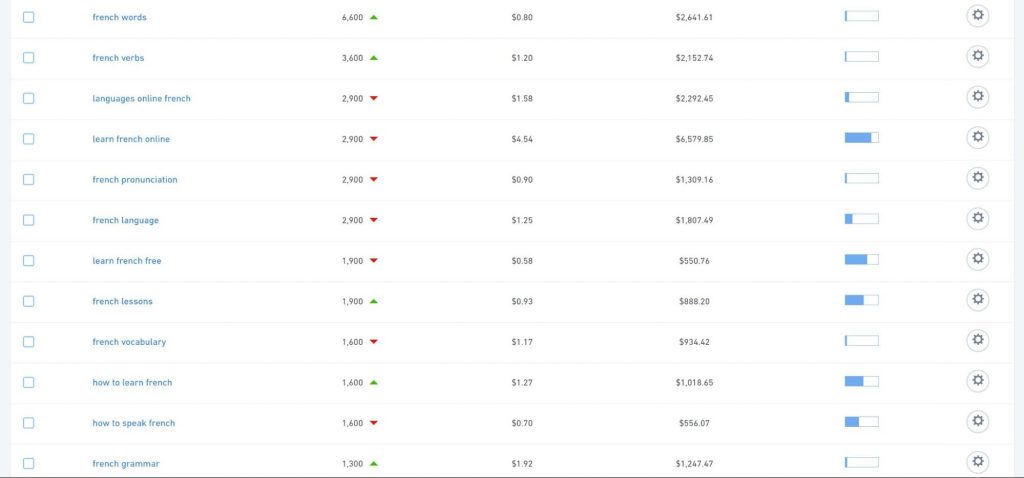 What I also find works here is if you take a few of the keywords and run them through Amazon or Google to see if there are any products you can be an affiliate for (or use an Amazon Affiliate link).
Like these products on Amazon: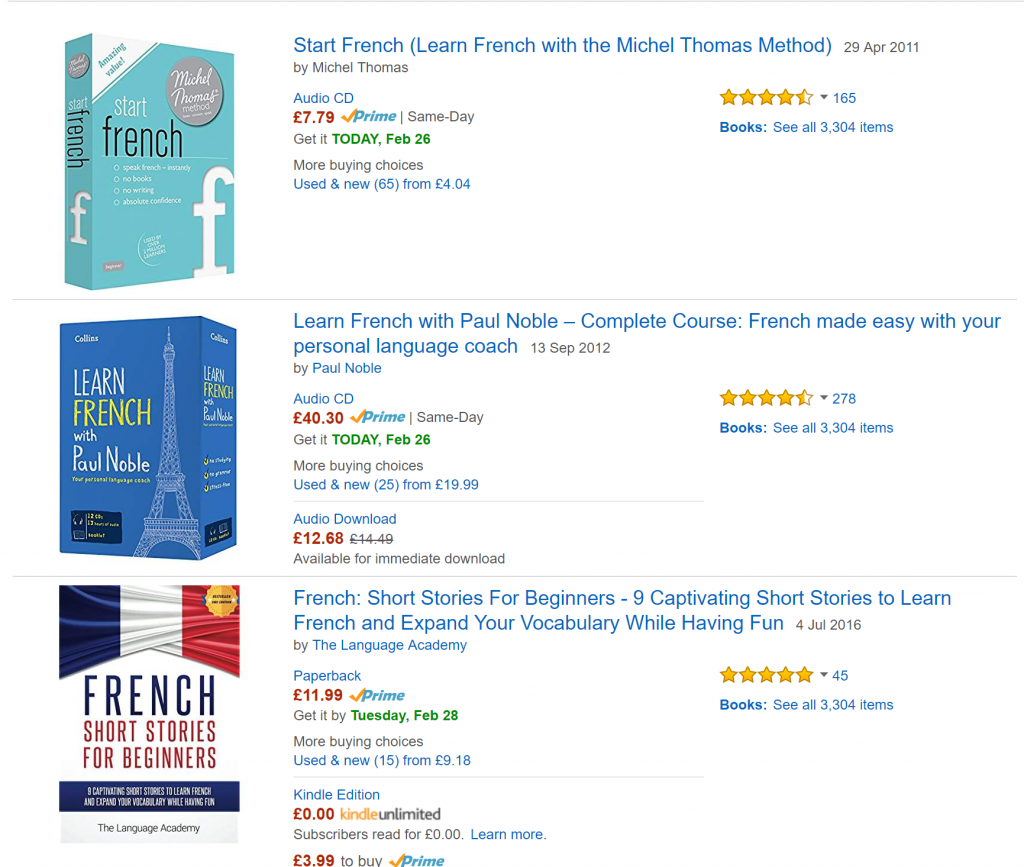 Or like Rocket Languages French that I found, which also has a lucrative Clickbank Affiliate scheme: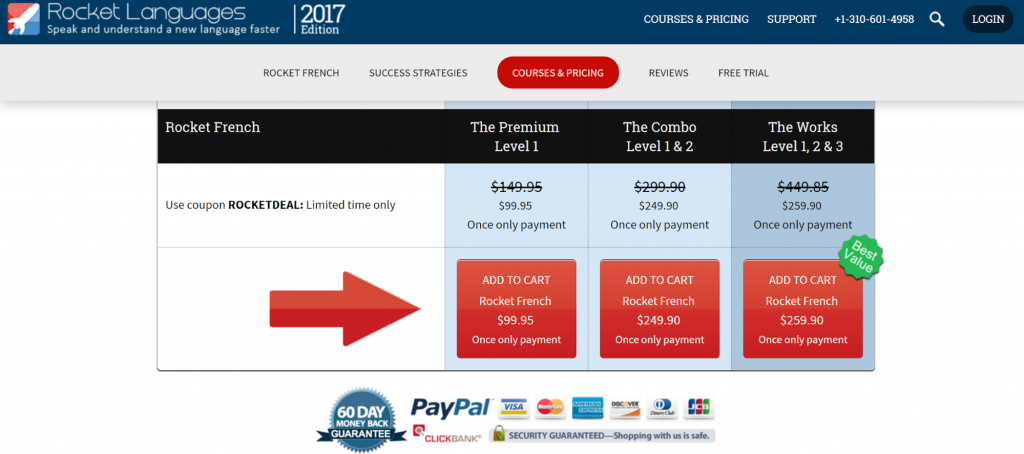 With the results here I can see that learn French isn't going to make me a huge profit through affiliates right away. But there is potential there for volume of products to create a relatively good income.
There's also extras that I could offer: advertising for teachers and schools, custom affiliates with language learning schools or products to name just a few.
So this niche is shaping up pretty well for me so far. But, again, let's take it one step deeper.
Step #3: Look For The Long Tail Keywords
Short keywords show you whether a niche has potential. But, long tail, specific keywords make up around 70% of searches. And the longer and more specific they are the more likely they are to convert.
SERPed has the ability to let you drill down as many keywords as you want while providing accurate information at the push of a button. Meaning you can find profitable keywords with a precise level of searches.
This step really gives you an idea about what products you're going to be able to sell more specifically and lets you forecast a little on your income.
Let's go to the root keyword of Learn French and drill down. You can do that by going to the cog wheel button, clicking, and selecting the Get LongTail Keywords button: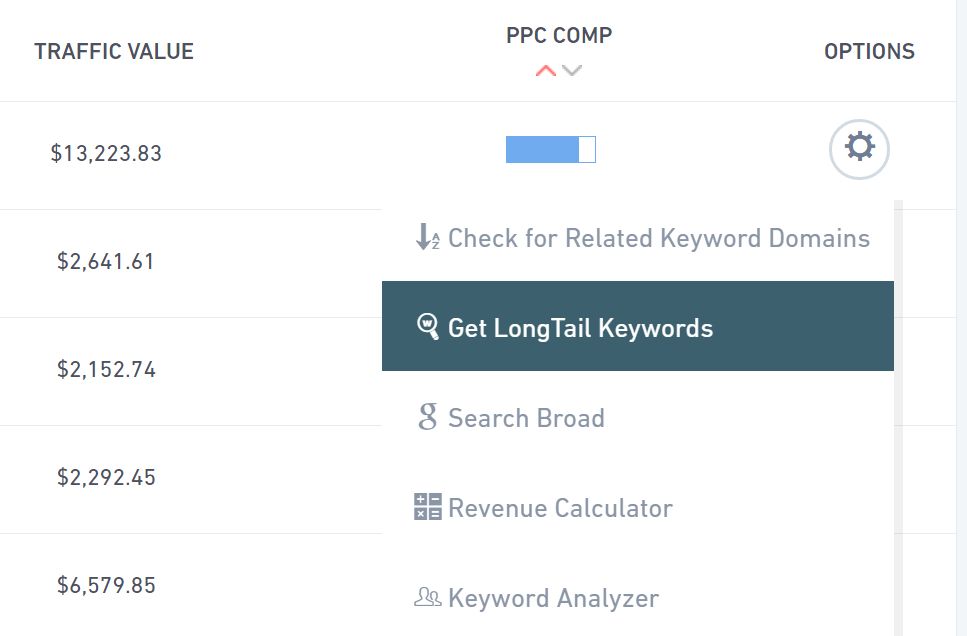 Then choose the database and make sure all of the information is correct:

That'll then show you hundreds of results that relate to that keyword, which you're able to sort by the metrics that matter to you.
Because I'm worried about the level of traffic this Learn French site will get (because it's evidently going to be a volume niche) I've sorted by monthly searches.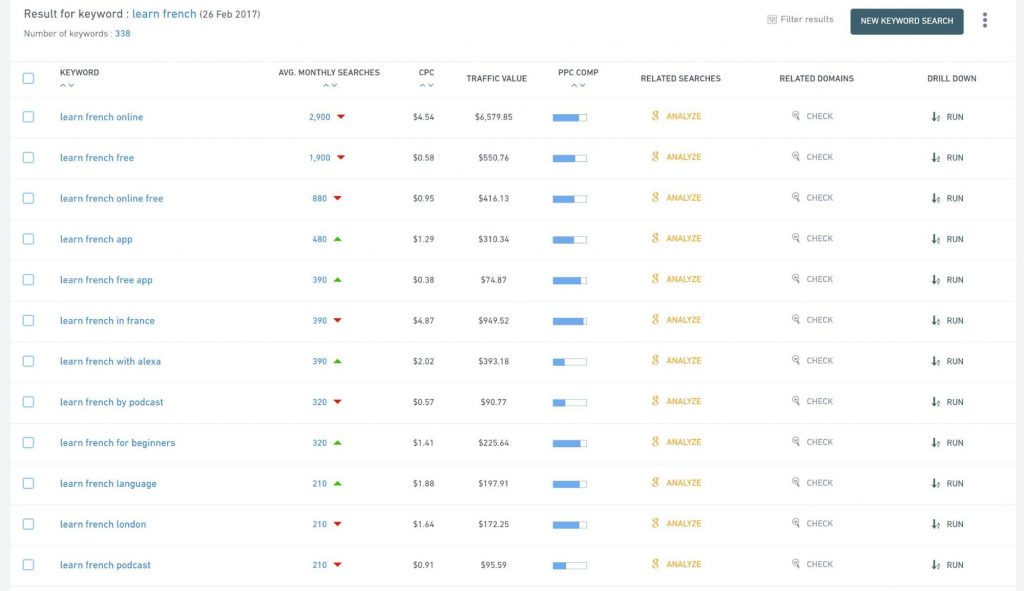 Here you can already see the basis of a lot of content ideas, as well as potential affiliate products. For example, 'Learn French podcast' or 'learn French by podcast' could shape into:
[X] Podcasts You Need To Learn French

How I Learned [X] In French Using [Y] Podcast

Can You Learn French With A Podcast? Today I Review [X]
There are some cool affiliate options, too. Like this one from Radiolingua French: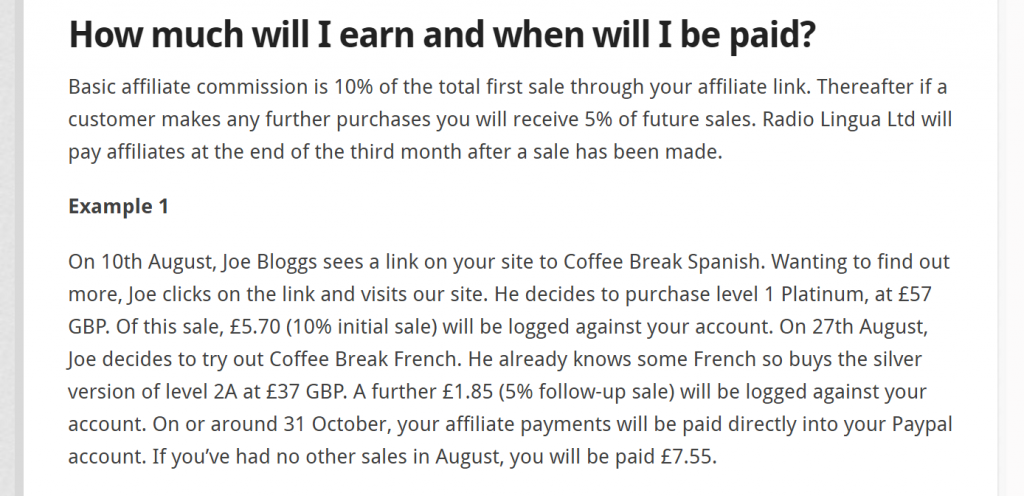 Again not earth shattering but enough to say there is money in the niche (especially if people are willing to fork out money on courses).
What is also great is that if you click on a keyword you'll be given an instant analysis of what ranks where and how competitive that keyword is, while still on that results page:

This is a moderate keyword so it wouldn't take a lot of effort to rank for it, but I need to ask the question of if it's worth my time and effort to do so.
But with the ease of this tool you're able to assess lots of keywords before you even try and put any effort into them. And letting you focus on keywords you can get results with at the start of the life of your site.
What Do You Learn With This Process?
This is a pretty simple process to follow, but it allows you to make a lot of informed decisions before you invest your time and money into your niche site.
So, what have I learned from this process, and what should you learn if you follow it too?
Learn French isn't a 'trending' niche but it maintains a high level of interest

I'll get best results from targeting Canada, African nations or Ireland

But there is still a lot to be gained from the UK audience

There are affiliate products across the board; but I'll need volume to make a lot of money

There are a wide range of keyword difficulties but many with profit are easy to rank for
That allows me to make an informed decision on whether or not to start this niche site.
Right now I know it'd be a good side niche site, but I wouldn't make it my entire focus. If I wanted a complete niche site that makes my entire income I'd need to look at expanding to learning more languages. But I could definitely make $500-$1000 a month here for not a lot of work.
When you run this test you're able to make similar judgements about the niche you want to get into.
But what you're really looking for is:
How much traffic does this niche get?

What is that traffic worth?

How good are my affiliate options?

Do I need volume, or can I make a lot of money from just one sale?

How competitive are the keywords?

Will I get the right return on my time (or money) investment?
And if you tick all of those boxes and find you're onto a profitable niche, you're even able to use SERPed to buy a domain there and then to buy the right domain that fits the keywords you're targeting.
Don't forget! To get access to all of this data you'll need access to the SERPed tool. You can apply for membership right here.