SEO has a lot of "secrets". There are no exact hacks into achieving success on Google results, but relatively minor details can make a big difference when optimizing your website or a client's.
One of these secrets is what is anchor text. But what is anchor text in SEO? It can affect your internal and external link structure, which is a metric to consider for a high SERP (search engine results page) ranking. In this article, we'll go through a few essential aspects of anchor text optimisation and how they can apply to your website.
What Is On-Page Anchor Text?
First, let's start with links. Links are the connections between two web pages. These links can be internal or external. Internal links connect two different pages on the same website. External links connect pages on one website to another website. Anchor text, in SEO, is the text that marks that connection. This is an example from one of our blog posts:

The words in blue ("Keyword Clusters") link to another area of our blog. They have been chosen specifically to create a link that is relevant to the used keyword in the anchor text and at the same time to connect related pages.
This is where anchor text comes in. Anchor texts show search engines what to expect of that link. Adding the right anchor text will imply that both this article and the one we're linking to are relevant for this keyword. 🔗
Using relevant keywords in your anchor text is a great way to get ahead in the game for ranking high on Google SERPs. However, there is also a risk for over-optimization… Does your anchor text fit the content of your page, or does it feel unnatural? Is that really what your page is about, or are you just aiming for a popular keyword?
What Is An Anchor Text In Code?
This is how an anchor text looks like in code:
<a href="https://example.com">anchor text</a>
Knowing how it shows in your HTML code is essential so you can troubleshoot when needed. The HTML is relatively straightforward, which makes it easy to detect any mistakes or wrong syntax.
Types Of Anchor Text
Did you know that there are different types of anchor text for SEO? The reason behind this is there are several different ways to create it, for different purposes. We'll explain how they work in this section. ⚓
Exact Match
An anchor text is an exact match when it shows the precise description of the page linked. Let's say you have an article about pressure cookers. In this case, an exact match anchor text for this page would be "pressure cooker" as it is the main keyword targeted for that page.
This will also give the crawlers (the part of search engines that cruise the web looking for new pages to add to their index – pages need to be crawled and indexed in order to appear on search results) an insight into what can be found on the page you link to.
Partial Match
This kind of match iterates the main keyword by adding a related keyword that is relevant for the context. As an example, "pressure cooker recipes" could be a good partial match anchor text to link to the potential article about pressure cookers to sell.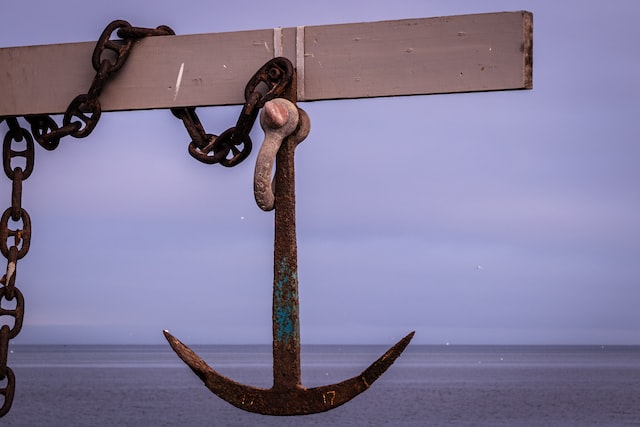 Partial match anchor text can be used to further develop the topic of your page. Each page will usually rank for more than one keyword, so it is important to also add related anchor text that is not an exact match. ✨
Branded Anchor Text
Branded anchor text, in this case, would be "Hawkins". This is a brand of pressure cookers. If you can use this kind of anchor text, we recommend doing it.
If you don't rank for your branded keywords, it's very difficult to rank for any other keywords. Your brand is the low hanging fruit for keyword research, however, don't overdo it. Users will know your brand if you provide quality content and ideas about how to solve their problem.
Naked Link
You can add the link URL as the anchor text, just like this: https://www.hawkinscookers.com/
This is called a naked link. Sometimes, it's easier to get your reader's trust with this kind of link since they know exactly where they're going to get when they click on the  link. This does not contribute to your anchor text profile as an exact match keyword would do, but it does help make sure all pages are indexed. 📖
Generic Anchor Text
This is commonly used, but we recommend avoiding it if you want to improve your SEO profile. Common  generic text is "Click Here" or "Click Now" and other similar calls to action. (Calls to Action are embedded in your content to make sure that the readers perform the action you want them to: subscribe to your mailing list, make a purchase, request information about your product… A call to action typically consists of three or four words like "Subscribe For More".)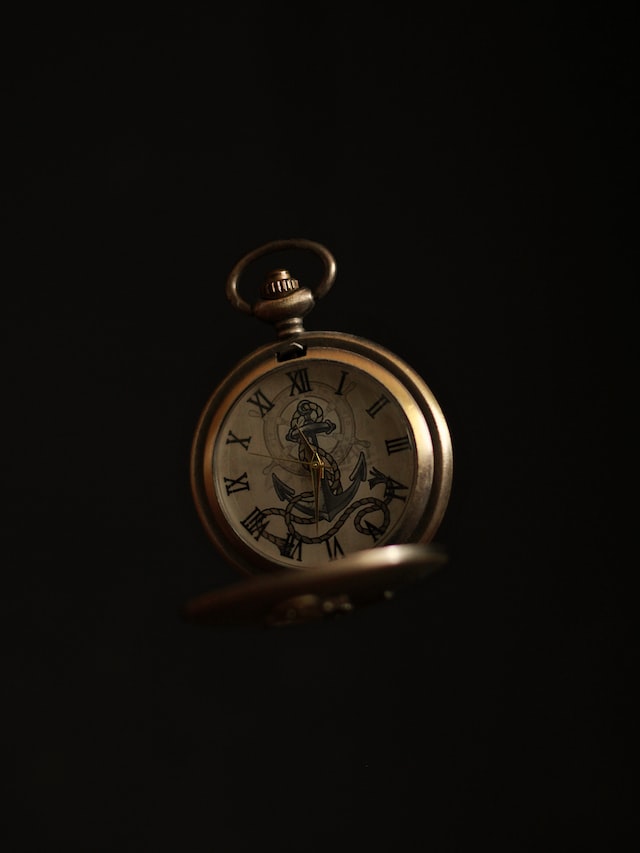 While it's good to use a CTA in your content, these should be left for buttons rather than text content as they don't add a lot of value as anchor text.
Images
Sometimes, you can use an image as an "anchor text": i.e., the anchor text will be the alt-img attribute you assigned to that image. The alt-img attribute describes what is depicted in the image for browsers (like Google Chrome), since browsers are not perfect at reading images yet.
Alt-img is also used when a visually-impaired person uses your website. So, you are not only making your website good for machines, you're also improving it for users. A win-win situation from our point of view. 👀
Now, these are a few different types of anchor text in articles and pages you create. But are there best practices regarding the use of anchor texts and their target pages? We'll explore that in the next section.
Best Practices For Anchor Text
When it comes to anchor text, there are certain tactics that can help. We'll go through a few best practices we consider relevant for a good SEO performance. Remember, there's more to SEO than keywords, and there's more to anchor text than optimisation. Plus, as a great rule of thumb, what's good for humans is usually good for bots – the robots that crawl your website in order to index it. They're usually called spiders for they create a "net" of crawled pages.
Be Straight To The Point
Don't add any unnecessary fluff to your anchor text. Be succinct and straight to the point. What does this anchor text mean? Why is it relevant for your readers? That should be answered, if not in the anchor text, in the previous or following paragraphs. 📘
It needs to be clear what users are going to get out of this anchor text. Is it a story? Is it an article that proves your point? Is it something that relates to your main keyword and, therefore, to your main subject? All of these are valid and your anchor text should show why these links are relevant.
Is Your Target Page Relevant?
This should make sense for an SEO content creator. If the page you're linking to is not relevant to the subject of the main article, your page's ranking will be negatively affected.
Relevance for the keyword you're targeting is highly important, especially after the May 2022 core algorithm update.
When you're linking to a page, you need to make sure that link makes sense in relation to your content, and also in regards to your anchor text.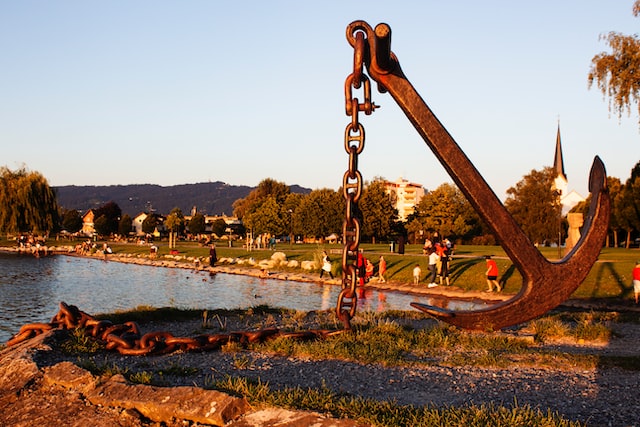 Your anchor text must describe perfectly the page it is pointing to. This includes selecting the right page to link to, but also anchor text that is meaningful to your main content.
Mind Your Keyword Density
Google is very careful with over-optimisation. This means that if you have your main keyword repeatedly on your content (including anchor texts), your ranking is going to suffer.
Don't overdo it. Anchor text should be natural and relevant. If the main keyword is repeated ad nauseam in your content and anchor texts, Google will be able to tell you're forcing it.
Evaluate carefully where you can add your keyword, and where it doesn't make sense to. 🤔
SERPed Tools To Check Anchor Text
Site Explorer
This tool allows you to find links that point to your website, and your anchor text profile – common keywords used, the referring domain, etc. This is how you do it.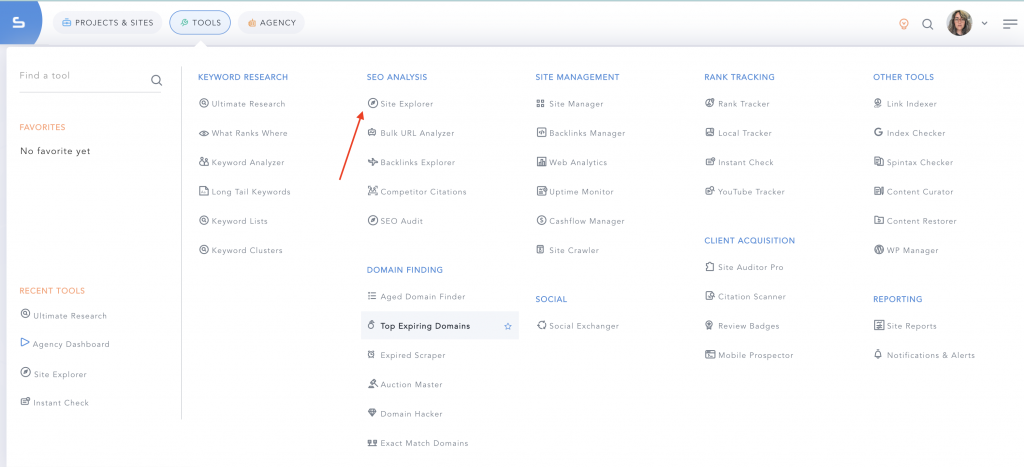 You'll find Site Explorer in the Tools menu.

In this page, you'll see the records for previous searches. For a new search, click the blue "+" button.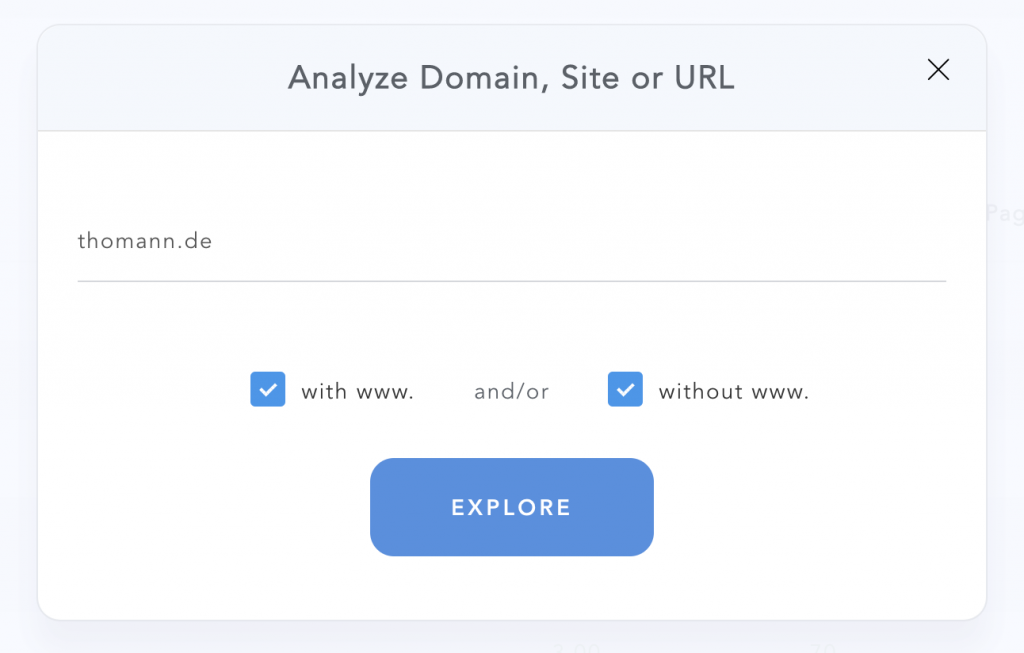 Fill in the form with the website's URL, and whether you want to search with www or without it. Click on "Explore".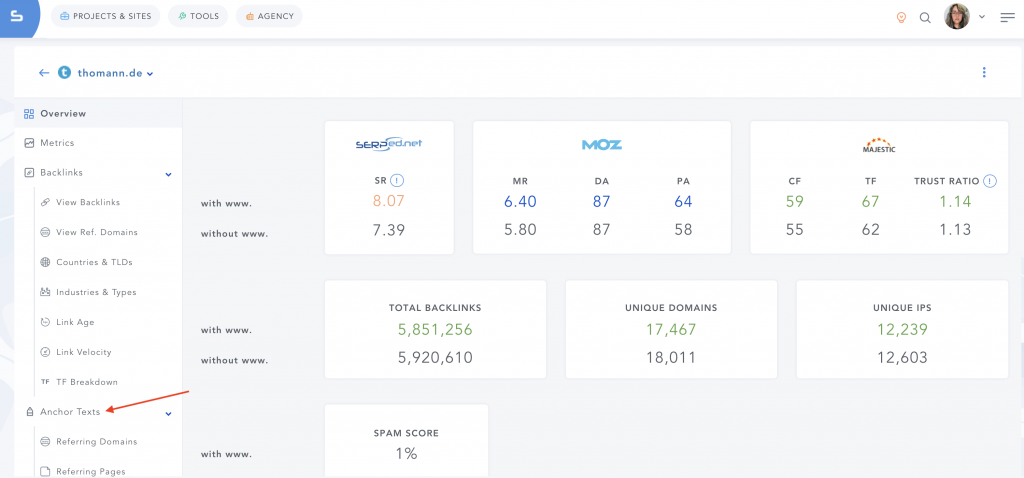 This is the result page. Check "Anchor Texts" in the menu on the left hand side.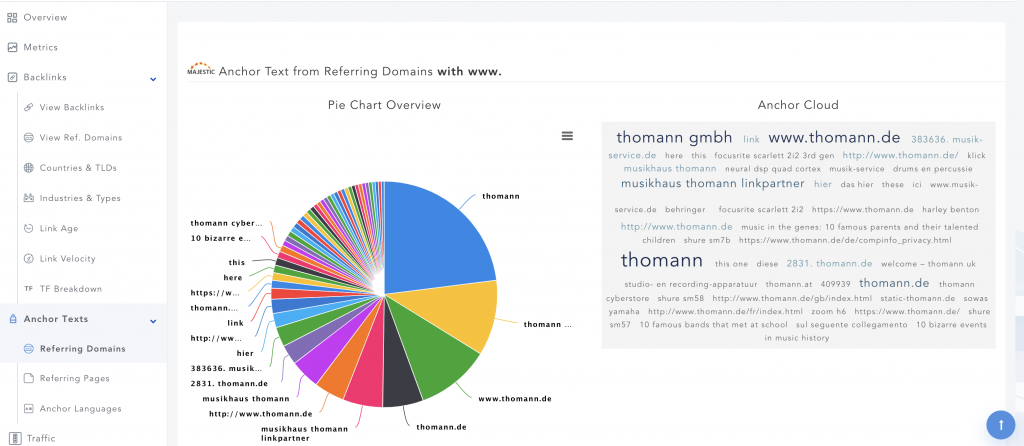 Here you can see the main anchor text from referring domains on Thomann's website.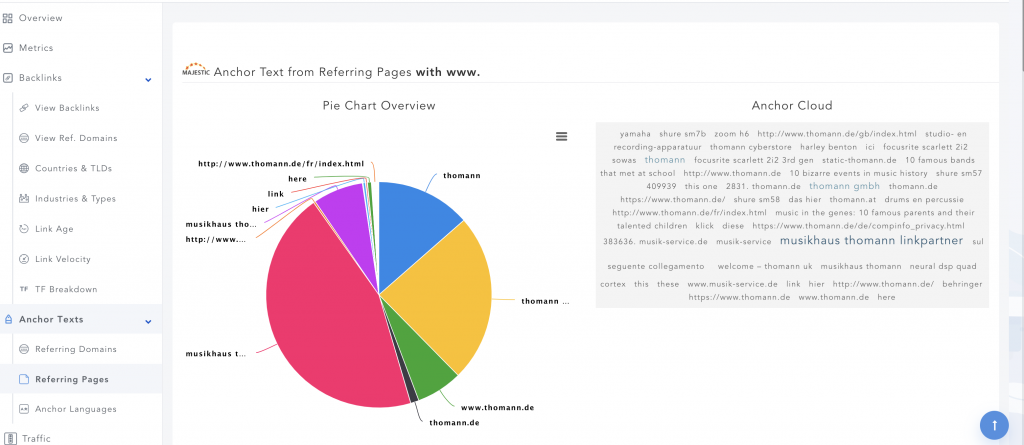 Here are the referring pages. You'll be able to find patterns here and see where you need to apply some link building effort.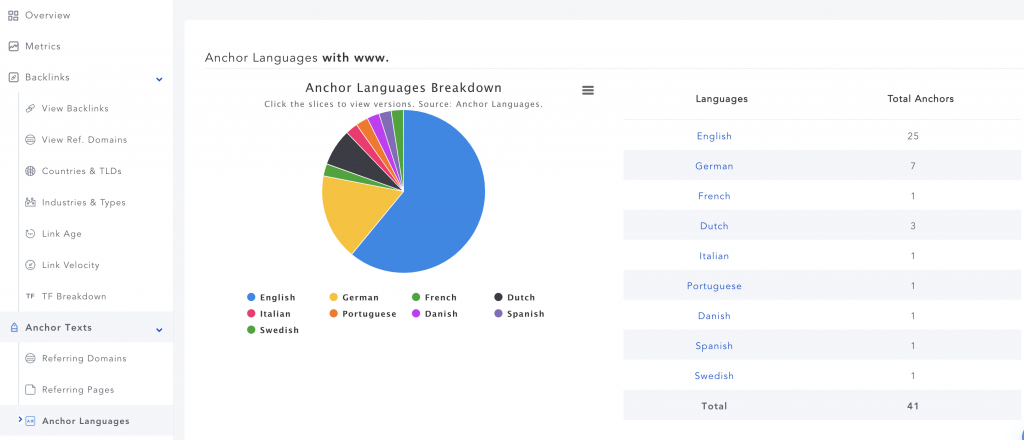 You can also analyse the languages for the anchor texts and see which language is more popular on referring links to your website.
Site Crawler
Site Crawler analyses internal links on your website.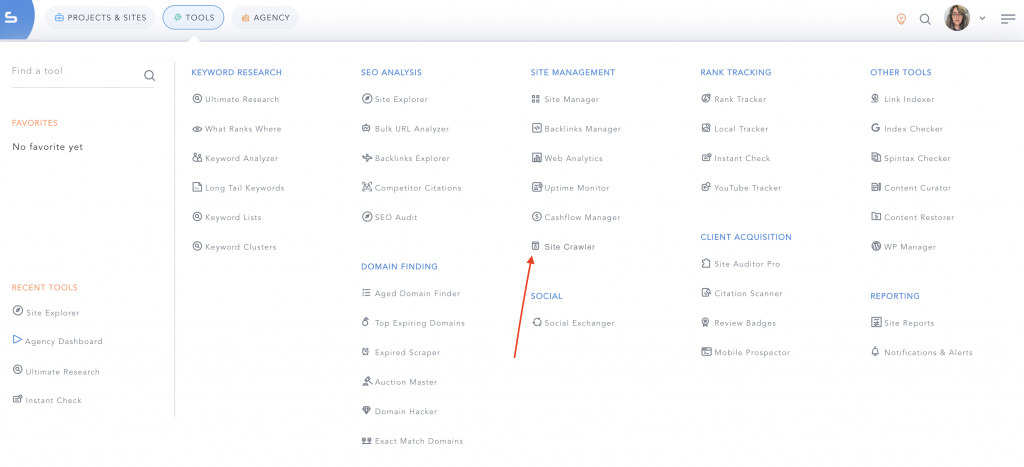 You'll see Site Crawler in the Tools menu, under "Site Management".

You'll find your history of websites crawled. To create a new search, click the blue "+" button.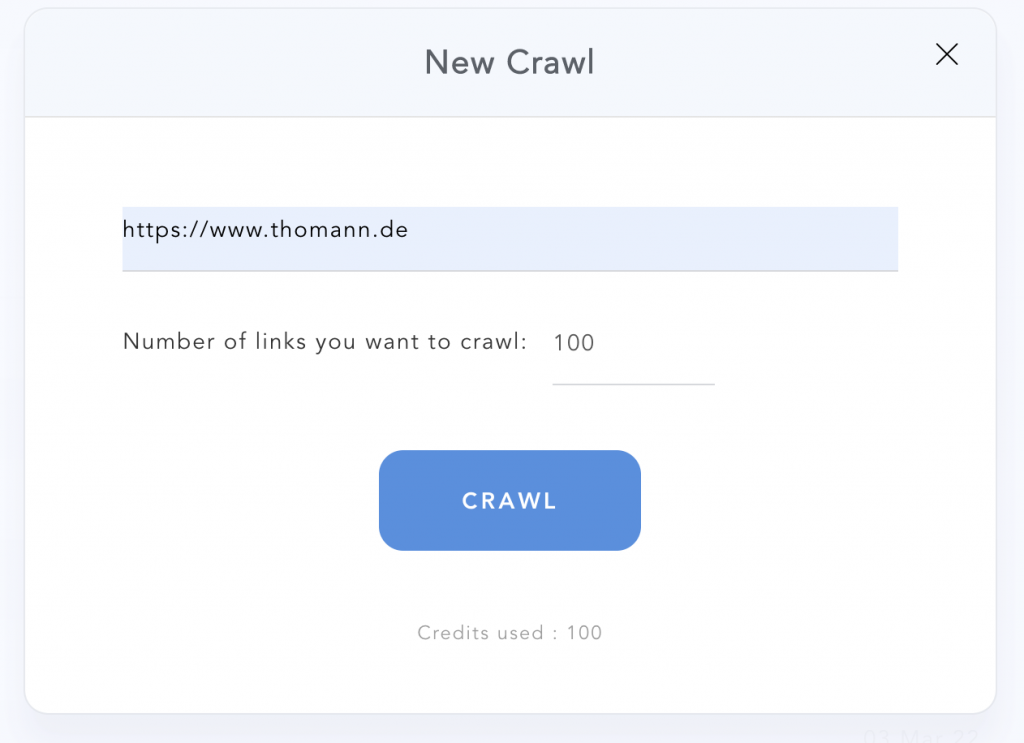 Fill in the form with the website URL and the number of links you want to crawl. This number is entirely up to you, but remember you have to spend credits for each link crawled. Wait for a few minutes, and you'll get the report.

Here it is!

Here are the crawled pages. To check each one, simply click on the blue links.

Here is your crawled pages report, in which you can see which are the top anchor texts.
These reports are very useful in order for you to analyse your internal links, their anchor texts and so on.
Wrapping Up
In this quick guide, we have given you  a few tips that should help you start optimizing your anchor text properly, without exaggeration. As usual, remember our SEO rule of thumb: what is good for humans is good for machines. Make your anchor text profile natural and relevant, and you'll reap the benefits of this strategy.
Is there something you'd like to add? What do you think?
Let us know in the comment box or find us on Facebook, Twitter and LinkedIn.