Did you know that video search results are fifty times more likely to rank organically in Google when compared to text-based results?
In Google search results, you'll find videos mostly from YouTube. So, your videos need to be there. But what is YouTube SEO and how does it work? In this article, we'll discuss this topic and give you a few tips on how to rank YouTube videos on Google. 🔍
What Is YouTube SEO?
When you use the search bar on YouTube, you get results for the keyword you entered. So basically, YouTube is a video search engine. And this means that in order to get views, you need to optimize your videos for the search engine to find your content.
Also, 8 in 10 results on Google include video results. Google wants you to see different types of content while keeping users on their platforms. So, you won't see many videos from Vimeo or other video platforms on search engine result pages (SERPs).
But is optimizing for YouTube the same as optimizing your website? Let's find out. 🤔
How Do I Optimize My Videos For YouTube?
Optimizing for YouTube has its own secrets. In this guide, we'll go through what you can do to get the best performance out of your YouTube videos and grow your following. YouTube is a very strong tool to build up your reputation as an expert in your field. And this is one of the reasons you can, and should, optimize your video content.
Here are the main techniques you need to use for YouTube SEO.
1. Use Your Target Keyword In The Video Filename
The first step is essential for all kinds of SEO: find your target keyword and look for the search volume and difficulty, research similar keywords that might be suitable for your topic, and find how customers are searching for products and services similar to yours. You can do this using the Long Tail Keywords tool from SERPed.net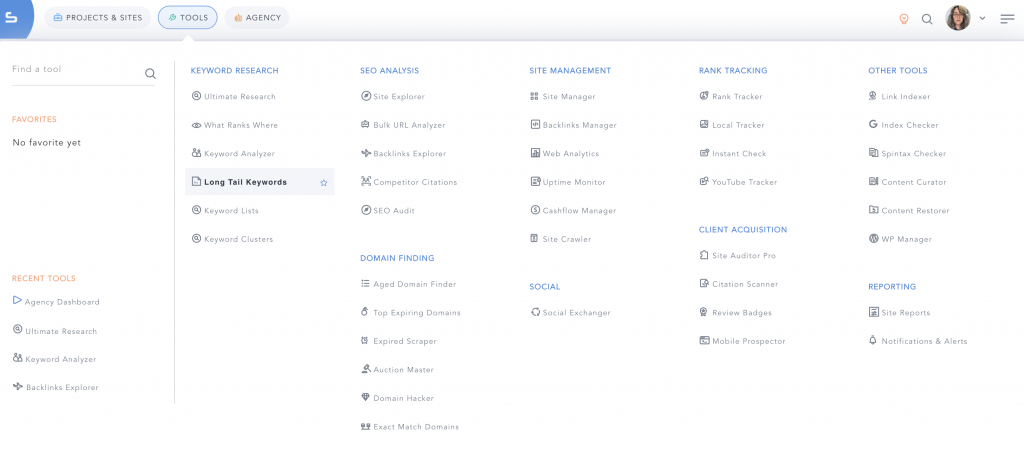 When you open the tool, this is what you'll find:

Use the blue "+" button at the top right to create a new search.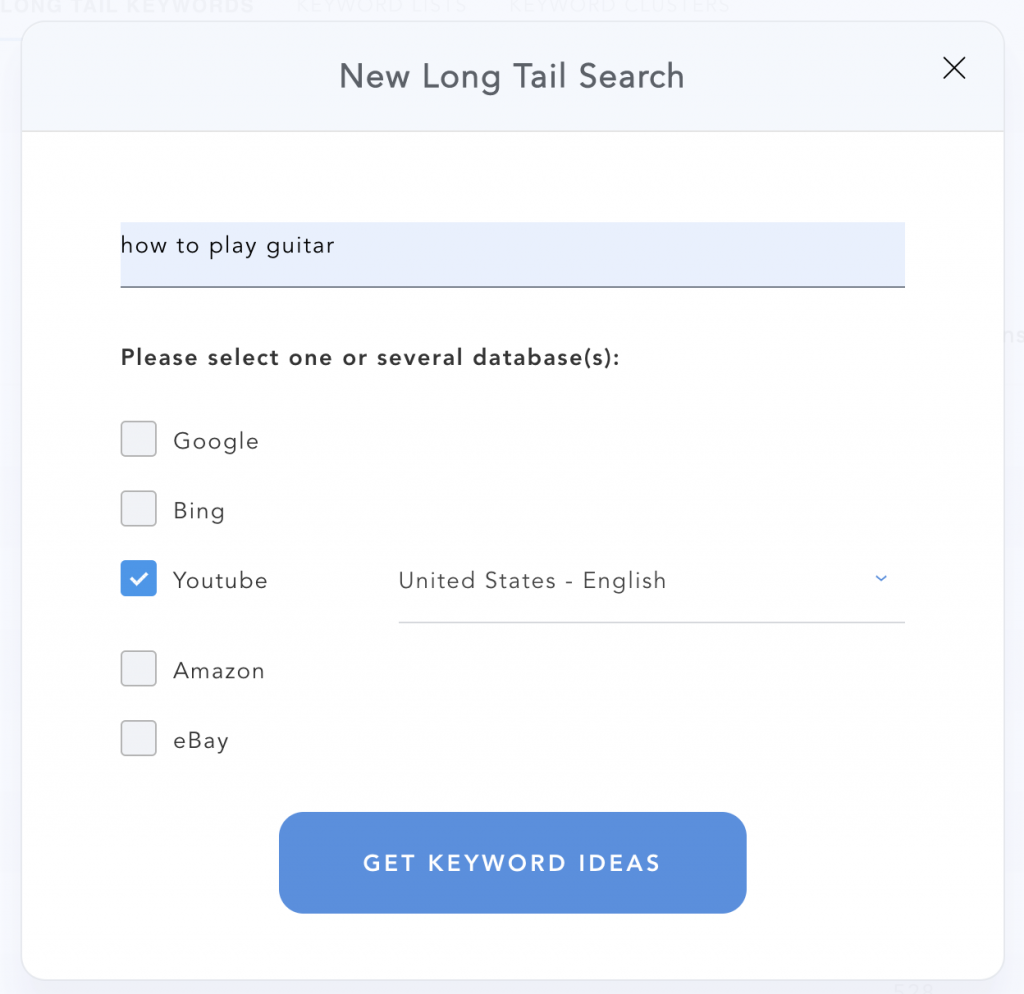 As you can see, you can select YouTube as the search engine for your search. Just tick the box and type your keyword idea. Then, click on "Get Keyword Ideas".

And there you go. As you can see from the results, if you want to create guitar video tutorials, you have many suggestions from SERPed to use the right keywords to rank.
Now that you have your target keywords, what do you need to do?
First, rename your video file using the main keyword you want to rank.
But why? Well, YouTube cannot read your video itself, but it can read the filename – and that's where you add that keyword you're targeting first. This will help the video platform in indexing your video correctly so you can rank for the ideal search terms.
2. Use Your Keyword In The Video Title 👀
Now that you're closer to publishing your video, remember to use the keyword we mentioned before – let's say you chose "how to play guitar for beginners". You need to find a way to insert your keyword in the video title, and it has to look natural.
This is the same as when you are creating written content for SEO. You need to figure out clever ways to use your keywords without hammering them on.
Another thing we should mention is keyword intent. If you are able to adapt your keyword to fit the search intent of your target audience, great. If not, it's better to be informative than to seem too salesy.
Also, keep your title under 60 characters for better results.
3. Keep Your Description Short
Your video description should be a great place to add your keyword to, but remember to keep it short. If your description is over 100 characters, you might want to cut down – over this limit, viewers have to click on "Read More". This might be an issue if you want viewers to check out a landing page you have created.
Make sure to add all links at the top of your video description for better results, and, of course, make sure to include your target keyword. 📝
The way you go about this will depend on your target audience, your keywords, and the search intent that suits this piece of content.
Just make sure you add the relevant information, put the main links at the top, and, if possible, add your target keyword(s).
4. Use Tags
Tags on YouTube have a similar function to how they are used on Twitter. You should use topics like "#guitar", "#musiclearning", "#playingguitar" and so on. Research the tags first on YouTube to get an idea of competition and similar tags you should use. Tags don't need to have your keywords, although that is recommended when possible.
We recommend searching for tags related to your subject, without necessarily having an immediate purchase intent. After all, you don't want to sell all the time – you need to build trust with your audience before you sell anything.
5. Use Video Categories
Once you publish your video, you can access Advanced Settings on your YouTube dashboard and add a category. ✅
These are quite powerful when it comes to showing your video against competitors in YouTube search results. If you pick the right category, you'll be able to find your video together with influencers in your niche and competing brands. But how do you achieve this?
There are a few questions that you should ask yourself about your business to pick your category. Here:
Who are the top creators and influencers in your niche? What are they known for?
When looking at similar channels, are there any recognizable patterns in the audience?
When looking at videos in the target category, do they share settings like length, format or even production costs?
These questions should give you an insight into what category you should target for your video. In this case, it would be "Educational", as we're talking about a potential video about learning guitar. You can find the list of available categories here.
6. Create A Custom Thumbnail
Crawlers don't read images, but people do. 🖼️
You can select one of the suggested thumbnails, which are still images taken from your video or add one from your own files. As you are competing for the attention of viewers on YouTube, you should have a custom thumbnail. Insert some text in your thumbnail that refers to the main topic. Use a picture that signals the general feeling of your video (like excitement, awe, anger…).
These simple tips can make the difference between success and failure. If you look up popular youtubers in your niche, you'll find they use custom thumbnails – also, this has become the norm for most videos on YouTube. If you don't customize yours, you'll find it's very difficult to stand out.
7. Add Subtitles And Closed Captions
We always recommend adding subtitles to your videos, and closed captions too. But what is the difference between these two? Subtitles are meant for users that can listen, but do not understand the language spoken. Closed captions are meant for users that cannot listen to any of the audio content, so they include environmental cues rather than just the subtitles.
It's also important to add translations of your videos for different languages, as not all your viewers might speak English. 🗣️
You can get the subtitles translated automatically, which makes it a very quick and easy process. YouTube has the tools to do this. The advantages are many, from enabling users to watch the video with the sound off to allowing for users who suffer from hearing impairment to be able to understand the content.
We recommend using a .srt file to add subtitles and closed captions manually, if possible.
8. End Screens
An end screen is not an SEO tactic per se, but it is essential when it comes to optimizing your videos. But what is an end screen?
This is an example: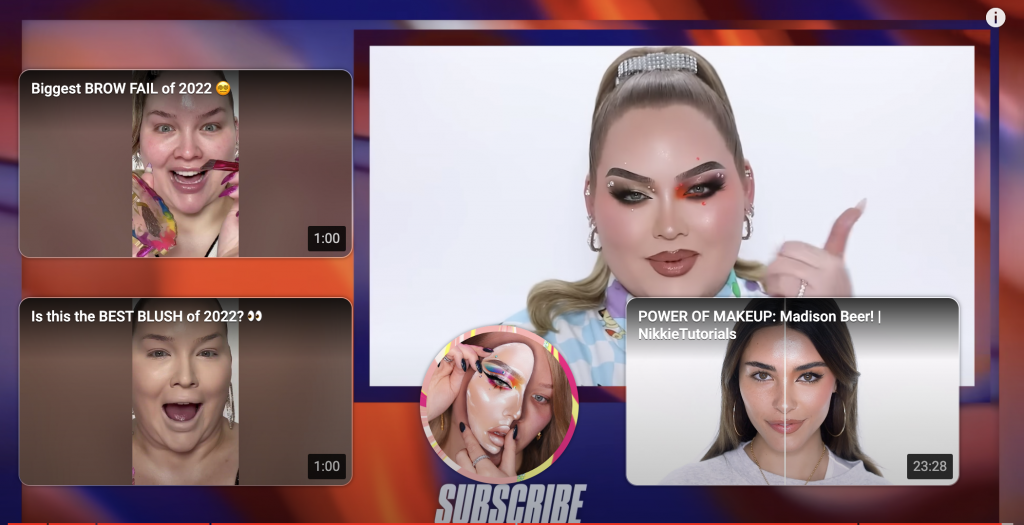 In this video from NikkieTutorials, you can see a subscribe badge, and several recommendations of other videos on her channel. It helps viewers to stay on the channel, by enticing them to watch other similar content on the same channel. This is a typical example of an end screen.
End screens help you suggest your other videos, or maybe videos from other channels that were used as sources for your video. It is also a great way to give thanks to a guest or someone who helped you on the production, usually by presenting links to their social media. 📱
9. Use Playlists
Playlists aggregate content about a similar subject in a series of videos. This is a great way to organize your content according to video topics, but also to make sure users keep on clicking through.

In this channel, you can see that Nikkie split her videos into playlists. Each playlist includes a subject, which can be named using a related keyword. This will prevent users from leaving your channel as they navigate through the videos they are interested in.
10. Leave A Pinned Comment
It might seem weird to comment on your own video (we all know it's annoying to have people liking their own posts on Facebook), but this is a great tool to leverage engagement with your content.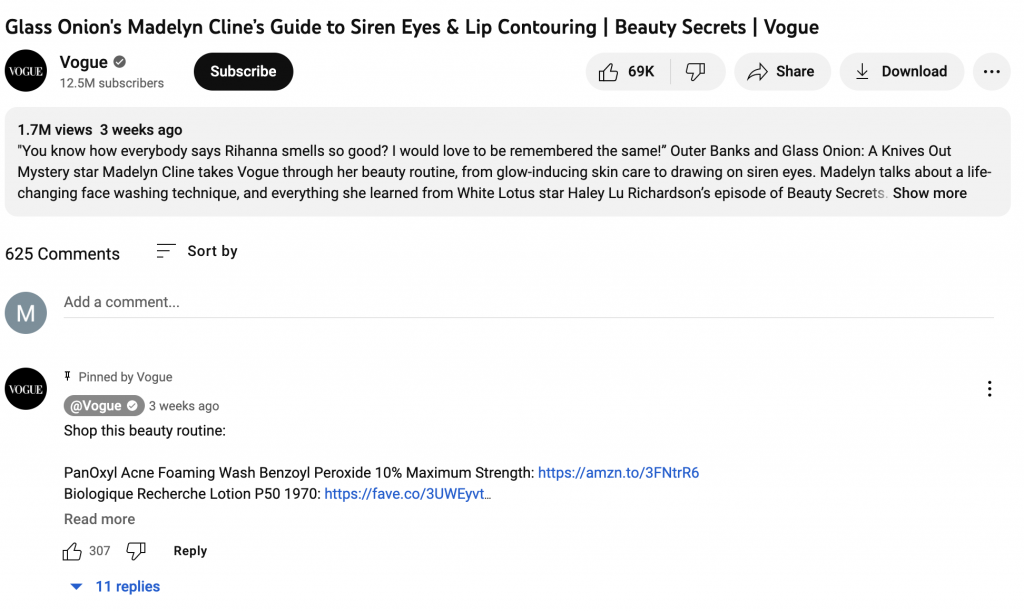 In this example, the video from Vogue has a pinned comment with interesting information, including where to buy the products used for the look. By adding it as a comment and pinning it, Vogue makes sure users will see this message and interact with it.
How To Rank Youtube Videos On Google
Now, how to rank YouTube videos on Google is slightly different. We'll go through a few tips for improving your overall ranking.
1. Optimize Your Title, Description and Tags
Wherever you can add information about your video, go for it and use your target keywords (without overdoing it). #️⃣
2. Add Chapters
You can use the Chapters tool on YouTube to mark content in your video. It makes it easier for viewers to find specific points in the narrative, and it also highlights main topics you mentioned in your video.
3. Optimize For Links And Shares
Think about how you would attract links and shares to your written content. How do you get natural links to your pages? The same goes for YouTube videos. Also, your videos can be embedded in a page on your website. This implies optimizing that page for the target keywords and using good SEO practices. Over time, that page will collect likes and shares just like your other content would. 💪
SERPed.net YouTube Tracker
Now that you have optimized your videos, you should track your positions constantly. Using SERPed.net's YouTube Tracker, it's easy to keep up with your results and make sure nothing falls through the cracks. This is how.
First, you'll find the YouTube Tracker tool on the Tools menu, in the Rank Tracking section.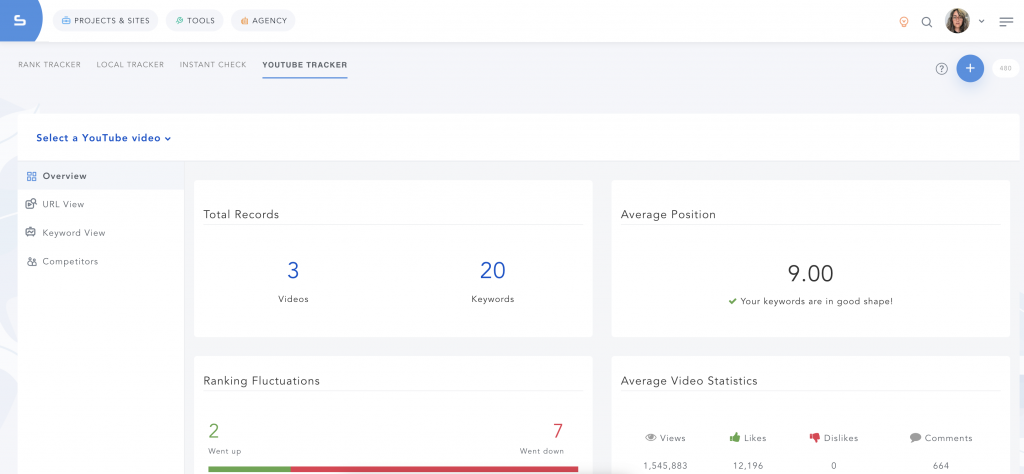 Once you open the tool, you have access to a dashboard with your up to date results for videos you have previously added. To add a new video to track, click the blue "+" button at the top right.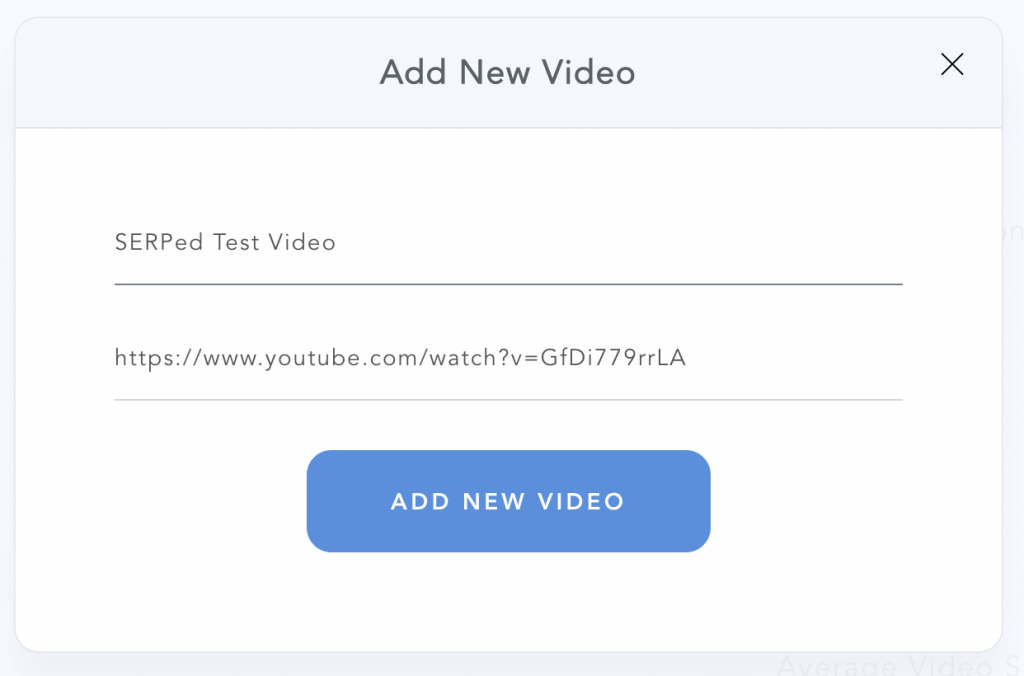 In the modal window, write a title for the video (for internal purposes only) and paste the video's URL on YouTube. Then, click on Add New Video.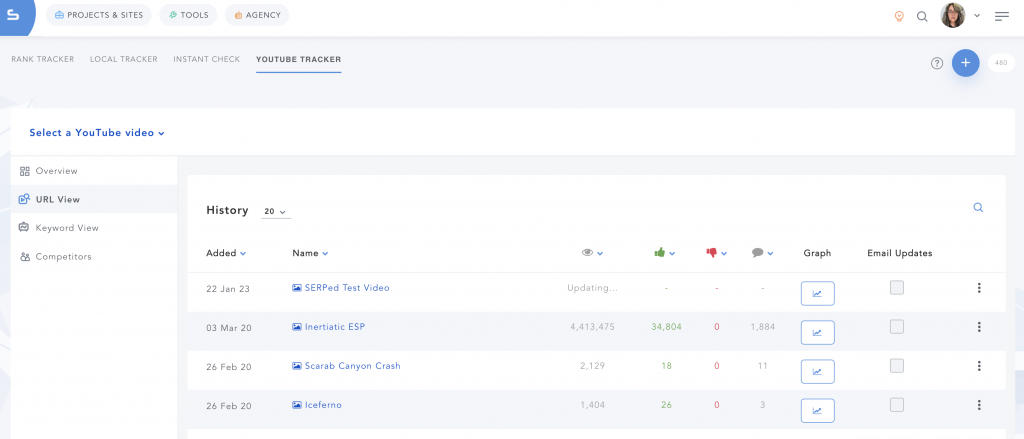 On the URL View, you can find some metrics for your YouTube videos, like the number of views, likes and dislikes.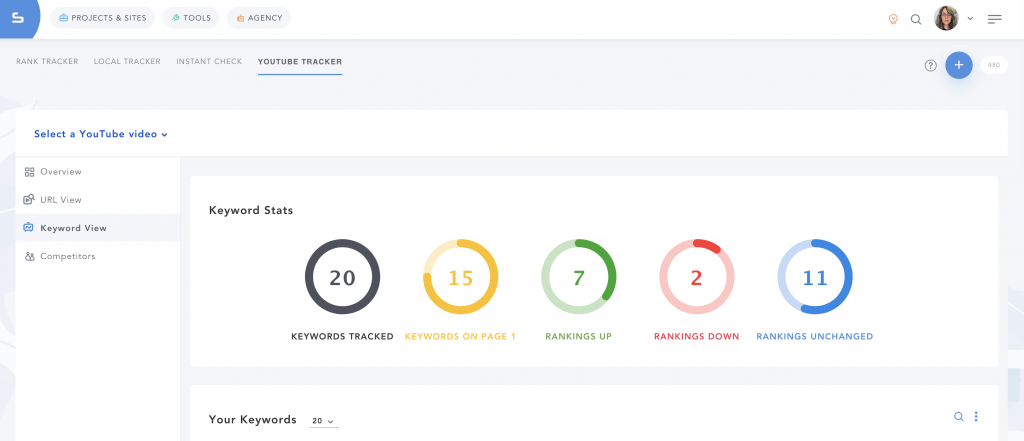 On Keyword View, you'll find your positions for your target keywords for the video. This section is easy to read and gives you important data at a glance.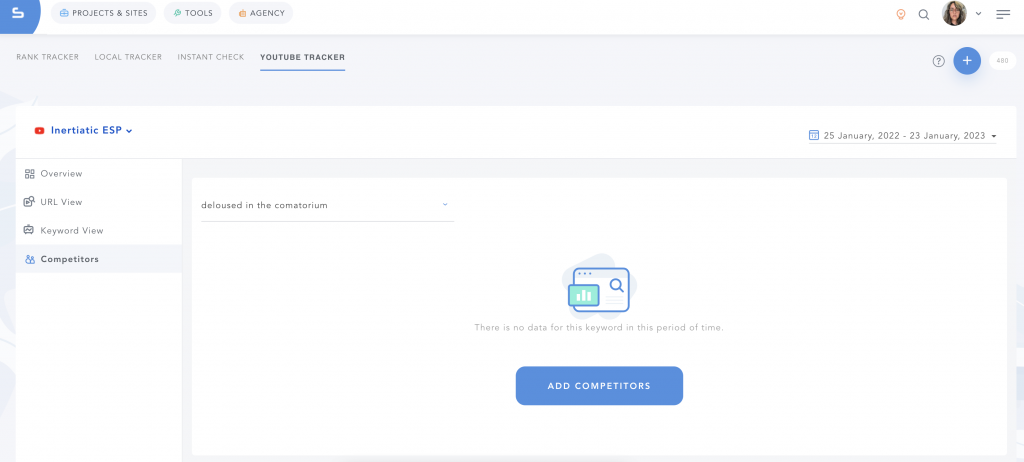 Finally, in the Competitors tab, you can add links to videos that your competitors have created with the same keywords in mind. This is especially interesting if you use this data to update your videos for a better performance.
Wrapping Up
YouTube SEO has a particular way to optimize its content. However, good practices for normal SEO match these: find the right keyword, use it on metadata, and create easy ways to access your content such as playlists and captions or subtitles.
Plus, embedding your video in a page of your website will attract users to your website too. It goes both ways.
What do you think? Do you use SEO tactics on your YouTube videos? Let us know your opinion on the comment box or on Facebook, Twitter or LinkedIn.