Time flies quickly when you are busy and now it's already Fall in the Northern Hemisphere. You know what this means? That's right, it's time for us to give you a quick recap of what's new in SERPed.net
Before we start, here is our Summer update in case you missed it. Since then, we have also released a couple of lead generation tools, which are included in the SERPed Agency add-on:
The idea is to get in touch with their respective owners and offer them your services…
Alright! It's now time for our Fall update.
Backlinks Explorer
Backlink Gaps
Are you looking for backlink opportunities? Our new "Backlink Gaps" tool, which is included in Backlinks Explorer, should help find plenty.
All you need to do is start a Backlinks Explorer search and select the "Backlink Gaps" option. You will then see a form asking you to enter your website address as well as that of your competitors, as shown below: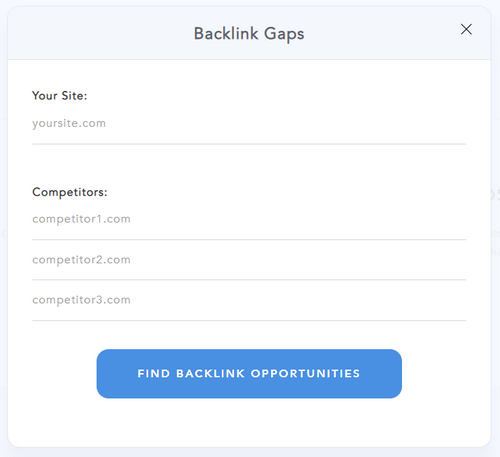 In short, our "Backlink Gaps" tool compares your backlink profile with those of your competitors, so you can find backlinks they have in common that you don't have, helping you find backlink opportunities very easily.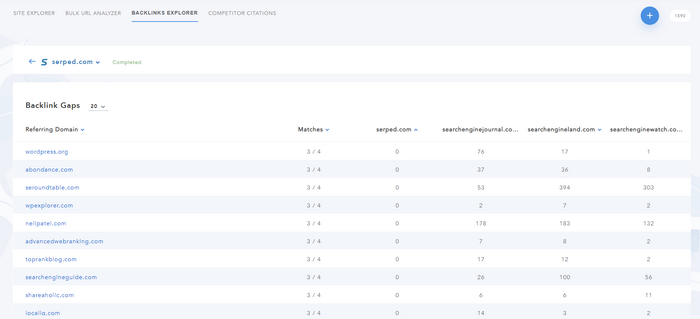 Site Explorer
Export Spam Links
You can now export spam links into a CSV file from Site Explorer, so you can then easily upload them to Google's disavow tool.
Watch our short tutorial video for step-by-step instructions:
Rank Tracker
New Graph Settings
We added several new settings to Rank Tracker graphs.
You can now:
Exclude recently added keywords
Exclude specific keywords
Exclude specific ranking pages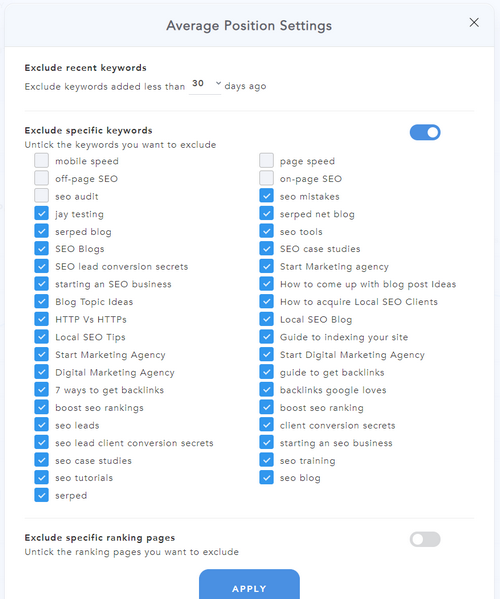 Let's imagine you recently added a bunch of keywords to Rank Tracker to start tracking positions in the search engines, but you know your site or your client's site doesn't rank well for these keywords yet… You might want to exclude them, so these positions don't have any negative impact on the graph.
Watch our short tutorial video for more information:
Speaking of Rank Tracker graphs… Please note that the "Estimated Traffic" graph shows estimations of the traffic received based on the search engine rankings for tracked keywords only and the search volume of keywords.
Automated Backlink Notes
The backlinks you add to Backlinks Manager are now automatically added as notes in Rank Tracker, which means they are displayed in history graphs, as shown below:

This will enable you to see whether or not your backlinks have had an impact on your search engine rankings…
Please note that this works retroactively, meaning notes are created even for backlinks you added to Backlinks Manager in the past.
Local Tracker
New Import Options
We added a few import options to the "Add Keywords" form in Local Tracker. Now you can import keywords from:
Site Manager
Google Search Console (connection required)
Rank Tracker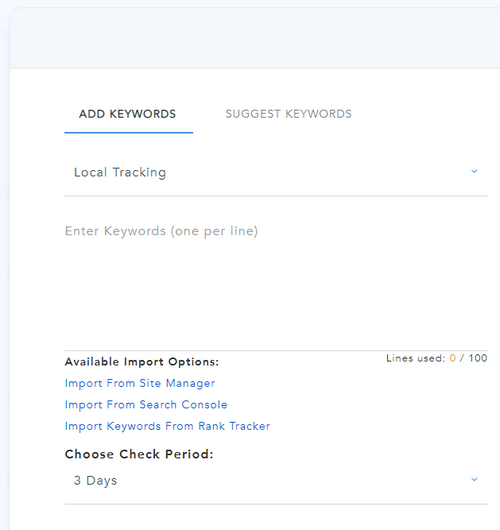 Site Manager
ADA Audit
You can now run an ADA (Americans with Disabilities Act) audit in Site Manager. To do so, simply select a site in Site Manager and click on the "ADA AUDIT" tab.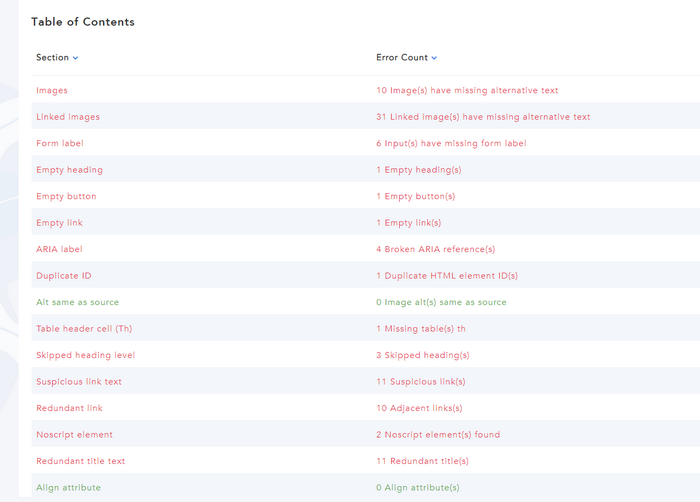 Please note that this report only covers an assessment of ADA non compliance on certain sections of the webpage as shown on the report. We do not guarantee that by complying with this report you will be 100% fully ADA compliant.
Competitor Backlinks Profile
You can now check the backlink profile of your competitors in Site Manager. Simply open the "Competitors" tab, select a competitor and click on the "Backlinks Profile" button.
This will generate a simplified version of their backlink profile.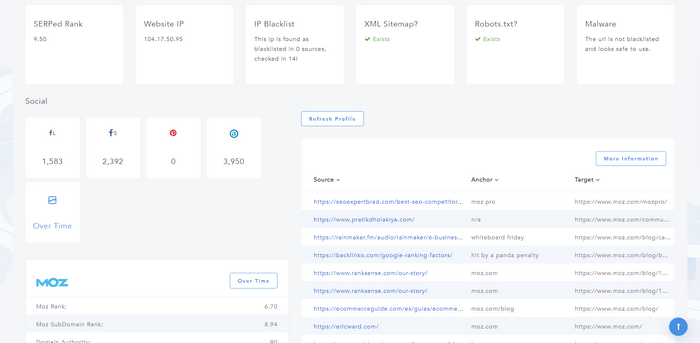 To generate a fully detailed backlink profile, simply click on the "More Information" button.
New Export Options
As you already know, you can connect SERPed to Google Search Console, to automatically import a variety of useful information from your Search Console account into your SERPed account:
Well, you can now export "Queries" and "Pages" fetched from Google Search Console into a CSV file as shown below: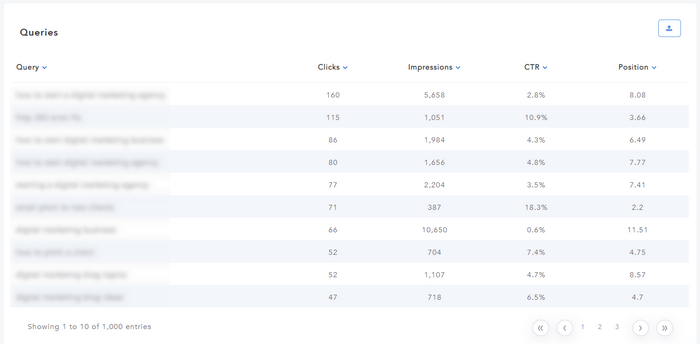 Speaking of Google Search Console, you can now manage Google connections from the "Integrations" tab in "My Profile", which means that you can now connect, disconnect and remove connections from a single interface. You can also allow team account users to connect to Google Search Console.
Exact Match Domains
Star System
We added a star system to Exact Match Domains, which means that you can now mark domains as important, by adding a little star next to them.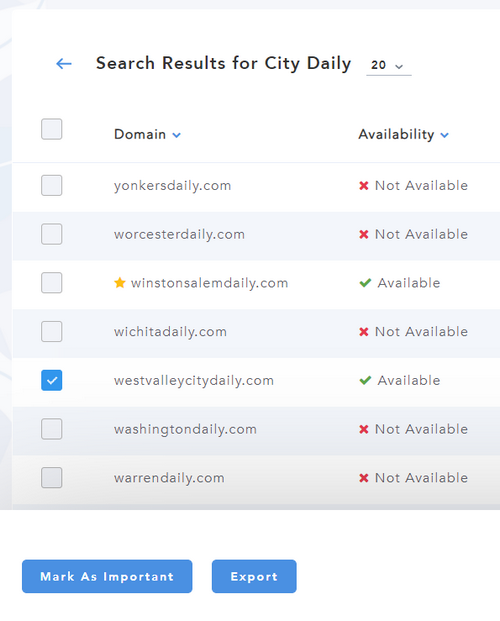 You can then filter results and decide to only see domains marked as important, for example.
Mobile & Advanced Prospector
Reports & Shortcodes Now Available in German
Mobile Prospector and Advanced Prospector (which is included in the SERPed Agency add-on) are now available in German. The user interface remains in English for everyone, but the reports and shortcodes (that the people you get in touch with will receive) can now be in German.
All you need to do is select "German" in the search form.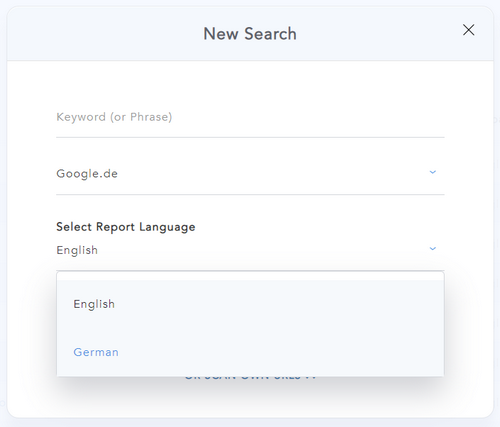 ➡️ Not a member yet? Click here to sign up now…
➡️ Already a member? Log in now and give these new features a try!
If you have any questions or feedback, don't hesitate to leave a comment below.
Remember you can also find us on Facebook, Twitter and LinkedIN.